American Hartford Gold: Protect Your Retirement
American Hartford Gold is dedicated to helping clients protect their financial future with precious metals.
#1 Ranked Precious Metals Company on the Inc. 5000
A+ Rating from BBB & 5-Star Rating on Trustpilot
Exclusively recommended by Bill O'Reilly, Rick Harrison, & Others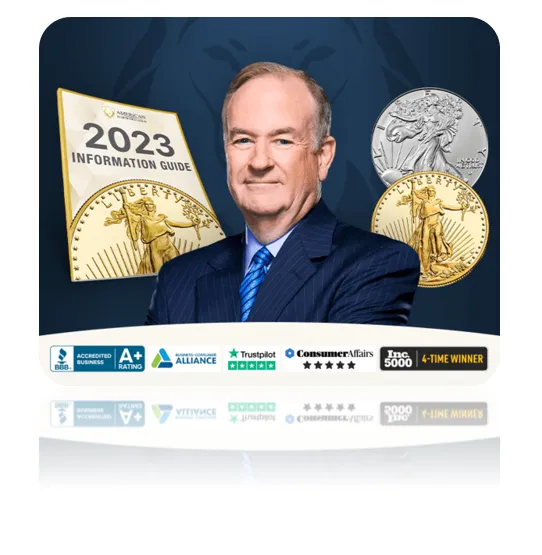 "The ONLY company I recommend for your Gold & Silver needs is American Hartford Gold." – Bill O'Reilly
By submitting the form above, you agree to American Hartford Gold's Terms and Conditions & Privacy Policy and authorize American Hartford Gold or someone acting on its behalf to contact you by email, SMS message, recorded phone call (including automated telephone technologies like auto-dialers and pre-recordings) for marketing and sales purposes. You are not required to opt in as a condition of purchasing any property, goods, or services. Message and Data rates may apply. Max. 7 msg/month. Reply with HELP for help or STOP to opt-out.
The statements made on this website are opinions and past performance is no indication of future performance or returns. Precious metals, like all investments, carry risk. Gold, silver and platinum coins and bars may appreciate, depreciate or stay the same depending on a variety of factors. American Hartford Gold cannot guarantee, and makes no representation that any metals purchased will appreciate at all or appreciate sufficiently to make customers a profit. The decision to purchase or sell precious metals, and which precious metals to purchase or sell are the customer's decision alone, and purchases and sales should be made subject to the customer's own research, prudence and judgement. American Hartford Gold does not provide investment, legal, retirement planning, or tax advice. Individuals should consult with their investment, legal or tax professionals for such services.