6 Reasons You Should Enroll in Your Company's 401(k) Plan ASAP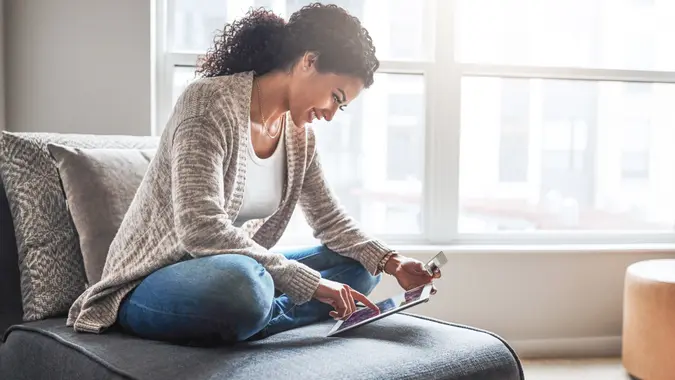 gradyreese / Getty Images
Not everyone has access to a 401(k) plan, and among those who are lucky enough to have one available to them, many are not taking advantage. As of 2020, more than one-quarter of private industry workers with access to a defined contribution plan, such as a 401(k) plan, did not participate, according to the U.S. Department of Labor. If you're in this percentage, you may want to reconsider and enroll at your next opportunity.
See: $1M Is No Longer the Standard Nest Egg – Here's How Much Most Americans Think You Actually Need To Retire
Take a Look: Jaw-Dropping Stats About the State of Retirement in America
Here are six reasons why you should enroll in your company's 401(k) plan ASAP.
1. Convenience
A 401(k) plan makes it easy to save for retirement, as it makes the process of saving automatic and effortless.
"For those who aren't saving or are worried about starting to, nothing's more convenient than a plan that is already in place where you simply have to participate," said Andrew Meadows, SVP of HR, brand and culture at Ubiquity Retirement + Savings. "For those not able to save at work, there's research, comparison shopping and more that can complicate the process and stop the savings strategy cold."
As Meadows notes, some employers are taking the convenience to the next level by automatically enrolling employees in a 401(k) plan.
"This means that you'd have to take action NOT to participate," he said. "What's easier than starting a job and immediately starting to save for your future?"
Find Out: The Average Retirement Age in Every State
2. Tax Advantages
Unlike most other savings vehicles, you can contribute to a 401(k) plan with pretax dollars.
"Your employer's 401(k) is the easiest way to save money while receiving a convenient tax shelter," Meadows said. "The 401(k) is the most pervasive way to save for retirement at work, and the opportunity to save pre-tax helps you grow your nest egg and take even greater advantage of compound interest."
Read: 15 Retirement Mistakes and Why They'll Shrink Your Nest Egg
3. Higher Savings Limits Than Other Retirement Funds
"If you're looking for ways to save outside of work, you're mostly limited to IRAs unless you own your own business," Meadows said. "IRAs only allow you to save $6,000 ($7,000 if you're over 50) in 2021, while the 401(k) limit is an impressive $19,500 ($26,000 if you're over 50)."
Not only is this beneficial to your future savings, but it also has tax benefits that you can enjoy now.
If you contribute the maximum amount, "that could be enough to put you in a less harsh tax bracket come April 15," Meadows said.
Related: 50 Things Every 50-Something Should Know About Retirement
4. Company Contributions (aka 'Free Money')
Many employers will match your 401(k) contributions up to a certain percentage.
"The employer match in a 401(k) is like free money to most," Meadows said. "For example, if your employer offers a 4% match, you just need to save 4% of your own salary to see your savings double. Even if there's not a regular match, most plans contain a discretionary feature that provides the possibility in the future."
Find Out: Here's Exactly How Much Savings You Need To Retire In Your State
5. Exclusive Investments
You may have access to specific investments in your 401(k) plan that you would not be able to access as an individual investor or if you worked for a different employer.
"Investments within a 401(k) are never the same from one employer to the next," Meadows said. "Depending on the advisor, company owner or the financial institution, the mix of funds could differ drastically. 401(k) [plans] in particular often contain the retirement version of popular funds for those wanting safe investment strategies with performance they're familiar with. These might not be offered everywhere, and it's important to take advantage of the opportunities at your employer that you'd likely not have access to with another employer."
"Additionally, some plans even offer you an opportunity to take your investments further by opening a brokerage account within the plan," he continued. "Now you can go from 30 investments to literally thousands. Buyer beware, though, as these might come with additional charges or restrictions, so make sure you're reading the fine print in the prospectus."
Save More: Savings Tricks From Regular People Who Are Sitting on Millions
6. Access to Advice and Education
Almost all 401(k) plans will provide you access to some educational resources, whether it's a blog, articles or even access to a personal advisor.
"Some of these plans even offer active management of the plan that could become an important resource for advice on how to save and invest," Meadows said. "Find out if your 401(k) [plan's] advisor is available for investment support and advice that could help your nest egg grow even larger. Depending on the bells and whistles your plan has, it's also likely that there is an educational component to your plan. Whether it's articles, videos or 'how to' resources, it's highly likely you can take on a DIY approach to your retirement by brushing up on the basics right there within your plan's website."
More From GOBankingRates