How Biden's First Veto Impacts Your Retirement Savings — and Why Lawmakers Are Torn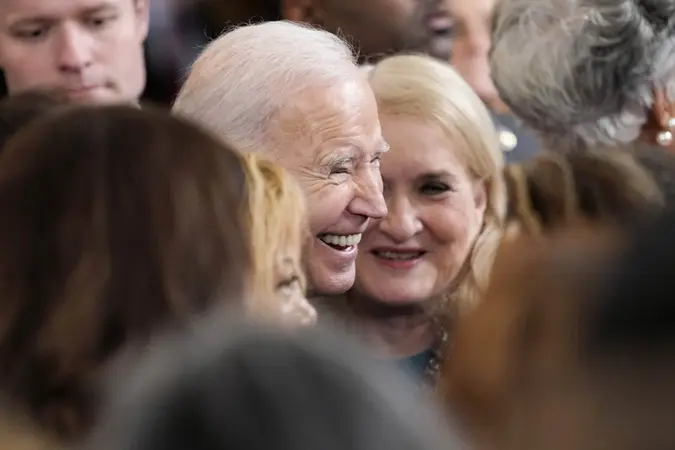 Susan Walsh/AP/Shutterstock / Susan Walsh/AP/Shutterstock
It took President Joe Biden 789 days in office before he finally issued his first veto, and it could prove to be an important one in terms of both retirement savings and future investment strategies.
The veto, issued on March 20, blocked the attempted repeal of a Labor Department rule that allows managers of retirement funds to consider the impact of climate change and other environmental, social and governance (ESG) factors when choosing investments, CNN reported.
Congressional Republicans led efforts to pass the repeal, claiming that the rule represents a "woke" policy that will hurt retirement savings. Democrats have countered that the rule is not about ideology but instead aims to protect and bolster retirement savings.
ESG investing is designed to take into account a businesses' environmental and social risks as part of a wider financial analysis, USA Today reported. It's a popular strategy with major pension funds.
The Labor Department rule in question attempted to reverse a Trump-era policy that discouraged retirement plan managers from incorporating ESG factors into their investment decisions, Politico reported. Under the Biden administration, managers are allowed to incorporate ESG into their strategies but are not required to do so.
U.S. Senate Republicans, along with a couple of Democrats, voted on a resolution to overturn the rule earlier this month. The measure passed with a simple majority, helped by the support of Democratic Sens. Jon Tester of Montana and Joe Manchin of West Virginia, both of whom face tough re-election campaigns this year in solidly red states. The Republican-led U.S. House approved the legislation last month.
Are You Retirement Ready?
"What's happened here is the woke and weaponized bureaucracy at the Department of Labor has come out with new regulations on retirement funds, and they want retirement funds to be invested in things that are consistent with their very liberal, left-wing agenda," U.S. Rep. John Barrasso (R-Wyo.) said at a news conference earlier this year.
But as USA Today noted, Biden has said that retirement plan fiduciaries "should be able to consider any factor that maximizes financial returns for retirees across the country … That is not controversial — that is common sense."
In a video posted to social media Monday afternoon, the president further explained that he signed the veto "because legislation passed by the Congress would put at risk the retirement savings of individuals across the country. They couldn't take into consideration investments that wouldn't be impacted by climate, impacted by overpaying executives, and that's why I decided to veto it — it makes sense to veto it."
Meanwhile, as Politico reported, Wall Street firms and their trade groups have largely sat out the debate. That's partly because they knew Biden would veto the repeal, and partly because the issue is already making the rounds in the courts in the form of a multi-state lawsuit that aims to block the Labor Department rule.
"There's just no upside [to joining the debate]," an unnamed trade association representative told Politico. "Why bother, especially when you've got 25 state attorneys general who have already said they're going to pony up and litigate?"
Are You Retirement Ready?
The U.S. House was scheduled to vote Thursday on overturning the veto. However, that's unlikely to win the two-thirds support needed because Democrats are expected to unanimously oppose the measure.
More From GOBankingRates