Worried About Retirement Savings? Now Is the 'Best Time' To Contribute to Your 401(k)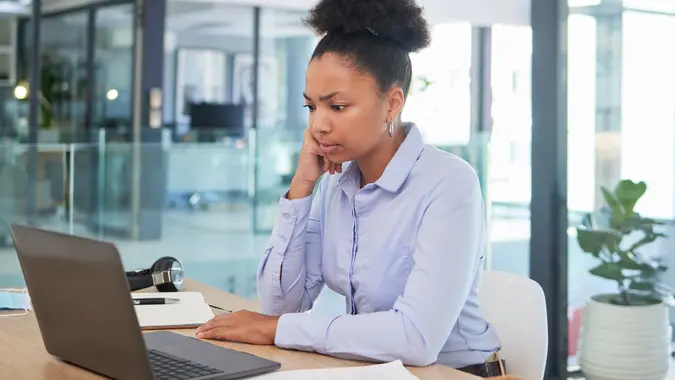 PeopleImages / iStock.com
One of the key things to keep in mind about saving for retirement is that it's a long game. Ask any financial expert and they'll tell you to focus on long-term growth rather than short-term volatility — especially if you are many years away from retirement. Even in the darkest of times, stock markets and 401(k) balances have always bounced back.
That's an important consideration right now, amid a cyclone of worrying economic news. The stock markets have been heading in the wrong direction for more than a year, and now they have been further rattled by the recent collapse of Silicon Valley Bank and Signature Bank and similar problems facing Credit Suisse and First Republic Bank.
Average 401(k) balances in 2022 fell 23% from the prior year to $103,900, CNBC reported, citing data from Fidelity Investments. Average balances for individual retirement accounts sank 20% to $104,000. A separate analysis from Vanguard found that average 401(k) balances declined 20% in 2022 to $112,572, while hardship withdrawals saw a slight increase.
Things haven't improved much in 2023 — despite a promising start to the year. As of March 17, 2023, the Dow and NYSE were both in negative territory year-to-date. The S&P 500 was up slightly for the year after erasing most of its previous gains.
Despite these trends, now is not the time to halt or scale back on your 401(k) contributions, according to Louis Barajas, CEO of International Private Wealth Advisors.
"The concern is, in these uncertain times, do I continue adding money to my long-term plans?" said Barajas told CNBC. "[In fact], this is the best time to continue to contribute."
Are You Retirement Ready?
The reason is simple: Down markets give you a chance to buy shares at deflated prices, which can be a winning strategy when you are investing for the long term. Historically, the stock markets have always pushed higher over time despite the inevitable sell-offs and bear markets.
"Everyone is feeling pressure financially — there's a lot of uncertainty out there in the markets and the economy," Mike Shamrell, Fidelity's vice president of thought leadership, told CBNC. "A lot of people understand there's going to be ups and downs. Don't let short-term economic events derail your long-term retirement savings efforts."
In fact, Barajas recommends increasing your 401(k) contribution percentage this year. Luckily, that should be easy because of new rules governing 401(k)s.
In 2023, the 401(k) contribution limit increased to $22,500 from $20,500 in 2022. The catch-up contribution limit for those age 50 and older is $7,500 in 2023 vs. $6,500 in 2022. Meanwhile, the employer matching contribution limit — which is the maximum amount an employer can match their employees' contributions — rose to $66,000 in 2023 from $61,000 in 2022, Forbes reported.
More From GOBankingRates
Are You Retirement Ready?