Study Finds 10 States Where It's Easiest to Save $1M for Retirement
Where you live could make or break your retirement savings.
Getting to that sought-after $1 million mark for your retirement savings isn't easy. Most people have to work their entire lives to save that much, and plenty of others work their entire lives and still fall short of ever saving that much money.
However, when it comes to growing a $1 million nest egg, where you live can actually play a big role in how effectively you can save, according to a new study from GOBankingRates. The study compiled information on the costs of living, the typical tax burden from state and local taxes, and the interest rates for CDs and savings accounts in the state, scoring then weighting them to determine a final ranking of which states really do make it easier to pad your retirement account.
The results are compelling, demonstrating that you can have a much easier — or harder — time growing your retirement account depending on which state you live in.
Here are the top 10 states where it's easiest to save $1 million for retirement:
10 States Where It's Easiest to Save $1 Million for Retirement
Rank
State
Cost of Living
Effective Property Tax Rate
Income Tax
1
Utah
95.7
0.688%
5.00%
2
Washington
107.1
1.083%
0.00%
3
Louisiana
94.4
0.479%
4.00%
4
Wyoming
95.6
0.623%
0.00%
5
Texas
91.2
1.931%
0.00%
6
Florida
99.3
1.100%
0.00%
7
Mississippi
85.1
0.784%
5.00%
8
Colorado
102.3
0.624%
4.63%
9
Alabama
90.3
0.435%
5.00%
10
Nevada
104.7
0.921%
0.00%
Information accurate as of June 12, 2018.
Read: 50 Cheapest Counties to Retire In
One of the factors that appears to correlate strongly with the final rankings is the rate of income taxes paid by someone earning the median income for the state. There are seven states that don't have any state income tax, and all seven are among the top 20 with all but two landing in the top 10. The same is true for the cost of living, with the most expensive states mostly clustered at the bottom of the rankings.
Click on the graphic below to learn more about the best and worst states to save $1 million for retirement: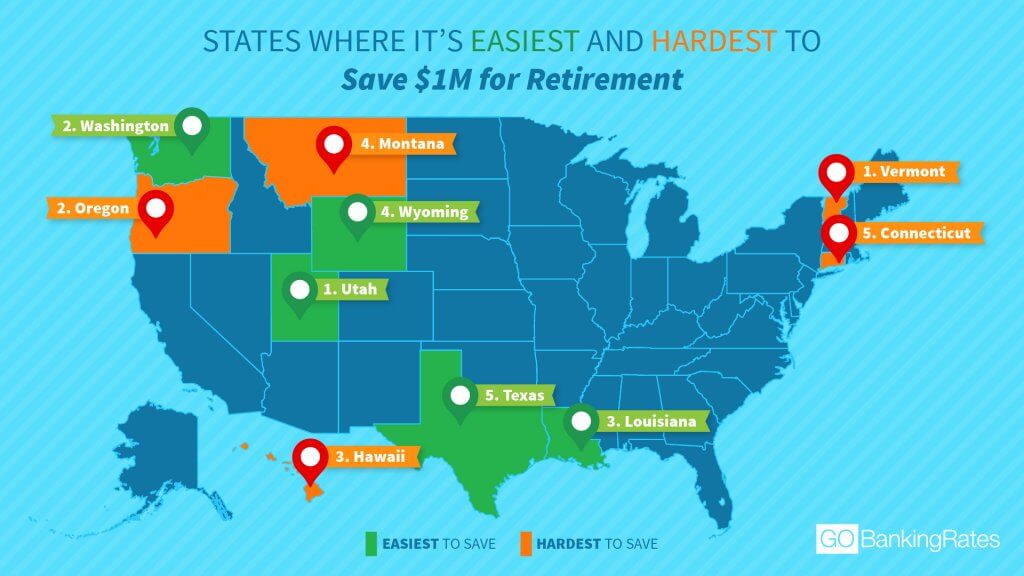 Don't Miss: The Best and Worst States to Retire In
There is also a clear regional divide. If you're living in New England and having a hard time socking away more money in your nest egg, consider moving to the South. A total of five of the six states that make up New England are in the bottom 20 states in the study. And the one New England state that finished outside the 20 hardest states to save $1 million for retirement — Massachusetts — didn't do so by much, ranking No. 29 overall.
Southern states, meanwhile, are well-represented overall. There are no states from the South among the bottom 15 states in the rankings, with the lowest finisher from the South being South Carolina at No. 35 overall. And if you look to the top of the list, the South has a lot of the states where it's easiest to save. Half of the top 10 states are in the South, indicating that savers in the South can expect to reach their financial goals a little faster than their neighbors to the north and west.
Keep reading to see the states with the richest and poorest retirees.
More on Retirement
Methodology: GOBankingRates determined where it is easiest and hardest to save $1 million for retirement by analyzing each state in terms of the following factors: (1) overall cost of living in the state, sourced from the Missouri Economic Research and Information Center, with data representing 2017 annual averages; (2) effective property tax rate for the state, sourced from Tax Foundation; (3) state income tax rates, using the tax bracket that corresponds to the state's median household income, sourced from Tax Foundation; and under the banking category, (5) the highest 1-year CD APY, (6) the average 1-year CD APY, (7) the highest savings account APY, (8) and the average savings account APY available in each state, sourced from the GOBankingRates internal banking rates database. Each category was then scored and weighted to determine the final rankings.