21% of Americans May Not Ever Retire, New Poll Finds — Experts Explain Why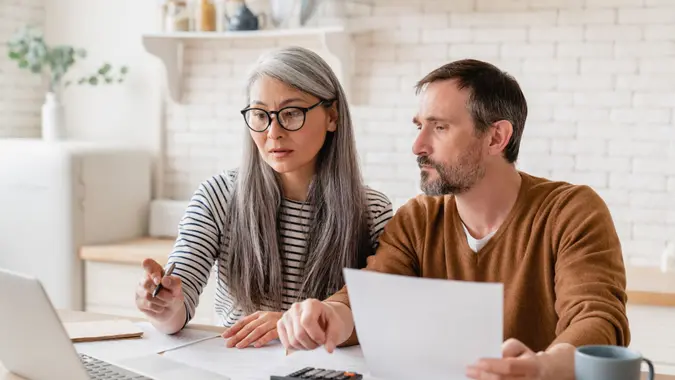 Inside Creative House / Getty Images/iStockphoto
What arguably should be an automatic right after a life of working has morphed into a deeply hard-won and perhaps impossible achievement. We're talking about retirement, which is becoming increasingly difficult for Americans to pull off, to the point where many don't expect they'll be able to manage it — ever.
Good Question: What Is the Average Social Security Benefit at Age 62?
Advice: With a Recession Looming, Make These 3 Retirement Moves To Stay On Track
Social Security: Women Get $354 Per Month Less Than Men – Here's Why
A new GOBankingRates poll posed the question, "Do you think you will be able to retire at age 65?" Over 10,000 people responded, with 21% saying they don't expect to retire at all or don't know whether they will be able to. Of those who do not expect to be able to retire, 54% are women. Additionally, over half of those who don't think they can retire by the age of 65 make six figures.
Inflation and Market Drops Hurt Retirement Savings 
"While [21%] isn't the majority, it's a significant percentage," said Tyler Seeger, managing director of Retirement Being. "This point is made even more apparent when realizing that a sizable number of respondents make six figures. Taking the context of the last three years into account, however, these statistics make a lot more sense. Spurred on by the pandemic, inflation has reduced how far a dollar will go toward retirement expenses. Adding fuel to the fire, a significant market drop in 2022 has led to a sizable decrease in most Americans' retirement accounts."
Take Our Poll: Do You Think You Will Be Able To Retire?
Inflation has been so bad that even millionaires are worrying about retiring. According to a recent survey from Natixis Investment Managers, 35% of millionaires said it will take a miracle to achieve a secure retirement.   
Women Are at a Significant Disadvantage 
"One point in these findings that stands out the most is that of the lopsided percentage of women who do not expect to be able to retire," Seeger said. "Americans looking to retire soon have been in the workforce for decades, and while the U.S. has made strides to close the gender pay gap over the years, the sad truth is women looking to retire soon have been making less than their male counterparts their entire careers.
"This means that men have had years of compound interest on higher salaries, putting them in a much better position to retire. Things become even starker for women when factoring in the events of the last three years and the adverse effects they've had on the prospect of retirement for both sexes."
The effects of the pandemic have been brutal on women, many of whom were forced to upend their careers in order to take on caregiving and homeschooling roles. 
"When women stay out of the workforce to care for children or an aging family member, there is a long-term impact that many may not think about or know about," said David Freitag, a financial planning consultant with MassMutual. "Social Security retirement benefits are based on a general average of 35 years of your highest years of earnings. When you have zeroes in that mix, the average will decline and your Social Security retirement benefits may be dramatically less for the full span of your retirement years because of those zero years.
"That is why continuing to work longer may be important to women. Each year you work replaces a zero year; and, when that happens, your retirement benefits can go up — and it could be significant."  
Working Longer Could Be the Most Realistic Plan 
The truth of the matter is, in today's climate, planning to work past the appropriate age for retirement may not be the worst idea, depressing as it may sound.  
A recent GOBankingRates survey revealed that 20% of people were delaying retirement to work longer and 58% of people plan to work in retirement.
"Today's reality is that people need to be financially prepared for 10, 20, 30 or more years in retirement; and, when they look at their retirement income stream, they may not see one that can support their desired lifestyle," said Paul LaPiana, head of product with MassMutual. "There's a lot of uncertainty throughout life, and the journey in retirement is no different. If you have the opportunity to work longer to help fuel your retirement income stream without impacting Social Security benefits, and you enjoy doing what you do, there's no reason not to consider it."
More From GOBankingRates