What Age Should I Start Planning for Retirement?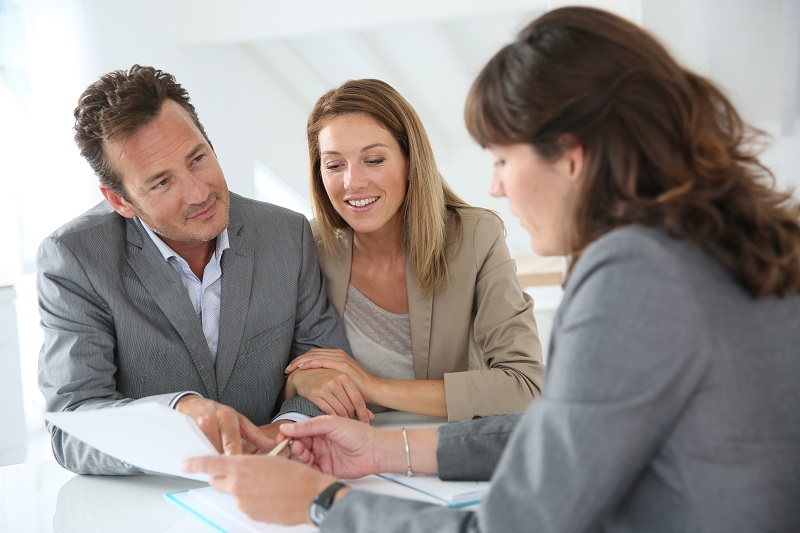 People often want to know when they should start their retirement planning. The answer is, preferably, yesterday. But if that didn't happen, then the best day to start saving for your retirement is today.
Even though many workers say they plan to stay on the job longer, accumulating enough savings to fund a comfortable retirement is a daunting task. The earlier you start the better. If you have a workplace retirement plan, start contributing as soon as possible.
Read: Haven't Turned 50 Yet? You Can Still Save $800,000 Before Retirement 
How Much Money Do You Need to Retire?
While it is an imperfect yardstick, the 4 percent rule for retirement withdrawals is a good tool to illustrate the amount you might need to accumulate for retirement.
Let's assume you withdraw 4 percent, or $40,000 per year, from a $1 million nest egg. This should last for about 30 years in retirement. But is this long enough?
At a 3 percent rate of inflation, your purchasing power will be cut in half every 24 years. So today's 30 year old who was hoping that $1 million would be enough about 35 years from now might need to rethink this and shoot for $2 million instead.
How Much to Save for Retirement
Cathy Curtis a certified financial planner with Curtis Financial Planning in Oakland, Calif., said she doesn't use benchmarks because each client is different in terms of their projected lifestyle, health and whether they have mortgages or other debt that will extend into retirement. She uses assumptions on income, savings, savings growth, expenses and inflation rates to create a client's first draft of a financial plan.
"I use the same process for all clients whether they are married, single, man or woman," she said. "If the data show that the client will have a shortfall, then we begin the work of figuring out how they can make it up: cutting expenses to save more (or) increasing their current income. At this point, we also explore ideas such as working longer than expected, whether or not to delay (claiming) Social Security, moving to a lower cost region at retirement, community living in retirement, etc."
A financial planning review with a set of retirement projections is a great place to start to establish a base line from where you are to where you'd like to be at retirement.
Retirement Savings Benchmarks
The chart below from JP Morgan's Guide to Retirement 2015 depicts retirement savings checkpoints. Because everyone's situation is different, the checkpoints are only a guide. Using this example, a 45-year-old worker earning $100,000 annually should have $460,000 saved for retirement, according to this analysis and the underlying model assumptions.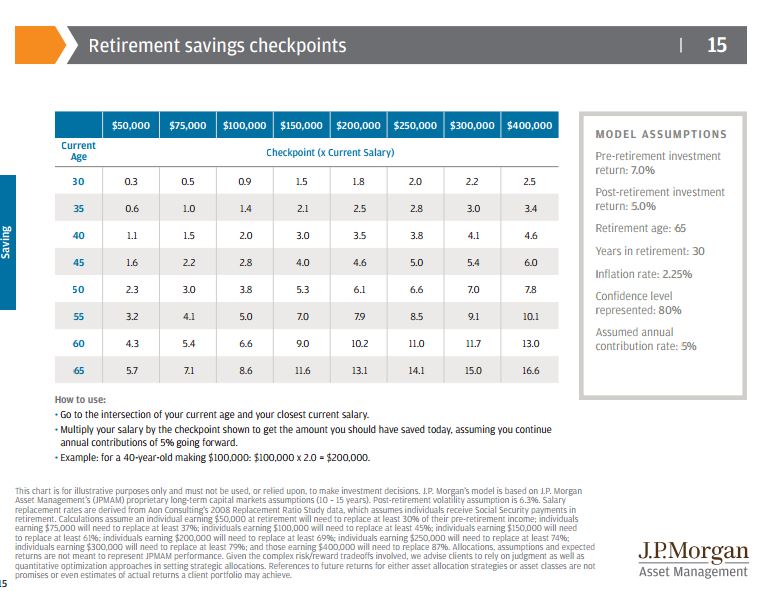 Source: J.P.Morgan Asset Management
The Impact of Compounding
Starting young is vital. According to the J.P. Morgan data:
Susan invests $5,000 per year between ages 25 and 35 for a total of $50,000. She reaches $562,683 by age 65.
Bill invests $5,000 per year between ages 35 and 65 for a total of $150,000. He tops $505,365 by age 65.
Chris invests $5,000 per year between ages 25 and 65 for a total of $200,000. He ends up with $1,068,848 by age 65.
This example assumes a 7 percent rate of return, though any constant rate of return is unlikely. The point is to illustrate the power of compounding by starting early.
Average Retirement Savings: The Reality
In a 2015 Retirement Confidence Survey by the Employee Benefits Research Institute, only 14 percent of all workers polled said they saved between $100,000 and $250,000. Here's how that broke down by age:
Age 55 and up: 25 percent
Ages 45-54: 21 percent
Ages 35-44: 8 percent
Ages 25-34: 4 percent
Among those surveyed, 28 percent had saved less than $1,000 for retirement. Here's that age breakdown:
Age 55 and up: 21 percent
Ages 45-54: 21 percent
Ages 35-44: 34 percent
Ages 25-34: 34 percent
Related: 1 in 4 Baby Boomers Fears Never Being Able to Retire
Retirement Planning Evolves
At one time, planning for retirement was far less complicated. Your parents largely relied on pension plans that were funded by employers to live comfortably in retirement. Then, defined contribution plans such as 401ks were created some 30 years ago, putting the burden of retirement saving and investing squarely on workers' shoulders. Now, because people are living longer and changing jobs many times over the course of their careers, saving for retirement has become much more complex.
Tips for Managing Your Retirement Savings
Get started early and never stop contributing to your retirement savings. If your first job offers a 401k or similar plan, contribute as much as you can — or at least enough to earn the company match.
Try to increase the amount you contribute to your retirement plan each year. Many companies establish a low automatic deferral rate for those who don't make a choice about enrolling in their 401k. If this applies to you, increase the level of your salary deferral as quickly as you can.
If you are not comfortable choosing investments in your plan, get help. Don't just leave your money parked in a money market or stable value account for 40 years. You won't get the growth you need. Many plans offer target-date funds based on your time horizon. Some plans offer advisors free of charge. If that's not the case for you, seek help to properly allocate your portfolio from an advisor.
When you leave a job, decide whether to keep your 401k with your old employer, roll the balance into a new employer's plan if it's allowed or roll the funds into an IRA account. Don't cash it out because it will cost you. In addition to losing the opportunity for growth, you'll pay taxes and penalties if you are under 59.5.
Don't ignore the benefits of investing in an IRA. Whether it's a traditional or Roth account, these are both stellar plans to help you accumulate funds for retirement.
As you approach retirement, understand the different options for claiming Social Security. Experts recommend waiting as long as possible to claim your benefit to get a much higher amount than taking it at age 62 when first eligible. Married couples have a number of strategies to consider so consult with an advisor.
Create a financial plan and revisit it at least annually. Revise it as needed. Get help from a qualified fee-only financial planner, if necessary.
Saving for retirement is a marathon rather than a sprint. Successful retirement savers tend to start early and remain consistent throughout their working lives. Even if you're behind, it's never too late to get started and catch up.