Americans Continue to Worry They'll Outlive Their Retirement Savings, New Transamerica Survey Shows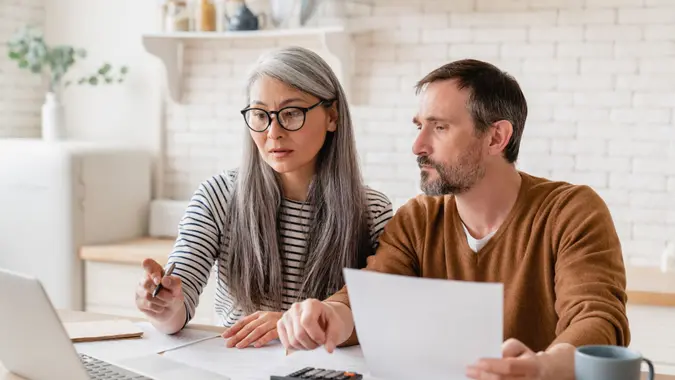 Inside Creative House / Getty Images/iStockphoto
Fears about retirement continue to plague Americans, with 38% of those polled saying they are concerned about outliving their savings and investments, per a new survey.
Said survey, Transamerica's "Emerging From the COVID-19 Pandemic: A Compendium About U.S. Workers' Retirement Outlook," found that outliving one's savings was the most common area of concern among Americans. Other pressing concerns surrounded potential declining health outcomes that require long-term care (37% of respondents indicated as much) and a reduction in — or elimination of — Social Security benefits in the future (also gestured toward by 37% of those polled).
"Amid concerns about Social Security, the disappearance of traditional defined benefit pensions, and intensifying expectations that workers self-fund a greater portion of their retirement income, many workers are inadequately saving and are at risk of not achieving a financially secure retirement," Catherine Collinson, CEO and president of Transamerica Institute, stated in a press release. "Enhancing retirement security involves addressing demographic disparities, removing structural barriers, and future-proofing the system so everyone can retire with dignity."
In terms of employment status, the survey found that full-time workers are more confident and engaged in saving and preparing for retirement than part-time workers.
One reason for this is that part-time workers are less likely to be offered retirement benefits from their employers, the survey noted. Data indicated that because of the pandemic, part-time workers have experienced negative impacts to their employment which, in turn, has been disruptive to their ability to save for retirement.
Are You Retirement Ready?
Inflation Pushing Americans To Take Hardship Withdrawals
Compounding the issue around retirement fears, inflation has pushed a record number of Americans to take 401(k) "hardship withdrawals," according to new data — a phenomenon which Vanguard called "concerning," as GOBankingRates previously reported. Another report, from Empower, also underscored this phenomenon, finding that hardship withdrawals jumped by 24% in the past year.
This move, which suggests an increased need for household liquidity due to increased financial strain, could potentially have a longer-term negative impact — and could mean difficult years when these Americans enter retirement.
These hardship withdrawals can only be made if the distribution is both due to an "immediate and heavy financial need," including medical expenses, funeral expenses, or tuition and related educational expenses, the IRS explained on its website.
While new retirement rules — enacted as part of the $1.7 trillion funding bill President Joe Biden signed into law on Dec. 19 — will make said withdrawals easier, experts argue that doing so still could prove troublesome when Americans enter retirement, as retirees-to-be might lose out on future investment growth.
More From GOBankingRates
Are You Retirement Ready?