Are Americans Handling Their Retirement Savings Correctly? Experts Would Say No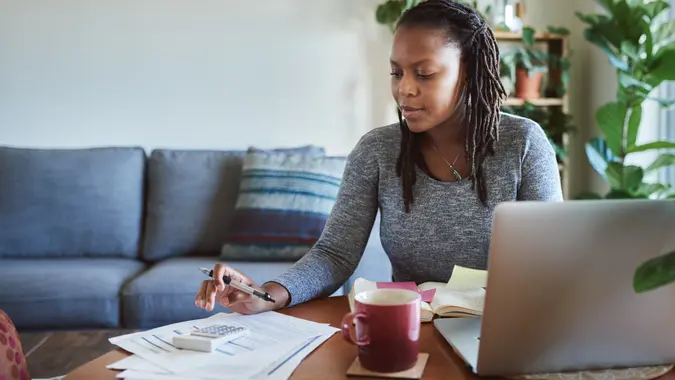 mapodile / Getty Images
A "dream" retirement will look different for everyone — some aspire to jet set around the world, while others would be happy settling down in a small town to live out their golden years. But as different as retirement goals may be from person to person, there are some rules of thumb that ring true for anyone looking to retire comfortably. Yet, many Americans seem to be abandoning expert guidelines when planning for their own retirement.
GOBankingRates surveyed over 900 Americans about their retirement beliefs and behaviors and found that many of the most popular choices go against standard expert advice. Here's a closer look at these discrepancies.
How Much To Save for Retirement
The majority of Americans (38%) believe that you need to save $500,000 or less to retire — but experts say this is not enough in most cases.
"To be able to retire on $500,000 with a living wage of $50,000 per year, you would be drawing down at 10%, which is a fair amount higher than the expected return on capital in public markets," said Ben Waterman, co-founder and COO at Strabo, a global portfolio tracker. "Accounting for down years and projecting conservatively, one could assume a 5% safe withdrawal rate, given that the stock market has returned on average a few percentage points higher than this. You'd therefore need exactly double $500,000, or $1 million, to be able to safely draw down at 5% and live comfortably with some leeway."
Are You Retirement Ready?
The survey also found that most Americans who have reached retirement age are far short of this goal — among those ages 65 and older, just 13% have $750,000 or more saved for retirement. The majority (31%) have $10,000 or less saved for retirement.
What Age To Start Saving for Retirement
Experts recommend starting to save for retirement as early as possible to make the most of compounding interest.
"If you start at 20, you'll need to put away less than $300 per month on average to get to $1 million by 65, assuming a 7% annual return," Waterman said. "The key is little and often from an early age."
While there is a good percentage of Americans who have heeded this expert advice — 13% started saving for retirement before age 21 and 28% started saving between ages 21 and 30 — there are many who got started later in life, or worse, who haven't started saving at all. According to the GOBankingRates survey, 24% of Americans have not started to save for retirement.
How Much To Rely On Social Security
The survey found that most Americans plan to use Social Security to fund all (20%) or more than half (31%) of their retirement. Yet, in reality, experts say this likely won't be possible.
"Historically, Social Security was not meant to be the only source of retirement income," said Wade Pfau, co-director of the American College Center for Retirement Income. "It is meant to replace about 40% of the average indexed lifetime earnings of someone who worked and earned an average wage over their lifetime."
There are also likely to be changes to the program in the coming decades, which could affect younger Americans by the time they retire.
"The start dates could get pushed back, more of your income could get taxed along the way, more of your benefits could be taxed in retirement and there may be more means testing," said Jeff Rosengarten, CFP, principal at Homrich Berg. "If [you] are 25-plus years off from receiving benefits, I would plan as if you won't receive much, if anything, to be safe."
Are You Retirement Ready?
How Much of Your Income You Should Be Putting Toward Retirement Savings
The GOBankingRates survey found that most Americans are putting 10% or less of their income toward their retirement savings — 13% are contributing between 1% and 3%, 18% are contributing between 3.1% and 5%, and 21% are contributing between 5.1% and 10%. Nearly 30% are not putting anything toward retirement right now, with 11% stating that they are choosing not to and 18% stating that they can't afford to save for retirement right now.
As a rule of thumb, experts recommend putting between 12% to 15% of your income toward retirement, yet only 11% of Americans are making contributions in this range.
However, Matt Fleming, a wealth advisor executive at Vanguard, notes that there is some wiggle room with this rule.
"Within the team I work on here, we don't use a percent of salary," he said. "We would approach it more [based on] what lifestyle you want in retirement, and then back into what that means as far as saving toward that and investing toward that."
More From GOBankingRates
Methodology: GOBankingRates surveyed 997 Americans ages 18 and older from across the country between Aug. 9 and Aug. 11, 2022, asking 16 different questions: (1) How much money do you currently have saved for retirement?; (2) How much money do you think you'll need to retire?; (3) Realistically, at what age do you want to be retired?; (4) At what age did you start saving for retirement?; (5) What worries you financially about retirement? (Select all that apply.); (6) Do you plan to work in retirement?; (7) What assets do you have in your retirement portfolio? (Select all that apply.); (8) How has the current inflation impacted your retirement plans?; (9) How much of your retirement do you plan to fund with Social Security?; (10) How do you feel about the future of Social Security when you retire?; (11) What percentage of your salary are you currently investing for retirement?; (12) Are you planning to move after your retirement?; (13) Where is your ideal place to retire?; (14) What government programs do you plan to use for your retirement? (Select all that apply.); (15) Do you have a pension plan?; and (16) How much do you think the average American has saved at the time they retire? GOBankingRates used PureSpectrum's survey platform to conduct the poll.
Are You Retirement Ready?