Be Aware of These 6 Pitfalls When Downsizing for Retirement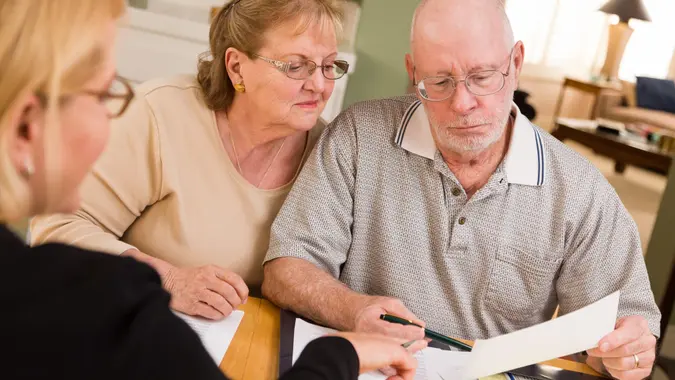 Feverpitched / iStock.com
Generations of Americans have leveraged their homes to fulfill their retirement dreams by downsizing.
Florida's Retirees Are Fleeing: Here's Where They're Going Instead
Buy a house fit for a family when you have one and build equity over the years. When the nest empties and retirement nears, sell it to buy something smaller, cheaper and more manageable, and use the difference to finance your glorious golden years.
Downsizing can come with hidden financial and emotional costs, however. It can also diminish both your nest egg and your peace of mind. Here are some examples of downsizing regrets and how to avoid them.
In the Post-Pandemic Era, Even Small Houses Come With Big Price Tags
In the 2010s, annual home appreciation reached a high of 8.9% in 2013 but typically hovered around 5% to 6% per year. Then, COVID ushered in the era of unaffordability.
According to Freddie Mac, prices rose by 11.3% in 2020, 17.8% in 2021 and 6.7% in 2022.
It's good to sell when prices are high, but retirees looking to downsize will then have to buy in an under-inventoried housing market with a median sale price of $416,100, according to the St. Louis Fed. According to Money.com, prices rose fastest and highest in the Sun Belt, where retirees have flocked for generations.
Borrowing Is Burdensome
Some retirees might earn enough from the sale to buy their smaller home outright, but because of today's sky-high prices, many will have to take out mortgages to avoid being house rich and cash poor. With rates near 7%, home loans haven't been this expensive since 2002.
Are You Retirement Ready?
High Prices Could Mean High Taxes
Profits of up to $250,000 for individuals and $500,000 for joint filers are exempt from capital gains taxes. Those are fairly easy thresholds to meet in a normal housing market, but today's downsizers are selling near the market's peak, and if they breach those limits, they could owe as much as 20% on the profit.
Real Estate Transactions Aren't Cheap
According to Rocket Homes, the average seller pays about 10% of the home's value in fees and costs. That's $43,680 for the median home in today's market. According to Experian, buyers pay up to 5%, or another $21,840. That's a total of $65,520 in transaction costs alone.
Moving and Storage Costs Add Up Quickly
According to Forbes, it costs an average of $1,400 for moves close by and between $2,200 and $5,700 for long-distance moves. Downsizing also means less space, which often leads to long-term storage, tacking on another $180 per month, according to Move.org.
Emotional Toll Can Outweigh Financial Costs
Leaving a home where you built your life and raised a family can be an emotionally taxing experience, particularly if your new, smaller house curtails your lifestyle and your adopted community comes with culture shock.
A Couple's New Neighbors Are Too Close for Comfort
Tracey Beni, the founder and recipe creator of The Naked Diabetic, downsized with her husband in 2016 as they approached retirement age.
"The property we were downsizing from had a large estate home on a one-acre lot with gardens, an inground pool and all the amenities," she said. "We decided on a custom-built home, and it was a great experience being able to choose everything that suited our lifestyle."
Are You Retirement Ready?
But the new home came with a comparatively tiny lot just a few feet away from their new neighbors.
"We had never lived so close to others before, and when the builder told us he was very selective about who he sold to, we had unmet expectations," said Beni. "Although the neighbors are nice, no one needs to hear everything that goes on inside your four walls. We can hear everything on both sides of us — screaming at their children, singing in the shower, marital arguments and hot tub shenanigans."
They're planning to move again shortly to a smaller house on a larger lot, paying all those fees on both sides of the transaction a second time.
"My advice to anyone downsizing is to make a checklist of things you love about your current home and the things you can give up and stick to it," said Beni. "Be patient until the right property comes along and work with a realtor who can stick to your list of must-haves."
A New York Couple Finds Themselves Homesick in Florida
Dennis Shirshikov is a professor of finance, economics and accounting at the City University of New York and the head of growth at Awning. He's seen several clients suffer through regrettable downsizing misadventures.
"One particular story that stands out is about a retired couple named John and Mary," said Shirshikov. "They had a four-bedroom house in a busy suburb of New York, where they had lived for more than three decades. When they retired, they decided to downsize, selling their house and buying a small one-bedroom apartment in Florida closer to the beach. The idea was to live a quiet, peaceful life without the hassle of maintaining a large house."
Are You Retirement Ready?
But what seemed like a perfect plan soon started to unravel.
"John and Mary realized that they had underestimated their attachment to their former home," said Shirshikov. "The apartment was significantly smaller, and they missed the space that they had grown used to over the years. The quiet neighborhood lacked the vibrancy they were accustomed to, and they often felt isolated. Additionally, their grandchildren visited less often due to the lack of space, and they deeply regretted not being able to host family gatherings like they used to."
More From GOBankingRates