5 Best Appliances To Invest In To Make Your Life Easier During Retirement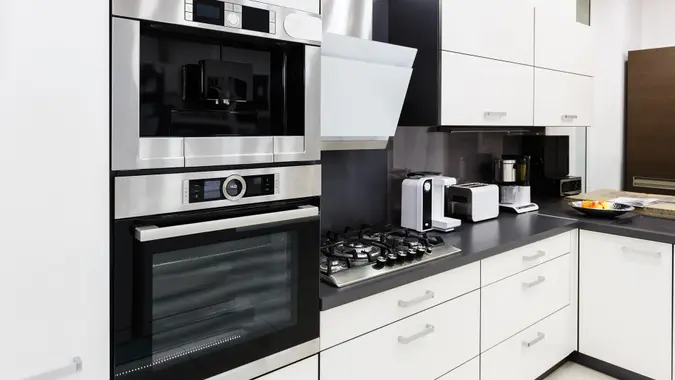 ©Shutterstock.com
As you begin to imagine what retirement looks like, you may have pictured a bungalow on the beach or a cabin retreat, but you probably didn't invest too much thought into the appliances that you'll need. Whether you will call a mansion or a cottage home in your golden years, you will need an assortment of gadgets that will make your life easier.
From the kitchen to the living room, there are senior-friendly appliances that can accommodate your changing needs. It may be hard to foresee now, but at some point, you'll want your home to be filled with easy-to-use, efficient tools. Find out the five best appliances to invest in to make your life easier during retirement.
Well-Lit Refrigerator
Maybe you do not see yourself becoming a gourmet chef in your retired life, but even if you order out more often than not, you will still need a high-quality refrigerator to keep your food safe. The best refrigerators for seniors are ones that are well-lit with large sturdy door handles. You'll want to avoid refrigerators with a lot of bells and whistles as they tend to require more repairs as they age.
It is also recommended that seniors consider avoiding refrigerators and other appliances that require them to bend up and down. Many newer models of refrigerators come with freezers on the bottom, but this may not be the optimal choice as we age. Depending on your mobility, you will want to select the style of fridge that most meets your needs. 
Are You Retirement Ready?
Stove With Automatic Shut-Off
Getting older doesn't mean that you won't cook. Many seniors enjoy cooking for themselves, family and friends, particularly in retirement. The optimal stove will have large knobs and an automatic shut-off because as we age, it becomes easier to forget things like turning a stove off. 
Cooking fires are a real hazard resulting in approximately 550 deaths each year and thousands of injuries, according to the National Fire Protection Association. Over 25% of those killed in these fires were asleep at the time of their deaths. A stove with a loud timer and automatic shut-off may help prevent these tragedies. 
Easy-to-Read Microwave
Let's face it, microwaves have become complicated. There are more buttons and settings on a microwave than ever before, but they are a useful tool in any kitchen. They can offer a safer cooking method since they don't require a gas line and stop heating once the time has expired. The best microwaves for seniors will have large, easy-to-read buttons, an easy-to-grip pull handle and a food auto sensor.
Cool-Touch Toaster Oven
Another useful kitchen utensil for individuals in or nearing retirement is a toaster oven. The only problem? Toaster ovens get notoriously hot to the touch. They get so hot in fact that they can easily burn someone. They do, however, offer a quicker cooking option for someone who does not want to deal with a conventional oven.
Are You Retirement Ready?
The compromise? A cool-touch toaster oven. While a little pricier, the cool-touch models are likely worth it. CookingIndoor.com offers an in-depth guide to five of the best cool-touch toaster ovens on the market. 
Automatic Can Opener
Finally, one of the most important but arguably underrated appliances that you'll want and need in your retirement is an automatic can opener. Opening jars can be hard for someone at any age, but the older you get, the tougher it can be. An automatic jar opener can save you frustration as you age. 
Studies show that the risk of osteoarthritis in at least one hand by the age of 85 is nearly 40%. An automatic can opener will ensure that you won't have to struggle to get into the can or jar even if your grip weakens or joints tighten. You may want to opt for one that plugs in unless you don't mind changing batteries.
Whether you are a few months or a few decades away from retirement, it is never too early to start planning. Now that you know that your forever home will need to be filled with senior-friendly appliances, you can start making them part of your retirement goals. 
More From GOBankingRates