These 5 Cities Are Becoming Popular With Baby Boomers: Should You Consider Them for Your Retirement Years?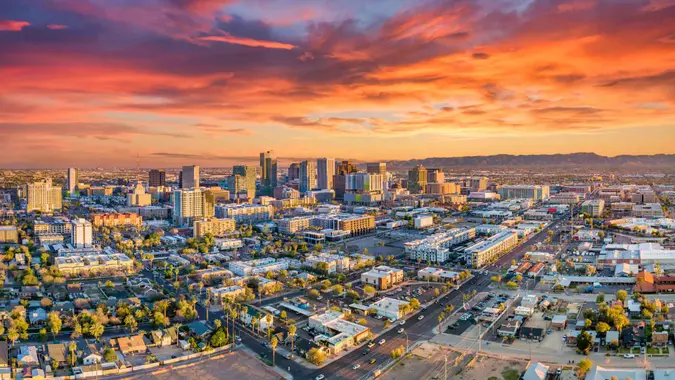 Kruck20 / iStock.com
According to Bank of America's Housing Morsel, baby boomers are the main homebuyers in America. While no longer the largest generation, they do have the most wealth. In total, Bank of America (BofA) estimates that boomers accounted for approximately 40% of all homebuyers between July 2021 and July 2022. 
With baby boomers playing such a crucial role in the housing market, it is important to know where they are moving and why. Since the pandemic, there has been a general migration toward cities located in the Sun Belt, and boomers are no exception. 
BofA shows that Las Vegas, Phoenix, Tampa, Orlando and Austin are the "most popular destinations" for baby boomers, but are these cities ideal for retirees?
Also see how much cash baby boomers need to retire in the next five years.
Las Vegas
More boomers are relocating to Las Vegas than anywhere else in the country, and for good reason. Sin City offers a lot to retirees.
As noted by Del Webb, there are countless 55-plus adult communities with endless amenities. The city is also centrally located, making it easy to travel to see friends and family. It is also in a tax-friendly state, meaning retirees can save big by not having to pay things like state income taxes.
Unfortunately, there are some negatives to retiring in Las Vegas. Foremost, the city is hot. Temperatures often exceed 100 degrees Fahrenheit in the summer months. Retirees will have to budget for higher utility bills to compensate for the oppressive heat.
Are You Retirement Ready?
It is also expensive to live there in general. As reported by Best Places, the city's cost of living is around 11% over the average in the U.S.
Phoenix
Phoenix is another popular destination for baby boomers. The warm climate and reasonable taxes have boomers flocking to the Arizona city. Phoenix offers retirees tons of things to do and has numerous senior communities. 
There are, however, a few downsides for boomers to consider. Phoenix, like Vegas, is hot. Very, very hot. Again, retirees will need to budget for high electricity bills during the summer. It also might make it more difficult to get outside when the temperature is over 100 degrees.
The cost of living in Phoenix is 8.7% higher than the average in the U.S., making it affordable but not cheap. 
Tampa 
For decades, Florida has been the go-to retirement destination for seniors. The coastal city offers warm weather and lots of things to keep active retirees busy. It has a very reasonable cost of living at just 3.7% higher than the average in the United States. Florida, like Nevada, does not have state income taxes, making it even more affordable.
After making the move to Tampa, retirees should consider whether they can handle the humidity. The city can be downright uncomfortable at times. It is congested in some areas, with limited public transportation, according to 55Places.com. 
Are You Retirement Ready?
Orlando
Another affordable option for retirees in Florida is Orlando. The city has a cost of living that is only 3.3% higher than the average in the U.S. Houses are reasonably priced, and you'll never be lacking for entertainment.
Unfortunately, the city can get miserably hot. There also can be a lot of traffic, and it is almost always teeming with tourists. 
Austin
The final destination for baby boomers is Austin. The Texas city has become the hottest thing on the market since the pandemic. Retirees certainly will never be bored in the city. It has a world-famous music scene and is known for its eclectic food. It has favorable taxes and offers a plethora of retirement communities to choose from.
Austin, like the other cities listed above, can get very hot during the summer months. Retirees on fixed incomes may struggle with high electric bills. It also has a cost of living that is 29.4% higher than the average in the U.S. It simply isn't cheap to live in the city. Houses are expensive, with the median price at $577,400.
Luckily, there are more reasonable areas near the Texas capital that offer the same amenities without the high price tag. 
More From GOBankingRates
Are You Retirement Ready?