Dolly Parton Doesn't Plan to Ever 'Retire' — Why a Third of Boomers Are Doing the Same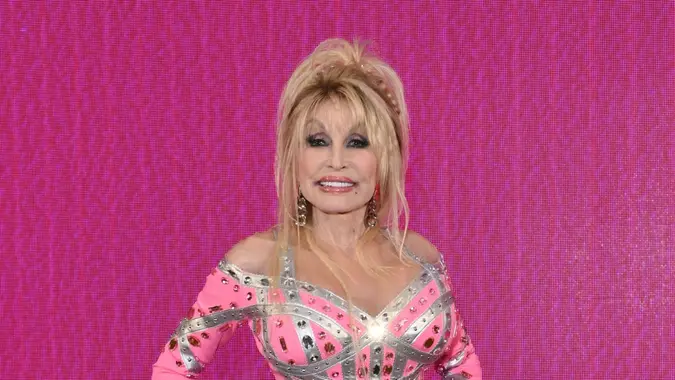 David Fisher/Shutterstock / David Fisher/Shutterstock
When Dolly Parton made her first appearance at Nashville's Grand Ole Opry, Dwight Eisenhower was the U.S. president, Alaska and Hawaii had just become states, and the average price of a new home was a little over $12,000. The year was 1959, and Parton was 13 years old. More than six decades later, she remains one of the busiest entertainers in the world — and has no plans to change that.
"I would never retire," Parton said in a recent interview on Greatest Hits Radio. "I'll just hopefully drop dead in the middle of a song on stage someday, hopefully one I've written."
Parton's decades-long singing and acting career has earned her 53 Grammy nominations (and 10 wins), four Emmy nominations (one win), two Oscar nominations and one Tony nomination, USA Today reported. She also keeps busy running the Dollywood Company, an entertainment empire that includes the Dollywood Theme Park in Pigeon Forge, Tennessee.
The legendary singer's desire to keep working is part of a broader movement by baby boomers to delay or even forgo retirement and keep earning money well into their senior years. In Parton's case, it's because she likes to stay busy and productive. For other boomers, it's a matter of financial necessity.
"Retirement is a misnomer — there is no more retirement," career coach John Tarnoff told Moneywise in a recent interview.
Are You Retirement Ready?
There are a few reasons some boomers have chosen not to retire, and one of the biggest ones right now is heavy demand for their services. As Moneywise reported, the low unemployment rate has contributed to labor shortages for many employers. Some of these employers "lean heavily" on older workers to keep their payrolls filled.
At the same time, many boomers need the work — and the money — to deal with rising costs of living.
"I think that older workers are going to be caught in a tight squeeze, because they don't have the income overall to keep up with inflation," Tarnoff said.
Survey Indicates Older Workers Are Rejoining the Workforce
A Voya survey of two groups of older workers it called "employment extenders" found that about half were made up of employees 50 or older who had previously retired but then rejoined the workforce in a different role. The other half was made up of employees at least 65 years old who were either working or planning to work past retirement age.
"Unretirements" — workers re-entering the workforce after previously retiring — has been climbing over the past year, according to Indeed data. That's partly because older people who left the workforce during the COVID-19 pandemic are now returning.
"We're sort of normalizing back to what you expect in a strong labor market," Indeed labor economist Nick Bunker told Moneywise.
Are You Retirement Ready?
Meanwhile, Voya's research found that nearly one-third of employees aged 65 to 74 expect to be working in 2030. That's up from 27% in 2020 and 19% in 2000. For these workers, staying on the job not only means putting in the hours — it means learning new skills and technologies as well.
"It's vital that older workers dive in and roll up their sleeves along with everybody else," Tarnoff said. "There is no reason why an older worker can't learn the same remote work skills and technology skills as a younger worker."
More From GOBankingRates