Don't Have Millions? Here's Why Retirement Is Still Within Your Reach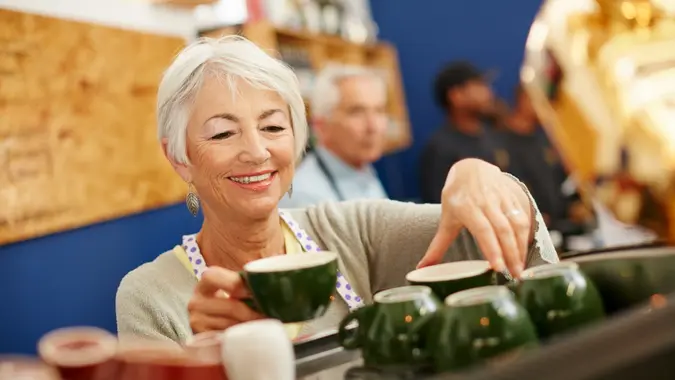 laflor / Getty Images
Do you plan to have at least a million dollars saved before retirement? For many, that goal isn't realistic. According to a recent GOBankingRates survey, just 13% of people 65 or older have more than $750,000 in retirement savings, and 31% have less than $10,000.
Retirement at Any Age: Get Retirement Tips That Fit Every Stage of Life
Learn: 6 Types of Retirement Income That Aren't Taxable
But is it possible to retire comfortably without millions in savings in today's volatile economy? Financial experts say yes — and here's how they recommend doing it.
Figure Out How Much You Need
When it comes to retirement, the earlier you start saving, the better. But just 13% of people 65 or older started saving in their 20s while 22% started in their 40s, according to the GOBankingRates survey.
Check Out: 5 Things You Must Do When Your Savings Reach $50,000
Starting to save later in life doesn't automatically spell doom, though. Every person's lifestyle and needs are different, said Gerald Grant III, a retirement planning specialist with Equitable. For those who aren't retiring with millions, the first step is to see how much they spend on living expenses.
"First, you want to determine if you have enough in savings by meeting with a financial planner," he said. "If you don't have the right resources, this conversation can help you start to identify adjustments that can be made to get you to your desired outcome."
If your savings don't match your income needs in retirement, you'll need to increase your income, decrease your expenses, or use a combination of both.
Downsize to a Smaller Home or Move to a Less Expensive Area
Kendall Clayborne, a CFP at SoFi, said housing is often one of the largest expenses. Those who still have large mortgages or are renting can cut costs by downsizing.
"If you don't have a large amount in savings but do have a paid-off home, you can consider selling your home and downsizing to then help further build your savings," she said. "Downsizing can also lower other expenses, such as property taxes, home maintenance and utilities."
Consider your location, too. Areas with excellent public schools tend to have higher taxes, Clayborne said, so consider moving to a lower-cost area.
Sell Your Car
Retirees who own two or more vehicles may find they need only one in retirement, Clayborne said. Selling one of your cars could put more cash in your savings account plus cut down on expenses like gas, car insurance and maintenance.
Keep an Eye Out for Senior Discounts
Whenever you go shopping or enjoy entertainment, check whether the establishment offers senior discounts.
"At some stores, this may be on specific days," Clayborne said, "and at others, you might simply have to ask. My local grocery store offers 5% off for seniors with their loyalty card."
Look for Ways To Earn Extra Income
If your budget still isn't sustainable even after cutting expenses, Grant recommends supplementing your retirement income. Start by identifying something you have a level of expertise in or a strong passion for.
"In many cases, you may have worked for large companies your entire career and have gained an enormous amount of knowledge and experience," he said. "You can utilize this experience to provide services to your current or comparable companies that need your expertise. By working as a consultant, you can design your work schedules around your retirement life."
Getting a stable, part-time job is another option. Clayborne sees many retired couples getting lower-stress part-time jobs or transitioning to working only a couple of days per week.
Renting out your assets also could bring in income, she added, especially if you own a secondary or vacation home, a car you don't often use, a boat or a storage space.
Invest in Conservative Assets — But Not Too Conservative
For those near retirement age, Clayborne recommends focusing your investments on less risky assets such as bonds, cash and cash equivalents.
But she clarified: "This doesn't mean you shouldn't hold any stocks. Keep in mind your savings may need to last you another 20-30 years in retirement. And while stocks are more volatile, they also tend to have the highest return over time. By being too conservative, you run the risk of running out of money sooner."
Grant agrees, encouraging retirees to remember that their money has to compete with taxes and inflation. If your investments aren't earning enough to compete with these factors, you're actually losing money.
"Even as you approach retirement, it's OK to take on a certain level of risk," he said. "However, it must be within your comfort level because peace of mind is more important than long-term gains."
More From GOBankingRates