Our Road to Retirement: Driving the US to Find the Best Places to Retire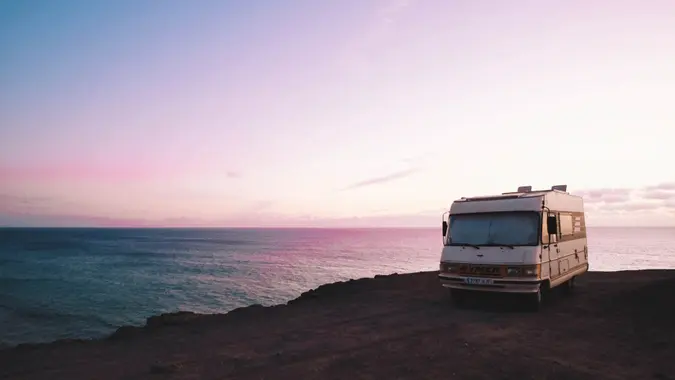 Stijn te Strake / unsplash.com
A GOBankingRates survey asked respondents their primary reason for considering relocation in retirement. The top two answers — change of scenery and better climate/warmer weather — tied, with each receiving 28 percent of the responses. Being closer to their family was nearly as popular (22 percent), but, interestingly enough, the money-related reasons — saving on housing costs and lower taxes — only garnered 14 and 8 percent, respectively.
Though many retirees and soon-to-be retirees were uncertain of what relocation would cost them (their guesses started at $0 and went into the millions, with the average estimate being just under $100,000), it is nevertheless clear that many Americans aren't saving enough for their retirement years.
Read More: Survey Finds 42% of Americans Will Retire Broke — Here's Why
When asked how much money they'd saved for retirement, the average for those ages 45 to 54 was $158,034. Those respondents ages 55-64 were worse off still, with only an average savings of $138,495. Forty respondents ages 65 or older reported savings on average of $424,308; however, five of the 40 respondents averaged nearly $3M themselves, leaving the other thirty-six respondents with average savings just under $80,500.
More on This Scary Savings Amount: How Long $100K in Retirement Will Last in Every State
When it comes to where Americans dream of living in retirement, the survey revealed 47 percent want to be near beautiful beaches, but they don't exactly agree on where. Twenty-two percent envision the West Coast, 18 percent the Southeast and 19 percent would be happy in another country altogether.
Are You Retirement Ready?
Our Retirement
My husband and I can understand the diversity of answers. We've long dreamt of warmer climates to partake in outdoor activities year-round. We currently reside in Michigan and own a second home in Florida, which could be our future retirement home. That said, we aren't entirely convinced Florida is where we want to live full time.
Like 47 percent of respondents, we want to be near beaches, coastlines and/or lakes, but we also look forward to hiking mountains, exploring national parks, golfing at a variety of courses, and exploring cities and towns for longer than one to two weeks. That's a lot of things on our wishlist. So, how do we plan on checking off each item?
We are retiring to the road for a few years.
Our current plan involves retiring early, before the age of 55. We'll sell our home in Michigan and travel in an RV in search of the ideal retirement spot — although, we don't envision ourselves leaving the U.S. like nearly 20 percent of the population does.
Up Next: 10 Surprising Facts About Retiring You Probably Don't Know
We might eventually retire in Florida, after all. Or, we might find that as we enter our late 60s, we desire being closer to our family, as 32 percent of those over age 65 do. Only time will tell. In the meantime, we hope to visit family and friends, meet new people, explore new places and chase warm weather, sunsets and golf balls around the country.
Are You Retirement Ready?
Start Saving Now
It's never too early to start saving for retirement. And, if you desire to relocate from your current home at retirement, it's probably not too early to start making note of what's most important in a new location. It might be beautiful beaches, availability of outdoor activities, plenty of shopping and places to eat or quality, affordable healthcare. Maybe your ideal location has all of those.
Since I'll be out there on the road, chasing my retirement dream, I'll let you know if I find it.
Read More: This Is How Much You Need to Survive Retirement in Your State
Click through to read money secrets that wealthy, successful people know.
More on Money
We make money easy. Get weekly email updates, including expert advice to help you Live Richer™.