16 Financial Perks You Can Look Forward to in Retirement

7 min Read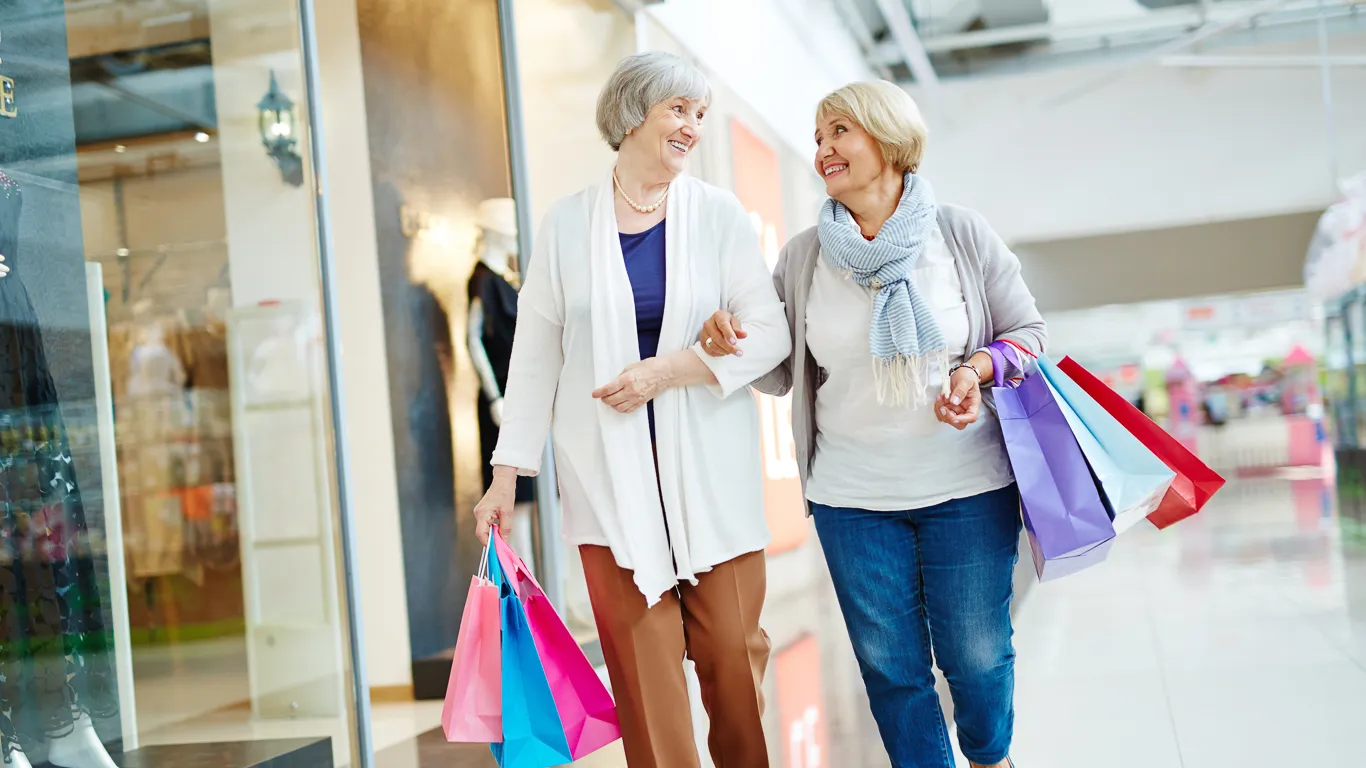 You spent decades hard at work, and now it's finally time to sit back and relax. Since you no longer have a full-time job taking up your time and energy, you can have fun — and you don't even have to pay full price for it.
Plenty of companies offer senior discounts, allowing you to enjoy your favorite things at a fraction of the cost. Life can be grand in your golden years, and these 16 retirement benefits can help you stretch your retirement dollars.
Enjoy Wellness Perks at Rite Aid
Take 20 percent off nonprescription purchases the first Wednesday of every month with the free Rite Aid wellness65+ program. Valid for in-store and online purchases, this deal offers the potential for major savings. Each month brings special activities that cover a different health topic.
As a wellness65+ member, you're also eligible for a free consultation with a Rite Aid pharmacist. The meeting includes a review of your medications and immunization needs, a look at free pharmacy services available to you, a complimentary blood pressure screening and answers to your Medicare Part D questions.
Grab Lower Fares at Southwest Airlines
From jetting off on an adventurous vacation to visiting the grandkids, airfare can add up fast. In 2016, the average cost of a domestic round-trip plane ticket was $349, according to the Bureau of Transportation Statistics.
If you're age 65 or older, Southwest Airlines offers a special senior fare that helps you cut costs. Discounts vary by destination and travel date, but they're available for both domestic and international flights.
These fares are also fully refundable, so there is no need to stress if your plans change. Additionally, Southwest Airlines allows all customers to check two bags for free.
Don't Miss: 20 Top Vacation Spots for Retirees and Their Costs
Savor Discounted Rates at Staybridge Suites
A home away from home with nearly 200 locations worldwide, Staybridge Suites offers senior discounts for guests ages 62 and up, and for those with a membership in a retired persons organization. Savings opportunities vary by booking, but are based on full-priced room rates only.
Senior rates can be booked online. The hotel offers many comforts of home, including fully equipped kitchens and a complimentary hot breakfast.
Consider a Reduced-Rate Cellphone Plan at AT&T
If you're an AT&T customer, take advantage of the Senior Nation cellphone plan. For just $29.99 per month, customers ages 65 and up get 200 anytime minutes, unlimited mobile-to-mobile minutes nationwide with other AT&T customers, and 500 "nights and weekend" minutes. All of that comes without roaming and long-distance charges.
The Senior Nation plan is only available for basic phones. If you have a smartphone or a tablet, you'll need to find another way to save money on your phone bill.
Get a Senior Pass to US National Parks
The "America the Beautiful" annual pass to U.S. national parks and federal recreational lands typically costs $80 per year. However, if you're at least 62 years old, you're eligible for the senior pass. It costs just $10 — plus a $10 processing fee — and is valid for the rest of your life.
The pass grants you entrance to more than 2,000 federal recreation sites, allowing you to explore the great outdoors inexpensively. In some cases, the pass might offer discounts on expanded amenities — including camping — so choose your destination and check the specific site for details.
Save on the Eat'n Park Breakfast Buffet
Gather your friends and head to Eat'n Park every Tuesday for the senior breakfast buffet. Guests ages 55 and over can enjoy the buffet for $5.99 from 7:30 a.m. to 10:30 a.m.
The restaurant's weekday breakfast and fruit buffet typically costs $7.99, so the savings can add up. Plus, if you eat a little extra, you might not be hungry for lunch.
Don't Miss: Best All-You-Can Eat Buffet Deals
Pay Less at Hyatt Hotels
Travel is fun, but hotel costs can add up fast. Hyatt eases the financial burden by offering seniors at least 62 years of age up to 50 percent off daily rates at participating hotels in the continental U.S. and Canada. Rooms can be booked online by clicking on the "special rate" dropdown menu.
Score Savings at Jo-Ann Fabric and Craft Stores
Jo-Ann periodically offers senior discount days, where shoppers ages 55 and up can save 20 percent. The discount is valid for in-store purchases only, so check with your local store to find out when the next offer is scheduled.
Taking advantage of these days is a great way to save money on all the supplies needed for craft projects. Plan your shopping right and you won't even have to pay full price.
Enjoy Senior Discounts at Landmark Theatres
During 2016, one movie ticket cost an average of $8.65, according to the National Association of Theatre Owners. Save some money for popcorn by heading to Landmark Theatres, where senior citizen pricing starts at age 62 in most markets.
Senior tickets can be purchased online, so you don't have to worry about making it to the box office before they sell out. Discounts vary, but expect to save a couple dollars.
Take Advantage of Retirement Benefits at Kohl's
If you're at least 60 years of age, save all your Kohl's shopping for Wednesdays. You can save 15 percent each week on in-store purchases during that day.
This offer isn't valid with any other discounts and is available on select items. See a store associate for additional details and treat yourself to a shopping spree.
See: Top Retirement Communities in America and the Cost to Call Them Home
Save on Greyhound Bus Tickets
Embark on a bus trip without paying full price. Greyhound passengers ages 62 and up get 5 percent off passenger fares. The discount is valid on Greyhound buses and participating connecting bus companies.
The senior discount doesn't apply to Greyhound Canada trips. It also cannot be combined with any other savings opportunities.
Schedule a Free EyeCare America Exam
Regular eye care exams are essential to your health. Fortunately, EyeCare America has you covered. As part of the program — run by the American Academy of Ophthalmology — U.S. citizens or legal residents ages 65 or older who haven't seen an ophthalmologist in at least three years can connect with a local volunteer ophthalmologist who will give them a free eye exam.
To qualify, you also cannot belong to an HMO or have eye care benefits through the U.S. Department of Veterans Affairs. If you're diagnosed with a condition during the initial exam, you'll also receive up to one year of follow-up care.
Enroll in a Discounted Phone Plan at Verizon
Not to be outdone by AT&T, Verizon also offers a discounted phone plan for existing senior customers. Including 200 anytime minutes, the nationwide 65 Plus Single-Line Plan costs $29.99 per month. A variety of text messaging and data plans are available as add-ons, including $10 per month for 1,000 text messages and $30 per month for 2GB of data.
Verizon also offers a 65 Plus Two-Line Share Plan, which costs $59.98 monthly for 450 anytime minutes. Texting and data options are the same as the single-line plan, allowing you to customize it to fit your needs.
Cut Costs at Amtrak
Amtrak makes travel affordable by offering passengers ages 62 and up a 15 percent discount on the lowest available fare on most trains. Trains operated jointly by Amtrak and Via Rail Canada offer a 10 percent senior discount to anyone age 60 and over.
The discount is not available with Saver Fares or on the Auto Train. It's also not applicable to business class, first class or sleeping accommodation tickets. Additional restrictions might apply, so check before you book your plans to avoid unnecessary travel costs.
Enjoy Cinemark Senior Day
Cinemark has more than 300 theaters in 41 states, so there's a good chance your city has one. Many offer a special Senior Day each week, allowing you to check out the latest movie at a fraction of the price. Discounts vary by theater, but expect to save a couple of dollars per ticket.
Save Money on Walgreens Seniors Day
Held the first Tuesday of each month, Walgreens Seniors Day offers discounts to customers ages 55 and up and AARP members. You'll need a Balance Rewards card, but membership is free.
Enjoy 20 percent off eligible, regular-priced merchandise. You can also earn 500 bonus points each month, so check online or visit your local store for current promotions.
Up Next: Best and Worst States to Retire Rich
About the Author