Top Financial Resources for Retirees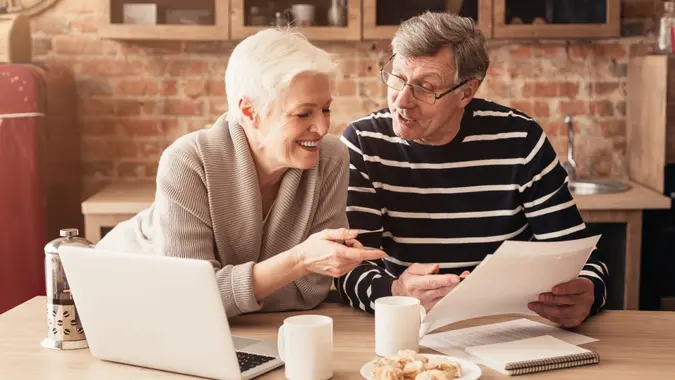 Prostock-Studio / Getty Images/iStockphoto
If you or someone you love has entered retirement or is about to soon, it's probably safe to bet that your two biggest concerns are health and money. The first one is between you and your doctor. When it comes to navigating the complicated financial landscape of life beyond your earning years, however, you are not alone.
See Our List: 100 Most Influential Money Experts
Read More: 7 Surprisingly Easy Ways To Reach Your Retirement Goals
The following is a list of resources, tools and organizations designed specifically for older Americans in need of financial guidance. The list includes everything from housing and healthcare to debt and investing — and every single resource was designed with seniors in mind.
If you're a retiree facing financial uncertainty, keep reading.
Start With HUD for Most Housing Issues
The Department of Housing and Urban Development (HUD) plays a role in the lives of millions of retirees, and its Information For Senior Citizens page organizes links to all of the agency's relevant programs.
This is the place to visit if you need help:
Staying in your home: Here, you'll find information on reverse mortgages, rural housing loans, federal housing and housing counseling
Finding an apartment: This section offers links to programs for affordable rent, public housing, rural rental help and Housing Choice Vouchers (Section 8)
Staying safe: This category provides information on how HUD can help you fight housing discrimination and avoid reverse mortgage scams
Need Help Paying for Utilities? Try LIHEAP
The Low Income Home Energy Assistance Program (LIHEAP) is a federally funded initiative that your state administers. It's the first site retirees should visit if they're having trouble paying for their utilities. The program helps qualifying individuals pay for home heating and cooling costs and some seniors might even qualify for upgrades and improvements to make their homes more energy-efficient.
Take Our Poll: Do You Think Student Loan Debt Should Be Forgiven?
Need Help Paying for Anything Else? Visit USA.gov
USA.gov is an official website of the United States government, and it maintains a page called Help With Bills, which offers retirees and other seniors a large database of links, contacts and resources.
Visit the site if you're struggling with housing costs, medical bills, health insurance, prescription drugs, or landline telephone or cell phone service.
The SEC Can Help Seniors Answer Their Investing Questions
The Securities and Exchange Commission (SEC) runs Investor.gov, a one-stop shop where seniors can learn about investing, search for industry professionals, find out about scams and access tools like quizzes and calculators. The SEC dedicates an entire section of the site to retirees and the issues that are most likely to affect their finances. That includes tips on avoiding fraud, managing investments in retirement and finding and vetting financial professionals who specialize in assisting seniors.
You'll also find an up-to-date list of bulletins and alerts on all kinds of topics that impact retirees and their investments, including:
Annuities
Fixed-income investments
REITs
Target date retirement funds
Transferring assets
Trusts
Power of attorney
The CFPB Can Take the Anxiety Out of Late-Life Money Choices
The Consumer Financial Protection Bureau (CFPB) offers a long list of resources for seniors under the blanket category of "financial security later in life." That includes tools for choosing financial advisors, planning for diminished capacity and illness, managing pension payouts, understanding Social Security advanced designation and dealing with debt.
Are You a Surviving Spouse? The CFPB Can Help With That, Too
You should also visit the CFPB if you have questions about managing your finances in the wake of a spouse passing away. The CFPB's Help For Surviving Spouses guide includes a financial checklist and tips on how to handle the crucial first steps. You'll learn about which documents you'll need to proceed and where to go to get help. You'll also find worksheets for assets and bills.
Senior Living's 'Guide to Finance' Touches on All Topics
It's hard to imagine that any site has a more complete directory and database for issues related to life as a retiree than Senior Living — and the publication offers a comprehensive resource called the Guide to Finance for Seniors, which touches on just about every important topic.
The guide covers everything from planning for insurance and medical expenses to tax credits and deductions for seniors. If you've asked the question, the answer is probably in the guide.
Visit AARP for State-Specific Benefits
AARP offers a variety of financial resources for retirees and other seniors, including a list of links for state-based financial aid and other programs available to seniors specific to where they live. Each link leads to a PDF download of the Public Benefits Guide for all 50 states and the District of Columbia.
More From GOBankingRates