Gen X Retirement: Alarming New Analysis Shows 40% Have No Money Saved — 5 Obstacles Keeping Them in the Red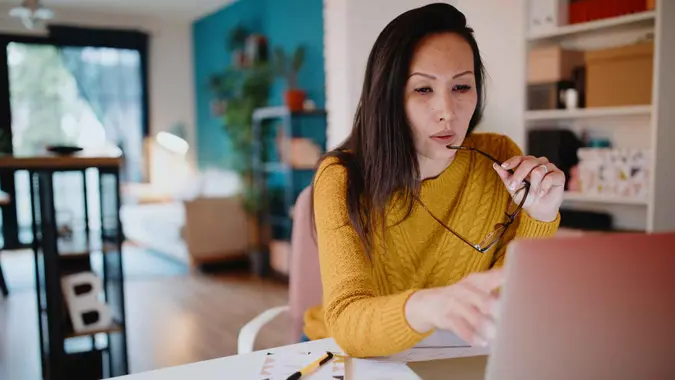 Anchiy / Getty Images
In four years, the oldest Gen Xers will be eligible for Social Security benefits, which means many will be considering the possibility of retirement. The problem is, not nearly enough of them are financially prepared for it.
An estimated 40% of Gen Xers don't have any retirement savings at all, according to a new report from the National Institute of Retirement Security (NIRS). The typical Gen X household with a private retirement plan has $40,000 in savings. The situation is even worse for low-income Gen Xers, who typically have $4,300 or less saved up, according to the NIRS.
A separate analysis from GOBankingRates found that more than one-third (35%) of Gen Xers have less than $10,000 in retirement savings. One in four have only between $10,000 and $50,000 saved, and a similar percentage have nothing saved.
Those dollar figures are nowhere near what most financial experts recommend. According to some experts, you should have at least $500,000 saved up to retire comfortably — and more than twice that much if you live in an expensive state like California, New York or Hawaii.
There are plenty of reasons many Gen Xers are unprepared for retirement. Here's a look at five of them.
Lack of employer-sponsored plans: Only 55% of Gen-X workers participate in an employer-sponsored plan, according to the NIRS. Most were born too late for pensions, and too few even have access to 401(k) plans, meaning they must rely on individual savings plans such as IRAs.
Student loan debt: Gen Xers have had to rely more on student loans to pay for college than previous generations because their college careers coincided with skyrocketing tuition costs. With so much money going to student debt, there's not enough left over for retirement savings.
Stagnant wages: Wage growth for Gen Xers has been flat most of their careers, according to the NIRS, which impedes their ability to get ahead financially.
Risky investments: The GOBankingRates study found that a large number of Gen Xers got a late start on investing. In an effort to catch up quickly, they have put their money into high-risk assets. About one in five Gen Xers have invested in volatile cryptocurrency — more than have invested in safer assets such as index funds, exchange-traded funds, annuities and gold.
Inflation: More than two-thirds (68%) of working Gen Xers surveyed by Prudential Financial this year say they are concerned about reaching their savings goals due to inflation. Nearly three-quarters (72%) say the current environment makes it hard to plan beyond day-to-day.
Are You Retirement Ready?
As GOBankingRates previously reported, it's not too late for Gen Xers to come up with a winning strategy for retirement planning. Here are some steps you should take:
Log into SSA.gov to access your Social Security statement and review your earnings history to know where you stand in terms of benefits you are due.
Ask your employer about phased retirement plans.
Consider retiring in a state with a lower cost of living.
Work part-time in retirement to supplement your fixed income.
Ask your human resources contact about alternative retirement plans, investment advice, pensions or annuity options.
More From GOBankingRates