6 Hidden Hurdles to an Enjoyable Retirement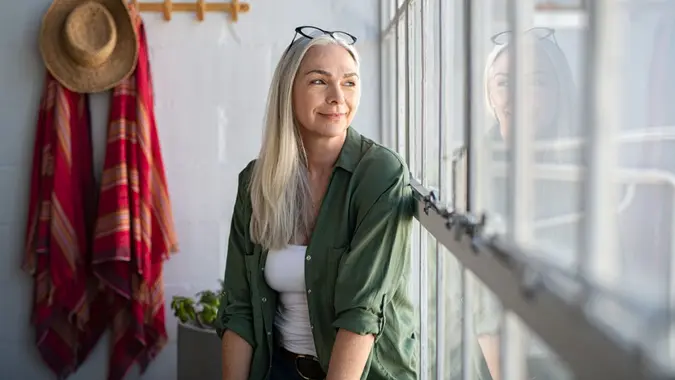 Ridofranz / Getty Images/iStockphoto
What's your dream of a perfect retirement? Travel? Golf? Family time? After a long career, you certainly will have earned the opportunity to do whatever you want.
But will you be able to afford it?
See: 6 Types of Retirement Income That Aren't Taxable
Important: 5 Things You Must Do When Your Savings Reach $50,000
Northwestern Mutual's 2022 Planning & Progress Study showed that Americans 18 and older think they will need $1.25 million to have an enjoyable retirement — a figure that is 20% more than a year ago. They have a long way to go, too.
Northwestern Mutual said the average retirement savings account balance dropped by 11% over the past year, from nearly $99,000 to about $87,000. That's among the people who have them.
You might remember your grandparents talking about their pension checks — reliable monthly income that stemmed from a pension plan funded by their employers. But with the growth of 401(k) plans beginning in the 1980s, the burden of retirement savings began to shift from employer to employee.
Now, 57 million Americans don't have access to a workplace retirement savings plan, leading many to not put anything away on a regular basis. That's according to what Ed Murphy, president and CEO of retirement-services provider Empower, told CNBC. Small businesses such as barber shops and auto-repair garages traditionally don't provide access to retirement savings plans.
"We know that if people aren't covered by workplace savings, they don't save," Murphy said. "If they don't access through payroll deduction, they just flat out don't save."
So, if your New Year's resolution is to put money aside for retirement, you're taking a great step. Just beware of these hidden hurdles and pitfalls you may encounter along the way.
Funding Your Child's College Tuition
A 2022 survey of 1,010 parents of college-aged students by College Ave Student Loans showed 43% of families were worried about paying both for college and funding their retirement. Among the respondents, 52% of parents were willing to defer saving for their own future to help their children pay for college.
But that isn't the wisest thing to do, based on what Teresa Ghilarducci, a professor of economic policy analysis at the New School in New York, told The Washington Post. In fact, she said no matter what amount of money you can save each month, 90% of it should go to retirement funds and 10% to college.
Take Our Poll: Do You Think You Will Be Able To Retire at Age 65?
"A dollar spent for retirement and saved will accumulate more investments just because you have a longer time to save," she said. "… By far the priority is your retirement savings."
Remember this, too. Your children have a lot of options when it comes to paying for college, including scholarships and grants, as well as taking out student loans. You can't borrow money for your own retirement.
Paying Medical Expenses
You can't count on Medicare to pay all of your medical expenses in retirement. In fact, the Fidelity Retiree Health Care Cost Estimate projects that the average couple that retires today at age 65 could need $315,000 in after-tax savings to pay their health care costs in retirement.
If you're still a few years from retirement, and you have access to a health savings account through your workplace, consider signing up for one. You'll contribute dollars on a pretax basis, and the money can be withdrawn tax-free for qualified medical expenses. The money rolls over from year to year if you don't use it, plus it can be invested.
Also, you might want to investigate long-term care insurance, which helps to pay expenses for assisted living or nursing homes. The 2021 Genworth Cost of Care Survey said the average monthly cost of an assisted living facility is $4,500, with a private room in a nursing home averaging $8,910.
Making Risky Investments
When you invest at a younger age, you can afford to take a greater risk. You have more time to bounce back from a market downturn. But your parents?
With time dwindling before they might need their retirement funds — if they haven't already reached that stage — their investments should trend conservative. A financial advisor can assist in finding the right portfolio mix to help retirees or near-retirees safeguard their money.
Drowning in Credit Card Debt
Let's say you amassed $20,000 in credit card debt. It's wise, before you retire, to do all you can to pay it off. Put any bonuses or tax returns toward the balance, or any earnings from a side gig. You'll be glad you did.
Do the math and you'll see why. If you have an interest rate of 18% and pay 4% of the balance each month, it will take you 189 months — more than 15 years — to pay it off. And that's assuming you put nothing else on the card. You will have paid nearly $12,000 in interest, too. Just think about what you could do with that interest money — along with the monthly payments — in your retirement.
Rising Utility Bills
No matter how well you plan a retirement budget, you can't escape some added costs. Utility bills are one of those expenses. In its Winter Fuels Outlook in October, the U.S. Energy Information Administration projected U.S. households that rely on natural gas for heating will spend an average of $931 to heat their homes from October through March — a 28% increase from last year. Just less than half of homes use natural gas for heating.
Ask your utility company if it offers a senior discount or a budget pay plan. With the latter, the utility will project your annual spending and spread out your payments in 12 even installments to prevent being socked with two or three huge winter bills.
Falling Victim to a Scam
The Internet Crime Complaint Center's 2021 Elder Fraud Report said that more than 92,000 people over age 60 reported losses of $1.7 billion to scams — a 74% increase from 2020. Older Americans are targeted by people seeking to take their money, often by imposters pretending to be government officials seeking direct payments or asking for personal information that a fraudster can use as part of an identity theft scheme. Other misdeeds are perpetrated through robocalls, sweepstakes or lottery scams.
The Department of Justice announced in October that it is adding 14 U.S. Attorney's Offices to its Transnational Elder Fraud Strike Force to increase its push to find people who commit financial fraud against older Americans. No matter how diligent you've been in planning for retirement, something is bound to pop up — a hidden hurdle that can impact you negatively.
The key is to seek assistance in how you respond, starting with a financial advisor in most cases. If you believe you've been duped, contact the police.
More From GOBankingRates