How Do Your Retirement Savings Compare to the Average American's?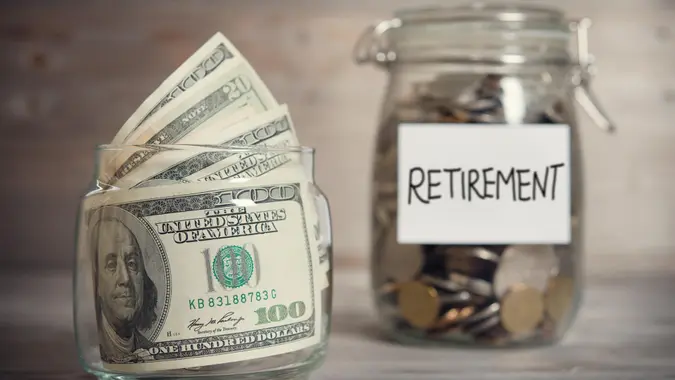 ©Shutterstock.com
Planning for retirement requires thoughtful money management and careful planning. It helps to start as early as you can, too, to let your money grow and weather market fluctuations.
When it comes to retirement, curious glances at what other Americans are doing to prepare are a helpful way of assessing where you fall on the preparedness spectrum: Are you totally ready or woefully unprepared?
Take a look at the results of GOBankingRates' recent survey to obtain the latest insights on how much Americans have saved for retirement and how to best prepare for this expensive life phase.
More Than Half of Americans Have Less Than $10,000 Saved
Many Americans have a long way to go when it comes to affording retirement. According to the survey, 53% have less than $10,000 saved. Not far behind them is the 15% of Americans who have between $10,001 and $50,000 saved. Going up a little more, just 6% have between $100,001 and $200,000 saved. 
Few Americans have saved more than $300,000: 4% have between $350,001 and $500,000. 4% have saved between $500,001 and $750,000 and another 4%, have more than $750,000 saved.
People ages 65 and above are a bit more prepared for retirement than the younger generations, as the GOBankingRates survey found that more than 7% of Americans 65 and older have more than $750,000 saved for retirement. On the younger end, those ages 35 to 44, are least likely have have more than $750,000 saved as only 1% of those in this age group have this much.
Additionally, women make up a higher percentage of Americans who have less than $10,000: 56% of female respondents fall into this range, while 48% of men do.
Additionally, people ages 35 to 64 reported having 401(k) retirement accounts in the highest percentages. For those ages 35 to 44, 55% of them had a 401(k) compared to just 31% of 18- to 24-year-olds. Interestingly, 55% of people ages 55 to 64 had 401(k) plans but only 44% of those 65 and over did — this could speak to people cashing out their 401(k) plans after retirement.
Are You Retirement Ready?
Here's How Much You Need for Retirement
If you're still scratching your head at just how much you need to save in order to retire at the age you want and achieve your retirement goals, there are some helpful goals to meet. According to Fidelity, a great way to make sure you have enough in your retirement savings is to save at least 15% of your pretax income each year. Other experts say even 10% can be enough if you can't eke out a full 15%. The earlier you can start setting aside money for retirement, the lower your yearly savings rate can be.
If you haven't started saving for retirement yet, it's not too late. If you start saving at 30, you might want to save 18% annually for retirement; or, if you start saving at 35, you should save 23%, according to Fidelity.
Follow These Age Markers
A helpful starting point is to strive to put aside at least one times your annual income by age 30. Then, you want to stay on track by saving three times your income by 40, six times by 50 and eight times by 60. This rule is based on the assumption that you save 15% of your income annually from the age of 25 and are planning to retire at 67.
This technique is a helpful way of gauging where you are in your retirement savings and can give you goals that will allow you to maintain your lifestyle in retirement.
Are You Retirement Ready?
57% of Americans 65 and Older Will Be Impacted by the Drop in Social Security's Cost-of-Living Adjustment
While many Americans may be behind on their retirement savings, many may need to supplement their savings with Social Security.
Though our survey didn't ask respondents if they plan to fund their retirement with Social Security, 33% of all respondents did report that next year's cost-of-living adjustment to Social Security, which drops from 8.7% in 2023 to likely 3% in 2024, will affect them, with 57% of those ages 65 and older among that group.
Maddie Duley contributed to the reporting for this article.
Methodology: GOBankingRates surveyed 1,091 Americans aged 18 and older from across the country between August 14 and August 16, 2023, asking twenty different questions: (1) Have you had trouble paying your utility (gas, electric, heat, internet, etc.) bills in the last 6-12 months?; (2) Which of the following bills/expenses has been the hardest to keep up with over the past year?; (3) Have you bought a car/truck in the last 6-12 months?; (4) Have you ever been on food stamps?; (5) Have you or would you use artificial intelligence (AI) to earn a passive income?; (6) Where do you shop for the best deals on groceries?; (7) What is your current annual income?; (8) How much were you able to contribute to your savings this year?; (9) How much have your savings/investments decreased over the past year?; (10) Next year's (2024) Social Security Cost of Living Adjustment (COLA) will be 3% instead of the 8.7% it saw in 2023. Will this affect you?; (11) What assets do you have in your retirement portfolio? (select all that apply); (12) How much money do you currently have saved for retirement?; (13) How much personal savings do you currently have?; (14) What's the first step you would take if you were starting a small business?; (15) If given the choice between your current job and starting your own business, which would you choose?; (16) If you have any plans to start a small business, what is the timeline?; (17) How much do you currently spend on rent?; (18) How much do you currently pay monthly on your mortgage?; (19) How much has your housing (rent, mortgage, etc.) gone up over the past year?; and (20) How long do you believe it will take you to save, in order to buy a house?. GOBankingRates used PureSpectrum's survey platform to conduct the poll.
More From GOBankingRates