How To Catch Up on Retirement Savings If You've Been Out of Work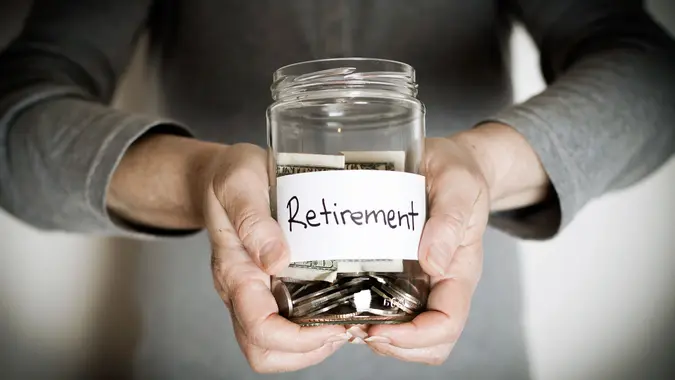 Oko_SwanOmurphy / Getty Images/iStockphoto
Millions of people lost their jobs during the pandemic, which likely meant putting a pause on saving for retirement. If you fall into that camp — or have been unemployed for a stretch of time due to other circumstances — you may be worried about how to make up for lost time now. After all, because money in investment accounts compounds, the amount of money lost is actually greater than what your contribution would have been.
Here's what financial pros say to do to catch up.
Figure Out How Much More You Need To Save
Before you can start catching up on savings, you need to know exactly where you stand and how this compares to where you want to be.
"Start with re-evaluating your retirement goals and expectations to discern exactly how far behind you are," said Rick Durbin, CFP, financial advisor and managing member at Silver Pine Wealth Management. "From there, adjust accordingly."
Look for Ways To Make More Money
The more money you make, the more money you can put toward retirement savings.
"Talk to your boss about increasing earnings by working overtime or working on a special project that could result in higher pay or a promotion," said David Totah, CFP, senior wealth advisor at Exencial Wealth Advisors.
He also recommends gaining new skills through additional education or certifications that could increase your value at work.
Are You Retirement Ready?
In addition to finding ways to earn more money at your main job, look for side gigs or part-time jobs.
"A part-time side job can really add up to additional retirement savings," Totah said. "Determine the amount that you need to catch up and make it a goal to keep working the side job until you're caught up on retirement savings. If you like the job, keep it long term!"
Look for Ways To Spend Less
Free up more money for retirement savings by looking for ways to cut expenses, Totah recommended.
"Eat out less and cook at home more, review cable and streaming costs, and cut out things you don't use," he said. "Review auto and home insurance policies every two years to make sure you're not overpaying for coverage, but make sure to keep adequate coverage. Look at your monthly budget and try to cut expenses by at least 10% or more, if possible. Most of us could cut 10% out of our budget and not even notice it."
If you currently live alone, getting a roommate can be an impactful way to cut your living costs.
"A roommate can help pay the bills and save additional monies in your retirement plans," Totah said.
Max Out Your Retirement Savings
To make up for lost time, make sure you're saving as much as possible for retirement now.
"Max out 401(k) savings," Totah said. "If possible, add to a Roth or regular IRA, or add to an after-tax savings account."
In 2022, the contribution limit for 401(k) plans is $20,500, and it's $6,000 for traditional and Roth IRAs.
Meet With a Financial Advisor
If you're unsure just how behind you are — and what the best ways are for you to catch up — it's worth it to meet with a professional who can offer expert guidance.
Are You Retirement Ready?
"To make up for the lost time, some workers may be forced to extend their retirement date. The other alternatives are to invest more principle or to invest in a way to increase the returns generated. There are combinations of these three parts that could make sense for various investors," said Roger Gaddis, CPA, CFP, senior wealth advisor at Gaddis & Gaddis. "An experienced certified financial planner could be instrumental in analyzing the parts, the investor goals and personal risk tolerance to provide guidance on the best path to consider."
More From GOBankingRates