How To Use Employee Benefits To Help Ensure You Don't Run Out of Money in Retirement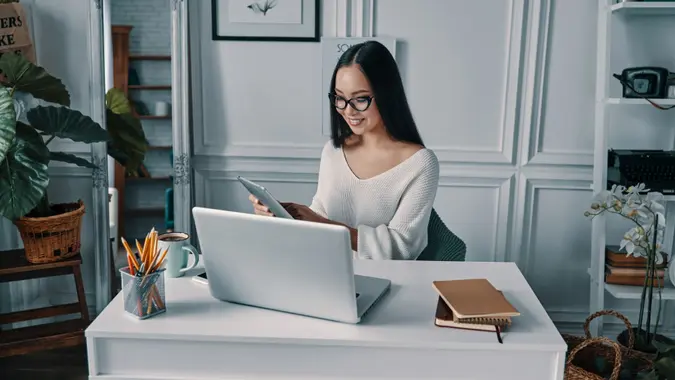 g-stockstudio / Getty Images/iStockphoto
While many people look forward to the day they can retire, a good portion of Americans is also concerned about what their finances will look like in their golden years. A recent GOBankingRates survey found that 66% of Americans are worried that they'll run out of money in retirement, making this their No. 1 financial fear about this phase of life.
See: 6 Types of Retirement Income That Aren't Taxable
Important: 5 Things You Must Do When Your Savings Reach $50,000
Although there are no guarantees in life, with careful planning and by maximizing the employee benefits that may be available to you, it's possible to greatly reduce the risk of running out of money in retirement. Here's how to best use your employee benefits to create a financial safety net for your post-work years.
Take Advantage of Employer-Sponsored Savings Plans
"Individuals who have access to retirement savings plans or other retirement benefits through their employer should take full advantage of what is available," said Michelle Patello, wealth management advisor at TIAA. "Leaving money behind today can impact the quality of your retirement years tomorrow."
Employer-sponsored savings plans include 401(k) plans, 403(b) plans, annuities and pensions.
"The key to building retirement savings that will support you over time and through the ups and downs of market fluctuations or other life challenges is to save early and adequately," Patello said. "'Pay yourself first' by setting up automatic investments for your 401(k) [or other retirement savings plan] and then build your lifestyle around your remaining available income."
To maximize employer-sponsored savings plans, make sure you are contributing at least enough to receive any offered employer match.
"Many employers will match your contributions to some retirement savings plans, like 401(k) [plans] and 403(b) [plans], anywhere from 3-6%," Patello said. "Contributing up to your employer match could double your monthly contributions, for free!"
Take Our Poll: Do You Think You Will Be Able To Retire at Age 65?
Look Into Other Benefits Offered
"It is important to review the full suite of benefits offered by an employer, outside of the retirement plans," Patello said. "Some benefits can help you save on taxes, while others provide a discount on premiums or services. Saving in other areas can help to free up money to save towards your retirement."
For example, some employers now offer Roth IRA contributions in supplemental plans.
"In addition to the benefits of having a Roth IRA, contributions and savings rates are increasing in 2023 — presenting more opportunity to save," Patello said. The limit on annual contributions to an IRA increases to $6,500 in 2023, up from $6,000 in 2022.
Other money-saving benefits that your employer may offer include health savings accounts, flexible spending accounts, commuter benefits and homeowner's insurance discounts. When you take advantage of these perks, consider putting any money saved into your retirement savings accounts to build up your financial nest egg.
Protect Your Assets
Insurance discounts or coverage provided by your employer will not only save you money but also help protect your assets.
"Take advantage of other benefits offered by your employer that can help protect you and your assets from potential risks," Patello said. "Consider taking advantage of life insurance and disability coverages through your employer."
More From GOBankingRates
Methodology: GOBankingRates surveyed 997 Americans ages 18 and older from across the country between Aug. 9 and Aug. 11, 2022, asking sixteen different questions: (1) How much money do you currently have saved for retirement?; (2) How much money do you think you'll need to retire?; (3) Realistically, at what age do you want to be retired?; (4) At what age did you start saving for retirement?; (5) What worries you financially about retirement? (Select all that apply); (6) Do you plan to work in retirement?; (7) What assets do you have in your retirement portfolio? (Select all that apply); (8) How has the current inflation impacted your retirement plans?; (9) How much of your retirement do you plan to fund with Social Security?; (10) How do you feel about the future of Social Security when you retire?; (11) What percentage of your salary are you currently investing for retirement?; (12) Are you planning to move after your retirement?; (13) Where is your ideal place to retire?; (14) What government programs do you plan to use for your retirement? (Select all that apply); (15) Do you have a pension plan?; and (16) How much do you think the average American has saved at the time they retire? GOBankingRates used PureSpectrum's survey platform to conduct the poll.