5 Keys to a Debt-Free Retirement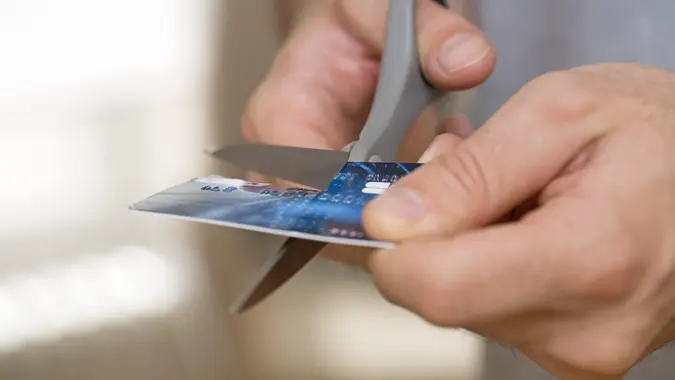 ©Shutterstock.com
Whatever shape or form a retirement may take, one thing is certain: Everyone wants to be as financially comfortable as possible and maintain a high quality of life.
Yet, many Americans are not only not financially prepared for their golden years, they start these years burdened by debt. Planning also has been complicated due to a slew of factors, such as inflation and soaring rates, that have left little to set aside for savings.
A new Allianz survey found that recent financial crises caused 46% of Americans to say they have reduced or stopped saving for retirement and don't expect to increase their savings levels in the foreseeable future.
In turn, one of the key factors to consider when approaching retirement, which will alleviate financial pressures and make for more comfortable standards of living, is being as debt free as possible.
"The first step is to stop taking out new debt," said Jay Zigmont, Ph.D., CFP, founder of Childfree Wealth. "While this may seem obvious, it is very hard to get out of debt if you are taking out more debt. That means it is time to lock and stop using your credit cards."
Then, make getting out of debt a priority. If you try to pay off your debt with what is left over, you might make little progress. Instead, you need to set a goal and budget monthly toward paying off your debt, Zigmont said.
Are You Retirement Ready?
"Look at paying off debt as investing in your future," he said. "Each time you pay off a debt, you effectively get a risk-free, tax-free return of interest. Saving for retirement is important, but so is paying off debt.
"Ultimately your goal should be to be completely out of debt, including your house, by the time you retire. Paying off all of your debts will lower your expenses and how much you need to retire. It may even speed up how long it takes you to be ready to retire."
So, what are specific steps Americans can take to achieve this?
First Things First: Start With Financial Planning
Like with many things in life, a little planning can go a long way when it comes to retirement.
Whether the goal is to pay down debt before retiring or avoid creating new debt in retirement, the most important place to start is with a financial plan, said Jerry Patterson, president of Fidelity Investments Life Insurance Company, a division of Fidelity Investments.
First, Patterson explained that to avoid building new debt once you've retired, it's crucial to have a good understanding of what your essential expenses are and the sources of guaranteed income you can tap for your day-to-day cost of living.
In addition, in a rising rates environment, it's important to remember that loans can eat into budgets and make it harder to enjoy retirement.
"One strategy that we have seen gaining popularity is the use of guaranteed fixed income annuities to cover essential expenses, including debt carried into retirement," Patterson said. "By stacking annuity income on top of things like pension and Social Security payments, retirees gain the peace of mind that comes with being able to cover essential expenses with predictable sources of income. 
Are You Retirement Ready?
"The recent rise in interest rates has made guaranteed income much more affordable for many retirees."
Take Our Poll: Who Has Given You the Best Money Advice You Have Ever Received?
Downsizing
While downsizing may sound drastic, it can have exponential benefits, said Bobbi Rebell, founder of Financial Wellness Strategies and author of "Launching Financial Grownups: Live Your Richest Life by Helping Your (Almost) Adult Kids Be Everyday Money Smart."
She added, however, that you need to be sure you have enough equity in the home to either buy a new home without a mortgage or to rent a home for many years to come. Or you need to have an alternative housing arrangement such as moving in with family.
"Another benefit may come from being able to sell many of the things you have in that home and make some extra cash to pay down other debt," Rebell said. "If all the members of your household are no longer working, you may also be able to downsize the number of cars you have."
Think About Your Investments, Social Security and Healthcare Costs
Just like an emergency fund for sudden expenses, retirement savings can help you manage unexpected costs in later years, especially health-related ones, said Eliza Arnold, co-founder and CEO of Arnie.co.
In turn, Arnold recommends a few steps to avoid debt. First, spread out your investments.
"Don't put all your eggs in one basket," she said. "Spread your money across different types of investments to reduce risk. If you're not sure how to do this, a financial advisor can help."
Are You Retirement Ready?
Then, think about healthcare costs, which can add up as you get older.
"Look into options like a Health Savings Account (HSA) or long-term care insurance to help cover these expenses," Arnold said.
Finally, she recommends holding off on Social Security. "If you can, wait a little longer to start taking Social Security. The longer you wait, up until age 70, the more money you'll get each month."
Work on Your Credit Card and Other Debt
Prioritize paying down debt and always pay secured debt such as mortgage or car first, said Sean Fox, president of debt resolutions at Achieve.
Then, tackle your credit card debt. Paying off credit card debt at today's interest rates (averaging 20% or more) is basically an investment that earns 20%, said Fox.
"Figure out how much you could pay each month toward debt repayment," Fox said. "The amount should be greater than the combined minimum payments on all of your credit cards. Then implement the avalanche or snowball method to pay off the debt."
Consider a Side Hustle or Passive Investments
Planning ahead is the key to retiring without debt, as incomes are rarely equal to when you were working. So being able to see clearly what you will earn and what you will need to live on will not only provide clarity but also likely motivation to get going as soon as possible, Rebell said.
In turn, one thing to consider is turning your hobby into a side hustle, which could evolve into an enjoyable part-time job when you retire.
Are You Retirement Ready?
"Many retirees enjoy having some work — just on their own terms," Rebell said.
Other experts echoed the sentiment, saying you have to manage your expenses and try to add more income into your household.
"Whether that's through side hustles, side businesses or something passive such as real estate, you need to try to do this," said Joe Camberato, CEO of NationalBusinessCapital.com. "The bottom line is you have to take that savings and invest that money into avenues which will grow for you and outpace inflation. Examples of this are real estate, stocks or a side business. You have to get your money to work for you — to produce more money — and use that extra cash to pay down your debt."
More From GOBankingRates