Millennials Who Take Care of Aging Parents Could Face a Different Kind of Recession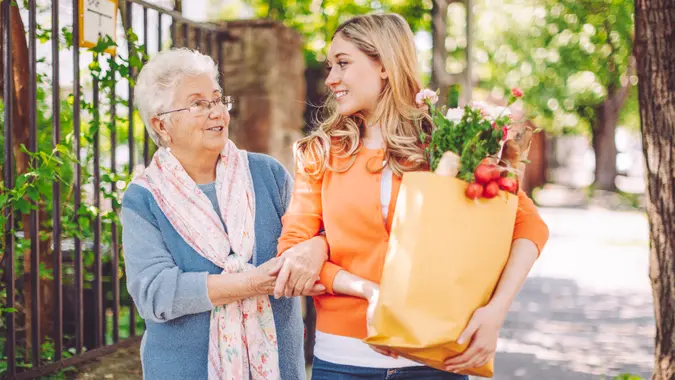 Eva-Katalin / Getty Images
Millennials, a generation that already went through two recessions and soaring inflation, are now either about to or are already facing another potential kind of financial stress. Indeed, many of them are either preparing to or already are caregivers to aging parents. Unfortunately, not all of these Americans are sufficiently financially prepared which in turn puts millennials in a spot where they could take another big financial hit.
Student Loan Forgiveness: 16 Million People Have Been Approved, But Will They Actually Get Relief?
Find Out: With a Recession Looming, Make These 3 Retirement Moves To Stay On Track
As a New York Life report notes, millennials already struggle with a specific set of challenges as they came into financial independence following the 2008-2009 economic recession and post-pandemic are now faced with student debt and inflation.
"Individuals who support their parents financially as they age have an added layer of pressure when it comes to reaching their own financial goals, especially during a high inflation environment like the one we're in today," Shazia Virji, General Manager of Credit Services at Credit Sesame told Essence. "The emotional and financial stress that comes along with being the primary financial support system can be daunting."
And a Goldman Sachs report found that 79% of millennials expect caregiving to undermine their own progress toward retirement goals, while 72%  predict that they will lose earnings and career momentum due to caregiving, Investment News reports. In addition, the report found that 43% had taken time away from work for caregiving, while 64% had either paused saving for retirement or drew down their savings, according to Investment News.
Against this backdrop, with the extremely high costs of caregiving and the fact that many seniors are not sufficiently prepared for retirement, it's no surprise that millennials have cause to worry.
Indeed, according to an Insured Retirement Institute survey, one-third of workers ages 62 to 66 have no retirement savings and 51% of older workers are under-saved, having less than $50,000 saved for retirement.
So it's no surprise that as AARP noted "millennial caregivers more often report high levels of financial strain and financial impacts as a result of caregiving, such as taking on more debt, leaving bills unpaid or paying late, borrowing from friends or family, and being unable to afford basic expenses like food."
Take Our Poll: Do You Have a Second Job or Backup Plan in Case You Are Laid Off?
How can Millennials Prepare?
As Investment News noted, caregiving is one of the biggest impediments to building retirement security.
While a third of millennials have started financially planning for the care of their aging or ailing parents, they only saved on average $3,100 for the job which is much more expensive than that, according to a Caring Advisor report. In addition, a third of the planners were also aware that they would likely want an additional job to financially care for their parents when the time did come.
To alleviate stress and start planning, certified financial planner practitioner Lemar Williams recommends that families "get together once a year to talk about everyone's financial future so that they're on the same page. That way kids can understand their parents' financial situations better and quell their anxieties," according to Business Insider.
Some of the questions that can help address the issues and plan ahead, according to Williams include whether your parents feel like they saved enough for retirement and if they have long-term-care insurance. If they're not in a position to take care of themselves, how should the family plan for this?
Learn: Here's How Much Americans Have in Their Savings Accounts in 2023
The Future of Finances: Gen Z & How They Relate to Money
Other experts' tips for millennials concerned with taking care of their parents include maintaining good credit.
"By showing lenders that you're responsible with your credit, you set yourself up for success, regardless of when you decide to take action on your financial goals," Virji told Essence.
In addition, Virji recommends finding balance and not putting your financial goals on hold.
"If you're saving for a big purchase such as a home, there are tangible steps to take immediately that can help prepare you financially for that purchase down the line, while still lending support to your parents," said Virji.
More From GOBankingRates