8 Hard Questions You Must Ask Yourself Before You Retire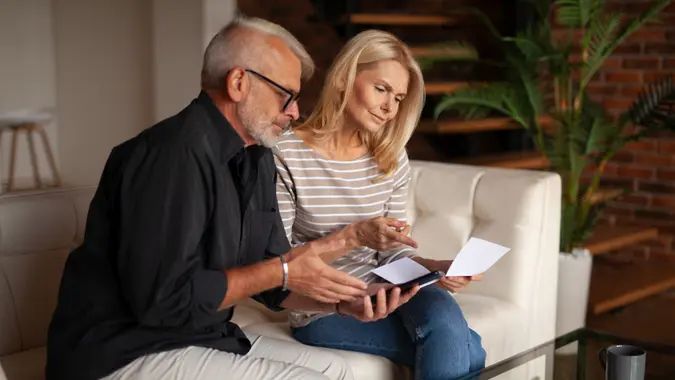 Andrii Zastrozhnov / Getty Images/iStockphoto
Retiring is a part of life that many look forward to, as it often means getting to spend more time on the things that you've been too busy all your adult life to do — like family and travel. Desired as it may be though, retirement is a significant transition, and one that could present a radically different financial situation than what you're used to as a working person. 
To help prepare for this new phase in life, it's important to ask yourself some hard questions and to answer them as honestly as you can. Here's what experts recommend you ask yourself before you retire.  
'How Will I Withdraw Money From My Retirement Accounts?'
The way you withdraw money from your retirement accounts can have an impact on your general financial situation during retirement. Ask yourself ahead of retirement how you will handle this process, as it requires careful review of your retirement savings, tax implications, projected expenses and income sources.
"To answer this question, you should consider several factors," said Baruch Silvermann, CEO of The Smart Investor. "First you need to understand the tax implications of different withdrawal strategies. For example, withdrawing large amounts of money from your tax-deferred accounts all at once may result in a higher tax bill, while spreading out your withdrawals over time could potentially lower your tax liability.
Are You Retirement Ready?
"Another aspect to consider is the order in which you withdraw funds from different types of retirement accounts," Silvermann added. "For instance, if you have both traditional and Roth retirement accounts, withdrawing from Roth accounts first can be advantageous since Roth withdrawals are typically tax-free. Lastly, you should factor in your projected expenses and income sources throughout retirement… This will help you estimate how much money you'll need to withdraw each year and from which accounts."
'What Are My Retirement Income Sources? Will They Be Enough To Meet My Needs?'
If you don't assess the income you expect to receive during retirement and how it sizes up next to your desired lifestyle, you could be thrown a terrible curveball.
"Start by identifying the various sources of income [you] will have in retirement," Silvermann said. "This could include a pension if eligible for one, Social Security benefits, income from investments such as stocks, bonds, or real estate, rental income or any other sources of passive income."
Once the income sources are identified, evaluate whether the combined income will be sufficient.
"Consider factors such as [your] expected expenses during retirement, including housing, healthcare, daily living costs, travel and any other financial commitments [you] may have. It's essential to be realistic and conservative in estimating expenses to ensure a comfortable retirement."
'Where Will I Live Out My Retirement?'
It is critical to secure a stable, long-term living situation for the foreseeable future when you embark on retirement.
Are You Retirement Ready?
"If you have paid off your home, this is amazing," said Rebecca Awram, mortgage advisor at Seniors Lending Centre. "However, many people still need to, and budgeting for your mortgage can become a lot harder once you no longer have the regular paychecks that working provides.
"Conversely, will you be a snowbird and look to invest in new property in a different area? Then you must ask yourself how you will qualify for an additional mortgage — something you may want to explore while you are still in a relatively lucrative pre-retirement budget."
'Will I Be Able To Keep My Home?'
Another question for homeowners is whether or not they will be able to afford their home in retirement. 
"In most cases, your income drops significantly once you enter retirement, and it can be much harder to afford the same lifestyle you had while you were in the workforce," Awram said. "However, it is also true that most retirees want to age in place. Meaning they want to stay in the home where they have created a lifetime of memories.
"Not having a fully paid-off mortgage before retirement can be challenging as everyone wants to enter the golden years debt free. So ask yourself how you will navigate staying in your home if this is your desire for retirement. Explore lending solutions such as reverse mortgages that can help you live out retirement in your home without requiring regular mortgage payments or even a line of credit that requires an interest-only payment (no principal reduction)."
Are You Retirement Ready?
'What Is My Plan for Handling Inflation During Retirement?'
Over the last couple years, it has been demonstrated how devastating inflation can be. Unfortunately, it's not just hard on paychecks — it's hard on retirement savings.
"Inflation can erode your purchasing power over time, making it essential to plan for its impact on your retirement income," said Amber Dixon, CEO of Elderly Guides. "Consider investment strategies that can help protect against inflation, such as owning stocks or inflation-protected bonds."
'How Will My Retirement Affect My Partner?'
Retirement is a major transition, and it will affect not only you, but your partner, if you have one. Get ahead of a possible crisis by having open communication with your spouse.
"Retirement can change your relationship dynamics, and discussing expectations can help ensure a smooth transition," Dixon said. "Communicate openly with your spouse or partner about your retirement plans and how they may affect your relationship."
'Have I Updated My Estate Plan and Beneficiaries?'
Everyone needs to get on the ball in terms of making an estate plan, no matter your age. But this is an especially important task for older folks. 
"Regularly updating your estate plan and beneficiaries ensures your wishes are carried out and your assets are distributed as intended," Dixon said. "Review your estate plan, will and beneficiary designations, and make any necessary updates to reflect your current wishes."
'What Is My Social Plan?'
Being prepared for retirement is not just about being financially ready. It's also about being prepared for the social changes it will bring about.  
Are You Retirement Ready?
"If your social circle is strictly co-workers and Facebook 'friends,' you may not be ready to retire," said Brock Westbrook, CFP and manager of Advanced Markets at COUNTRY Financial. "Have a plan in place to stay social; and being social means more than just scrolling social media. Join some clubs, start some hobbies, volunteer and make friends outside of the office.
"Put a plan in place to meaningfully occupy your time that focuses on selfcare. Be sure that your retirement is what you've always dreamed of, and if it won't be just yet, wait."
More From GOBankingRates