5 Reasons Millennials Are Worried About Their Parents' Finances in Retirement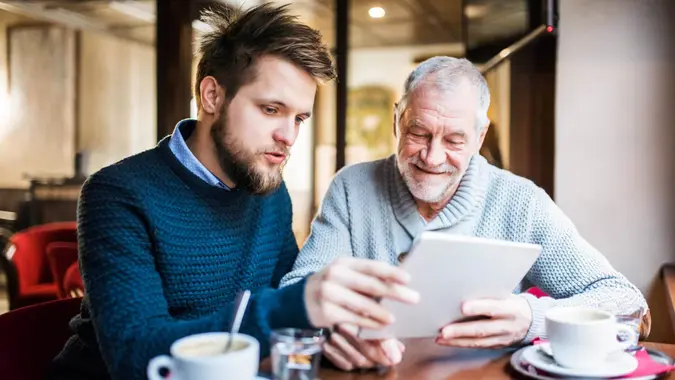 Halfpoint / Shutterstock.com
When it comes to attitudes on retirement preparedness, a generational gap divides America.
A new Edward Jones survey of more than 12,000 adults across five generations found that most older people in and near retirement are confident in their ability to thrive across what the study's authors call the "four pillars" of retirement: health, family, purpose and finances.
Their adult children, however, aren't so sure.
Millennials are overwhelmingly worried about their parents' ability to retire comfortably, and many are willing to sacrifice their own future financial security to help them live out their years in stability and happiness. Here are five reasons baby boomers' kids are worried about their parents' money matters.
Retirees Have Positive Attitudes Despite Negative Experiences
The study found that six in 10 Americans who plan to retire are optimistic that they can achieve comfort and stability for at least a decade after their working years. Roughly two out of three retirees and pre-retirees are confident they can handle unexpected challenges and obstacles along the way.
This general sense of enthusiasm and optimism prevails despite three out of four retirees reporting experience with what the study calls "cannonballs" — major, disruptive events that can derail even the best-laid retirement plans. Unlike "curveballs," which are comparatively minor setbacks, cannonballs include things like the death of a close friend or loved one, major health issues, significant financial setbacks and divorce.
Are You Retirement Ready?
'Course Corrections' Steer Sunny Outlooks
Optimistic outlooks are most likely among retirees and pre-retirees who exert control through what the study calls "course corrections" across the four pillars. The course corrections that had the greatest level of positive impact involved family and friends, most notably spending more time with loved ones and cutting out toxic relationships.
The most impactful financial course corrections were eliminating mortgage and credit card debt, buying supplemental insurance, creating and following a budget and cutting spending.
Millennials Don't Always Share Their Parents' Optimism
On the other end of the generational spectrum are their adult millennial children, large majorities of whom worry that their parents won't have enough money to retire comfortably and will have to rely on them for support.
"As people are living longer, they will have to make sure they have enough resources to sustain them for many years," said Aviva Pinto, a certified financial advisor with more than 30 years of experience and the managing director of Wealthspire. "Those who have not adequately saved may have to work longer, downsize, or consider a reverse mortgage. Some will have to rely on their millennial children to help them in their retirement."
Some Hinder Their Future Security by Supporting Adult Children
Many retirees and near-retirees who worry about money report struggling to balance their own future security with ongoing financial support for their adult children. Many of them either already have limited or plan to start limiting that support, and some plan to reduce inheritances to their heirs to cope.
Are You Retirement Ready?
"I have clients who have spent a lot on their children at the expense of not having enough to be able to retire or retire comfortably," said Pinto. "Many have paid for higher education so that their children would not be burdened with debt when they got out of school and started their own careers. As a result, many have had to put off their own retirement to be able to save more."
Communication Is Key, and Neither Generation Is Eager To Talk
Despite their concern over financially unprepared elders who might turn to them for help, millennials seem to have the older generation's best interests at heart, with 83% saying that a secure and happy retirement for their parents is more important to them than receiving an inheritance.
The best thing both generations can do is discuss the issues openly.
"The millennial children of these adults are often worried that their parents will not have enough," said Pinto. "Family meetings facilitated by a wealth manager or financial advisor can help both parents and their millennial children see where they are and what they will need going forward."
Pinto works with clients to create financial plans that account for all their resources, income, spending, and plans for long-term care, inflation and longevity. But many families don't even have basic conversations, much less structured meetings with professionals.
The study showed that more than four out of five older adults never or rarely discuss their retirement plans with their adult children, despite millennials having strong opinions about their parents' finances, social lives and health. That's bad news for both generations.
Are You Retirement Ready?
"The best way to alleviate the fears is awareness and communication," said Pinto.
More From GOBankingRates