Want To Retire Early? Do These 6 Calculations Now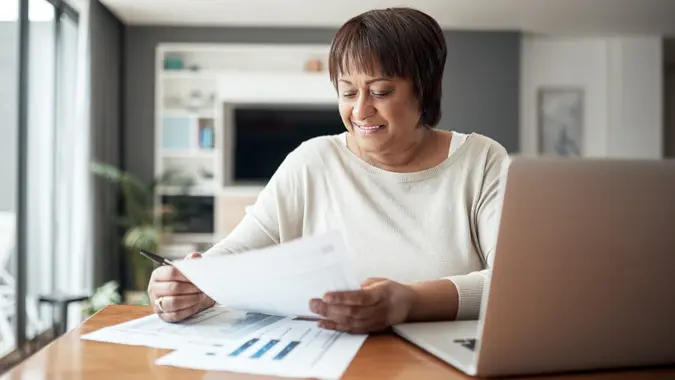 shapecharge / Getty Images
Many Americans are retiring early, but not all of them are doing it right. According to a recent survey by ClearMatch Medicare that polled 2,000 retired Americans, those who expected to retire at 63.2 years old, on average, retired at 61.5 years old — almost two years earlier than an already early retirement age.
However, this transition into retirement hasn't always been feasible long-term. According to the survey, 26% of Americans who retired early went back to work because of a rise in cost of living; 44% of those polled said that the amount of money they saved up for retirement wasn't enough to get by on.
So, how can you not only retire early, but do it successfully — without having to return to work later, or worry about a shortage of money?
Envision Your Retirement
It's never too early to begin envisioning the type of retirement you want, as it can help you assess exactly what you'll need and, ideally, how to get it.
Make a Budget
No matter where you are in your life, it's crucial to make a budget and stick to it. Managing your money and distributing it wisely — so that you have enough to retire — is paramount.
Understand Your Cash Needs
In a July 11 article from CBS News, Emily Smith, CFP, director of financial planning at Williams Jones Wealth Management, said, "Understanding what your cash needs will be in retirement is the largest piece of the puzzle. From there, you can look to your portfolio and any other income sources you may have to determine if early retirement is feasible or if it requires increased savings or delayed retirement."
Are You Retirement Ready?
Design a Savings Strategy
Once you come up with an accurate estimate of how much cash savings you'll need during retirement, you need to design a savings strategy. There's a few ways you can do this; one of the popular methods is to practice the FIRE (Financial Independence Retire Early) approach. This method requires embracing a frugal approach to living, and stashing a huge portion of your income in a savings fund (ideally a high-yield one).
Make More Money
Setting aside more money for savings isn't always doable without a second source of income. Double down on working now and hopefully you won't have to return to the workforce once you're retired.
Invest and Diversify a Substantial Portion of Your Income
Cash savings can only go so far. You'll need to invest aggressively, and as early as possible.
"Aspiring early retirees typically invest 30% to 50% of their income or more," Allen Mueller, CFA, founder and financial planner at 7 Saturdays Financial, told CBS News.
Diversifying investments is also crucial. Don't put all your nest eggs in one basket.
More From GOBankingRates
Are You Retirement Ready?