1 in 10 Retirees Have Returned to the Workforce, New Survey Finds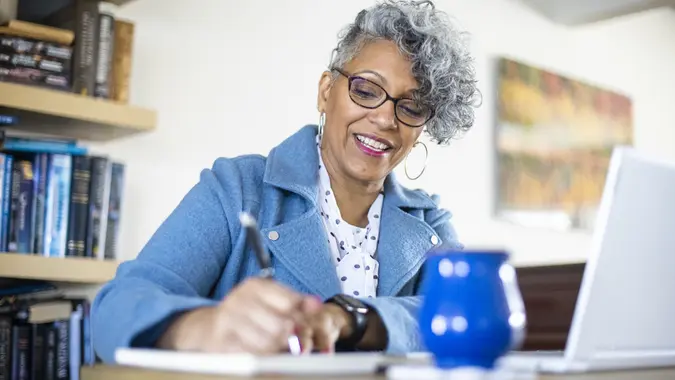 adamkaz / iStock.com
A recent survey of 2,000 retired Americans found that many are retiring earlier than expected — but a good portion have since returned to the workforce.
The survey, conducted by OnePoll for ClearMatch Medicare, found that the average retiree expected to retire at 63.2 years old, but the actual average age of retirement is 61.5 — nearly two years earlier. The survey also found that while 87% of retirees haven't returned to the workforce after leaving it, more than 1 in 10 retirees — 13% — have.
Here's a closer look at why some retirees are un-retiring.
40% of Retirees Returned To Work Out of Boredom
The survey found that a common reason retirees returned to work is that they wanted something to occupy their time — 40% of those surveyed said that this is the case.
"Some retirees choose to pick up an encore career or return to work for enjoyment," said Jay Zigmont, Ph.D., CFP, founder of Childfree Wealth. "While some people fill their retirement with volunteering, travel or other things, some retirees do something they enjoy for work.
"There are some amazing things you can do with your time if your focus is not on how much you are earning," he continued. "Some retirees start a small business, work at a non-profit, mentor others or just do something completely different than what they did across their careers."
Inflation Caused Some Retirees to Head Back To Work
Another reason retirees returned to work is that they did not have sufficient funds to cover inflated living expenses — 26% of those surveyed said they returned to work because the cost of living had increased.
Are You Retirement Ready?
"One of the challenges of living on a fixed income is that when costs go up, there is no room in your budget," Zigmont said. "While Social Security did have a large cost of living adjustment (COLA), not all pensions include a COLA. Additionally, any COLA tends to occur after inflation, so retirees have to cover a year of higher costs before it kicks in."
Other Reasons Retirees Return to the Workforce
Some retirees may be able to make ends meet with their savings and other retirement income, but want some additional income to have more financial freedom with their lifestyle choices, like the ability to travel.
Others may be looking for ways to stay mentally and physically healthy.
"The non-financial benefits of returning to the workforce can be just as profound as the financial benefits," said Katherine Roy, principal for retirement products at Edward Jones. "Working in retirement keeps people mentally active — a benefit both retirees and pre-retirees find more valuable than the paycheck — physically active, socially connected and gives them a stronger sense of purpose and accomplishment. According to our research, 44% of retirees working for non-financial benefits say it has significantly improved their lives."
More From GOBankingRates
Are You Retirement Ready?