Retirement Backup Plan: Why You Should Always Have One and How To Make One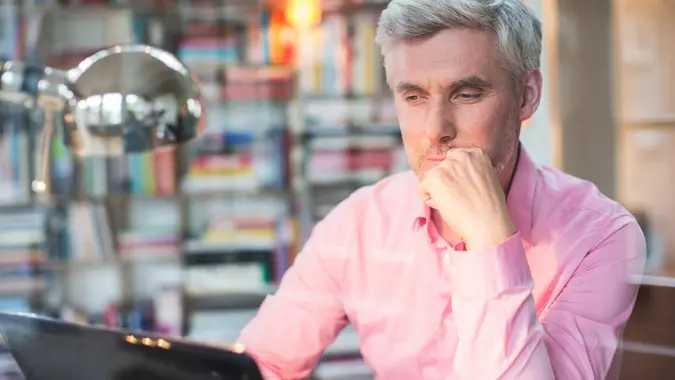 Tom Merton / Getty Images
Many moments in our lives require some form of a financial plan B. This is the plan we turn to in the event our first choice doesn't work out or we need some backup for additional security. For example, if someone applies for a job, the chances are they will apply for a few jobs. Many will also set aside some money in an emergency fund to cover unexpected expenses.
Here It Is: Our 2022 Small Business Spotlight
Read More: 7 Surprisingly Easy Ways To Reach Retirement Goals
Is it possible to create a backup plan for the purposes of retirement? This is an interesting question and one where the answer may surprise you.
Do You Need To Have a Backup Retirement Plan?
The importance of retirement planning collides with its jaw-dropping reality in the United States — 33% of Americans reportedly don't have a real retirement savings plan. 
Carol Christie, CFP at Free to be Finance LLC, said planning for retirement is built on a structure of present circumstances and intelligent assumptions. Individuals without a retirement plan may already struggle to get caught up in creating a retirement plan, let alone a backup plan. The better approach may be to create an initial retirement plan and gradually consider a backup plan over time.
"Both present circumstances and intelligent assumptions will change on a frequent basis and so it might be best to think about retirement plans as more of a compass, or a guide, to use as we prepare for this inevitable transition," said Christie.
Take Our Poll: Do You Think You Will Be Able To Retire at Age 65?
Helpful Tips for Retirement Planning
Whether you're putting together an initial retirement plan or are financially comfortable enough to create a backup plan, keep these items in mind as you begin viewing retirement as a target lifestyle.
Picture the Best and Worst Case of How Your Life Might Look
Retirement planning often starts with dreams and goals for your future self. Some of these may include where you would like to live, activities or hobbies you want to pursue, things you are passionate about and what gives you purpose. As you think about these dreams, you can start to mentally picture yourself in these scenarios. This can help create an emotional connection to your vision and better enable you to stick to a savings goal to reach this dream.
Matt Gray, founder and CEO of AnthroFi Wealth Group, works with clients for their retirement planning needs. While all clients get started with questions of what they want their retirement lives to look like, Gray will then try to break the plan. A good question Gray asks clients is, "What would this plan look like if you were forced into retirement by a disability?"
Certainly this is a question retirees may not expect, but it is important to address. Gray said it brings this issue to the forefront and allows retirees to establish a plan for this event instead of being blindsided by it.
Consider Your Biggest Retirement Fear
Gray defines a retirement backup plan as a predetermined idea of what you would do if your original retirement plan didn't play out as expected. If something happened, such as the aforementioned unexpected disability, the backup plan would contain detailed steps for the retiree to take next. 
For those retiring with an initial plan and/or a backup plan, Gray recommends every retiree consider their biggest retirement fear. Maybe this is becoming disabled. Or it might be running out of money. 
Once you identify this fear, you can begin learning about the best solutions for addressing these fears. Gray uses the example of a retiree who is scared they will run out of money. They may have a relative who would be willing to let them live with them if something happened.
After determining solutions to these fears, Gray recommends memorializing the plan. "Make sure you know where to find it. This plan should be reviewed at least annually to make sure it still meets your needs if retirement doesn't play out like the original plan expected it to," said Gray.
Speak to a Financial Advisor
Many things are currently out of our control in this world, especially for those retiring this year or who retired last year. From soaring inflation to dropping stock markets, many retirees are likely seeing their plans, initial or backup alike, shaken by the overall economic climate. 
"Historically, I think people who don't have a plan in place end up going back to get a minimum wage job and working as long as physically possible, but this shouldn't really be the first option," said Gray. "Most people should be able to avoid this fate with intentional planning ahead of time and understanding where their risks are."
The best place to start is to hire a financial advisor or professional for additional guidance. This professional can help you identify your risk areas and address any concerns you may have as well as review your existing retirement plan to ensure everyone is on the same page when it comes to retirement planning.
More From GOBankingRates