Are Your Retirement Funds Protected with Insurance?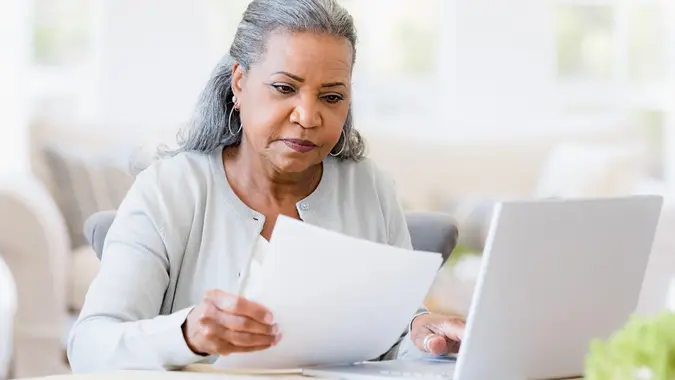 SDI Productions / iStock.com
The recent failings of Silicon Valley Bank and Signature Bank have dominated the news over the past few days, leaving savers of all ages wondering what insurance measures their financial institutions have in place in the event of a bank failure, a bankruptcy or the mismanagement of accounts.
See: Will More Banks Fail Like Silicon Valley Bank and Signature Bank?
Explore: How Much of Your Money is FDIC Insured?
According to a joint statement issued by the U.S. Secretary of the Treasury Janet Yellen, the Federal Reserve and the Federal Deposit Insurance Corporation (FDIC) on March 12, depositors of Signature Bank and Silicon Valley Bank will be made whole and no losses will be borne by the taxpayer.
That's great news for those who had money stashed with these two failed institutions. However, the FDIC primarily insures deposits only. If you're worrying about losing your retirement accounts and investments, there are other protection controls available to keep your assets safe.
What Losses Does the FDIC Cover?
In the event of an FDIC-insured bank failure — when a bank becomes insolvent or doesn't have enough liquid and can't cover its customers' deposits and obligations to creditors — the FDIC protects and reimburses your deposits up to the legal limit of $250,000 per account holder.
Insurance covers different types of accounts, including single accounts, joint accounts and certificates of deposit. To hold in excess of $250,000, you can get the same FDIC protection, but you'll have to set up additional accounts at different institutions. Opening a joint account with someone else will potentially bump up coverage to $500,000, per The New York Times.
In general, 401(k) retirement plans are not covered by the FDIC because they often include riskier investments like exchange-traded funds (EFTs) and mutual funds. However, deposits included within a 401(k) are insured if the savings plan is administered by an FDIC-insured financial institution.
More: How Much Money Is Too Much To Keep in Your Savings Account?
How About My Investments?
Protection against the loss of securities — stock and bonds, trust certificates, mutual funds and other company shares and registered assets — is not covered by the FDIC, but customers can turn to a different agency for financial reimbursement.
The Securities Investor Protection Corporation (SIPC) is a non-profit membership corporation that oversees the restoration of missing assets stemming from member firm closures, bankruptcies and periods of financial trouble. It is not the equivalent of the FDIC for investments; it is not affiliated with the U.S. government, does not investigate cases of investment fraud and doesn't intervene with customer complaints or disputes with a brokerage firm.
Overseeing the liquidation of a member firm, SIPC protects customer up to $500,000 for securities and cash (including a $250,000 limit for cash only) to expedite the return of missing customer property caused by a firm closing.
Are My Retirement Accounts Protected?
As with 401(k) accounts, the FDIC only insures deposit accounts included within traditional and Roth IRAs that are held by a FDIC-insured financial institution. There is another protection agency that helps retiree investors with plans that have been mismanaged or abused.
According to MarketWatch, the Employee Retirement Income Security Act of 1974 (ERISA) is a federal law that provides asset protection to individuals participating in established retirement and health plans in private industry. The law doesn't establish benefit payments, but it requires plan fiduciaries to meet certain minimum standards.
Learn: Are Treasury Bonds a Safe Alternative to Bank Savings Accounts?
Find: Wealthy Banking Clients Are Moving Money to Treasurys and Money Market Funds — Should You?
Plan curators who do not follow the principles of conduct may be held responsible for restoring losses to the plan and the law gives participants the right to sue for benefits and breaches in court and guarantees payment of certain benefits if a defined plan is terminated (through the Pension Benefit Guaranty Corporation).
More From GOBankingRates