Should You Plan for Retirement as a Couple or as Individuals?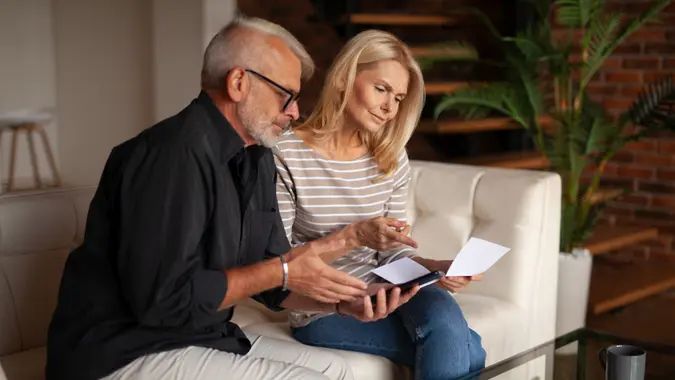 Andrii Zastrozhnov / Getty Images/iStockphoto
A thorough retirement plan will take into account your various sources of savings and income, and your projected expenses and lifestyle expectations — but how much should your partner play into it? Is it better to combine accounts or keep them separate? And how can you create a plan that works for both of you if you have different retirement timelines?
GOBankingRates spoke to financial experts to find out how couples should best approach the retirement planning process. Here's what they had to say.
What Should You Plan for as a Couple vs. as Individuals?
As with many aspects of retirement planning, there is no one-size-fits-all answer to this question.
"This looks different for everyone depending on their goals for retirement," said Nicole Caron, CFP, financial planner at Gratus Capital.
However, one thing that's important to plan for as a couple is how you will pay for long-term care.
Are You Retirement Ready?
"We never want to see a scenario where the cost of long-term care depletes the retirement assets for the surviving spouse," Caron said. "While these are never fun conversations to have, planning for things like healthcare together can give couples confidence for their retirement."
In addition to long-term care, life insurance, shared living expenses and lifestyle expectations should also be planned for as a couple, said Hiram Arnaud, a financial analyst and wealth advisor with Strategies for Wealth.
Ronnie Thompson, owner and financial advisor at True North Advisors, believes that almost all of aspects of retirement planning should be done as a couple.
"Unless a couple has specific individual goals or plans separate from their spouse, typically there are not many things a couple embarking on retirement should do separately when it comes to planning for retirement," he said. "Much of what one will do will have direct and significant effects on the other."
Should You Keep Separate Retirement Accounts?
In all phases of life, some couples like to combine their finances, while some prefer to keep some — or all — of their financial accounts separate. This carries on into retirement.
Are You Retirement Ready?
"Truthfully, this looks different for every couple," Caron said. "Common reasons why clients choose to combine accounts or keep them separate are for estate planning, inheritances, second marriages, children from previous marriages and tax implications. We recommend individuals reach out to their financial advisors for advice on their specific situation prior to making changes to their accounts."
Barbara O'Neill, Ph.D., CFP, owner of Money Talk: Financial Planning Seminars and Publications, said it's best for couples to continue on with whatever approach they had to finances before reaching retirement.
"It is what they are already used to," she said. "For example, separate accounts only or separate accounts, plus a joint account for bill-paying."
Strategies for Wealth's Arnaud recommends keeping separate retirement accounts.
"Retirement accounts should be kept separate since they function for each individual," he said. "Longevity, time horizon and long-term care must be considered. Lifestyle must also be considered. For example, in a female and male relationship, women tend to live longer than men — on average, almost 8% longer."
Are You Retirement Ready?
On the other hand, True North Advisors' Thompson recommends combining accounts.
"Consolidation of accounts is a key aspect to transitioning into retirement for a married couple," he said. "There are several benefits to consolidating accounts including reduction of account costs, reduction of investment overlap and redundancy, ability to more easily track accounts and ability to claim accounts if a spouse passes away. Keep in mind, spouses cannot combine retirement-based accounts like 401(k) [plans] and IRAs into one another's account, but if a person has multiple retirement accounts that were accumulated during their working years, they can combine those into one account."
What Should You Do if You Plan To Retire at Different Times?
Not all couples will retire at the same time — this may depend on their respective ages as well as where they are in their careers.
Not retiring at the same time can be advantageous. If one partner continues to work and can support the whole couple, this will put them in a stronger financial position when the working partner does retire.
"If couples have combined finances and the spouse who is still working is able to cover joint expenses with their cash flow, this will allow the retired spouse to keep their retirement assets invested for a longer period of time," Caron said. "Every year that their retirement accounts are not being depleted will provide more flexibility with cash flow in the future, which ultimately creates a stronger financial plan. Depending on timing, this could allow the older spouse to delay their Social Security benefit past their full retirement age to get their increased benefit."
Are You Retirement Ready?
If you do plan to retire at the same time but at different ages, it's important to ensure you have a plan in place for healthcare coverage for both partners, Thompson said.
"A person qualifies for Medicare insurance when they reach age 65, which will offset much of the costs people experience when paying for their own insurance while working. If a spouse is younger or is still working, they may need to ensure that their employer provides insurance coverage to bridge them to age 65 or in turn, cover the retiring spouse if they retire before age 65," he said.
More From GOBankingRates