Retirement Planning: How To Prepare When Having Kids Later in Life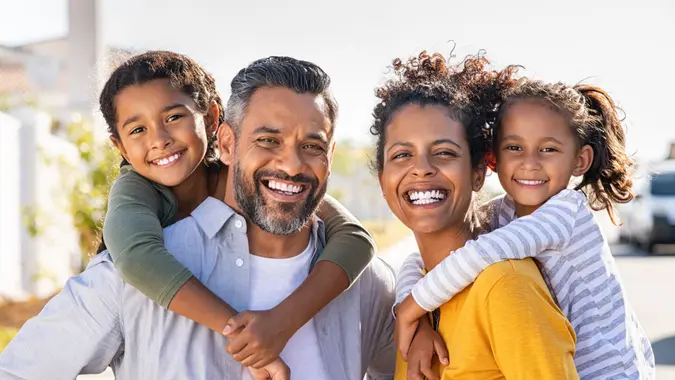 Ridofranz / Getty Images/iStockphoto
The average age for starting families continues to grow in America and around the world. The New York Times published a 2021 report which found that, since 2007, birth rates for women in their 20s have fallen by 28% while the rates ticked upward for women in their 30s and 40s. 
Social Security: Women Get $354 Per Month Less Than Men – Here's Why
Read: With a Recession Looming, Make These 3 Retirement Moves To Stay On Track
Find: 6 Types of Retirement Income That Aren't Taxable
There are numerous reasons for this swing, including more women focusing on careers as well as the growing costs associated with having a child, per Forbes. But for those delaying starting a family into their 40s (or even 50s), it may have another financial impact: delaying retirement. 
In a Jan. 17 advice column in Slate, a reader under the guise "Working Until Infinity" — described as being 50 years old with a 4- and 6-year-old, posed the question: "Is it insane to retire before your kids graduate college? Will college cost a million dollars a year in 14 years? Is there a specific reason why people must work while their kids study?"
Slate columnist and retirement advisor Lillian Karabaic gave some reason for hope, saying there may even be advantages to retiring when your kids are just entering the dorms. 
"Being retired could set them up for better financial aid if you can time your retirement plan distributions to have a lower household income for FAFSA," she said. "I have even seen retired parents, not tied to a work location, move states to obtain in-state status for their kids' preferred colleges."
Karabaic advised that "retirement savings should come first," however, since there are no loans people can take out for retirement like there are for students. She further advised her audience to make smart choices with income now while hypothetical parents are still working.
Be Prepared To Work Longer, and Consider a 529 Plan
Her advice echoed that of Monica Ma, CFP, CFA, and chair of the investment committee at Blankinship & Foster LLC. Ma said it's best to "save aggressively into retirement." As Ma noted, "Invest in your retirement first and in your children's college education second. There is financial aid available for college, but not for retirement." 
She also said, "Be prepared to stay in the workforce a little longer if you are planning to pay for both [retirement and a child's college expenses]." Her other tips included: purchasing a modest home, saving as much as possible while managing debt — and of course, buying life insurance to provide for your progeny once you have passed.
Take Our Poll: What Are Your Financial Priorities in 2023?
More: 8 Baby and Kid Items That Are Not Worth the Cost
Another good idea is to open a tax-deferred 529 education savings account for funding your child's college education from the time they are born. This way, it has time to mature and benefit from compound interest.
More From GOBankingRates