Retirement Saving: How To Transform Your Coffee Habit Into a $450K Nest Egg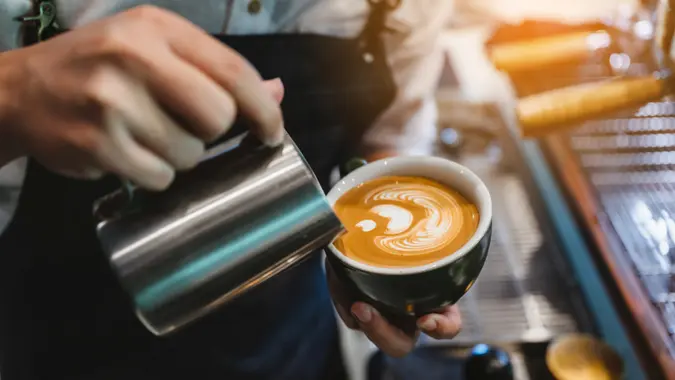 greenleaf123 / Getty Images/iStockphoto
Like most consumer goods, coffee is more expensive than it was last year. According to the Bureau of Labor Statistics, it's 15.5% more expensive. That's more than double the average price increase of 6.5% for all items. But according to a recent report from Clever Real Estate, the price of coffee varies from city to city — and the city with the most expensive cup of joe might surprise you.
See: Costco's Best Deals? Employee Reveals 10 Standout Buys for Your Money
Find: With a Recession Looming, Make These 3 Retirement Moves To Stay On Track
Virginia Beach, Virginia, Tops the List
Unlike New York City or Los Angeles, Virginia Beach isn't necessarily known for its high cost of living. But the average cost of a cappuccino in the city is $5.75. This makes it the most expensive city in the United States for a cup of steamed milk and shot of espresso.
Riverside, California, Offers the Best Deal
California, on the other hand, is known as an expensive state, but the city of Riverside offers the best deal for a cup of coffee on the go. The average price for a cappuccino in the Inland Empire city is $3.88, which is nearly $2 less than what the same drink costs in Virginia Beach.
Take Our Poll: What Are Your Financial Priorities in 2023?
More: 11 Grocery Items To Buy at Dollar Tree
Why the Price of Coffee Matters (Cutting Back Could Fund Your Retirement!)
The cost of coffee adds up. Even if you live in Riverside and get the best deal on your daily coffee habit, you could spend over $27 on coffee each week. Over the course of a year that could equal more that $1,400. In Virginia Beach, the same habit could cost $2,093 each year.
A daily coffee habit might cost more than you realize. According to CNBC, a 22-year-old coffee drinker from Virginia Beach could scrap their caffeine habit, invest that money at a 7% annualized return, and retire at age 67 with a whopping $450,000 in the bank!
More From GOBankingRates