Retirement Savings: Boomers Who Have Saved Since 2008 Have An Average of $499,000 in Their 401(k)s — How Do You Compare?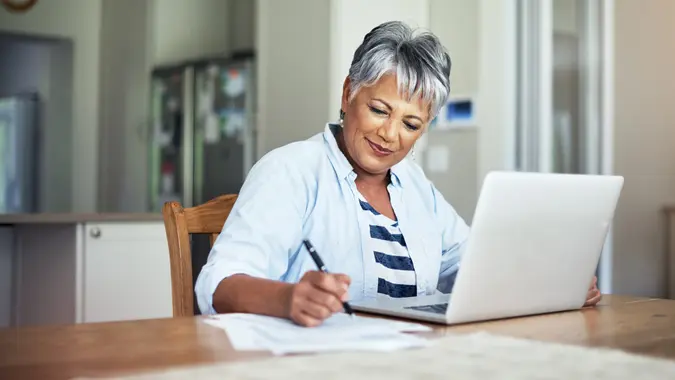 shapecharge / Getty Images
Boomers who have been adding to their 401(k) plan continuously since 2008 have an average balance of just under half a million dollars, according to a Fidelity Investments report.
April, May and June of 2023 saw a return to more favorable market conditions and, thanks to steady contributions from both employees and employers, average retirement account balances have increased for a third-straight quarter, said Mike Shamrell, vice president of thought leadership, Fidelity Investments. In fact, the average 401(k) balance increased by about 8% from the second quarter of 2022. Overall, the average 401(k) balance rose to $112,400.
"Boomers in the workforce continue to save at the highest levels in their 401(k), but the rest of the workforce is exhibiting positive behaviors, too," said Shamrell, "Across all generations the average total savings rate, which includes both employer and employee contributions, stood high at 13.9%, continuing a trend toward Fidelity's recommended 15%."
Indeed, Boomers' savings fared better than the overall population for the year, with an average of $220,900 in their 401(k) accounts, compared to $112,400 for the overall average, according to the Fidelity report. What's more, those who have been saving continuously since 2008 now have an average balance of $499,000.
Other generations also fared well, seeing double-digit percentage increases in their balances in the past year, with 14.5% for Gen Xers to $153,300; 24.5% for millennials to $48,300; and 66.5% for Gen Z workers to $8,100.
"We are continuing to see signs that the next generation of investors are establishing good retirement savings behaviors," said Shamrell. "The good news is that retirement savers largely stayed the course, with 95% of participants on Fidelity's platform keeping asset allocation the same within their 401(k) account, and 86% keeping their contribution rate steady as well."
Are You Retirement Ready?
Shamrell added that what these numbers demonstrate is the positive impact staying the course — and investing over the long-term on a consistent basis — can have on your retirement savings. 
Women's balances, however, averaged $90,600 which is significantly lower than that of men who have an average of $134,400.
The Fidelity study also found that average long-term balances for all three categories-people who have been saving consistently for the past five, 10 and 15 years, saw double-digit percentage increases as well.
5

The sentiment is echoed by many experts who say that one crucial factor in retirement planning is to start saving early and consistently.
"The earlier you start saving, the more time your money has to grow," said James Allen, founder of Billpin.com. "Even small amounts can add up over time thanks to the power of compound interest. It's like planting a tree — the best time to plant a tree was 20 years ago, but the second best time is now. The sooner you start, the more shade you'll have in the future."
Allen also recommended diversifying your investments and planning for healthcare costs.
"Remember, retirement planning is not a one-size-fits-all approach. It's a tailored suit, designed to fit your lifestyle, goals, and financial situation."
More From GOBankingRates
Are You Retirement Ready?