Retirement Savings: Gen Z Is Broke Now, But Are Optimistic They'll Retire 'Debt Free'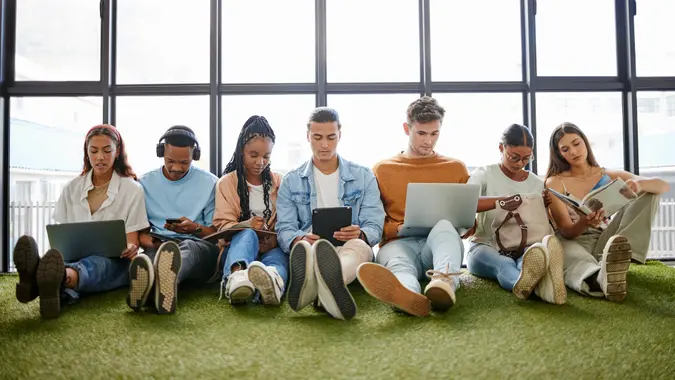 PeopleImages / Getty Images/iStockphoto
Gen Z Americans — the first digitally native generation — are still years away from retirement. But a new Achieve survey found that these Americans are the most optimistic about it, with 51.4% saying they are very confident about being financially secure when they retire.
"We would have expected younger generations to express more uncertainty about retirement, but Gen Z actually had the lowest share of respondents with a neutral outlook for retirement," said Austin Kilgore, Achieve Center for Consumer Insights analyst.
According to Kilgore, this is an optimistic sign that members of this generation are already thinking about what it takes to save money and plan ahead.
"For some, this may be influenced by seeing their parents and other older adults in their lives struggle financially, which may provide additional motivation to start saving early to avoid the same challenges," added Kilgore.
On the other hand, older generations closer to the age of retirement say they are not confident they will be financially secure when they retire, with 35% of Gen X and 34.2% of Boomers, the survey found.
Are You Retirement Ready?
Kilgore noted that the apprehension among older adults entering or already in their retirement years is both understandable and concerning, as many are realizing that their retirement accounts and other investments may not last as long as they initially expected.
"Even those lucky enough to have a pension aren't immune to these concerns, as many defined-benefit plans are not as ironclad as pensioners once thought," he said. "All of this is exacerbated by rising healthcare costs and a need to make retirement funds last longer as life expectancy increases."
Kilgore noted that the oldest members of Gen Z are just 26 years old and have a long way to go before reaching retirement, but already, they face significant financial headwinds.
"The unemployment rate among adults age 20-24 is nearly double that of the entire U.S. adult population, while credit card delinquencies are rising fastest among younger borrowers," said Kilgore.
While Americans of all ages and generations are dealing with the challenges of inflation and higher interest rates, younger consumers are more susceptible to falling behind because of them — particularly when it comes to first-time home and automobile purchases, Kilgore added.
Are You Retirement Ready?
"And now, these Gen Zers who entered adulthood during the pandemic are about to be asked to make their first student loan payments," he said.
Another surprising finding of the survey is that while younger Americans tend to be more optimistic about their retirement prospects, far fewer of these respondents actually held retirement accounts.
For example, the share of Gen Z respondents with a retirement account was less than half of that in the three older generations surveyed, Kilgore noted.
Indeed, only a meager 17% of Gen Z Americans have a retirement account, such as an IRA or a 401(k), compared to 34% of Millennials, 35% of Gen X and 38.6% of Boomers, according to the survey.
Finally, the Achieve survey also found that living debt-free is the number one financial goal across all generations, with 54.2%. Other financial goals include living comfortably, but not necessarily being rich, with 50%; the ability to regularly meet all of their financial obligations and still have some money left over each month, with 49.3%; and never having to worry about money, with 46.2%.
Are You Retirement Ready?
According to Kilgore, financial security is fundamental to many people's ability to feel safe and secure, realize personal goals and aspirations, and maintain a healthy lifestyle.
"At the same time, debt may often feel like a necessary factor in life. It's not surprising that most people's vision of financial freedom includes living debt-free, especially at a time when rising interest rates and inflation have made it harder and more expensive for people to manage their debts," he said.
More From GOBankingRates