Retiring Soon? Top 10 Locations Older Americans Relocated in 2022 To Save Money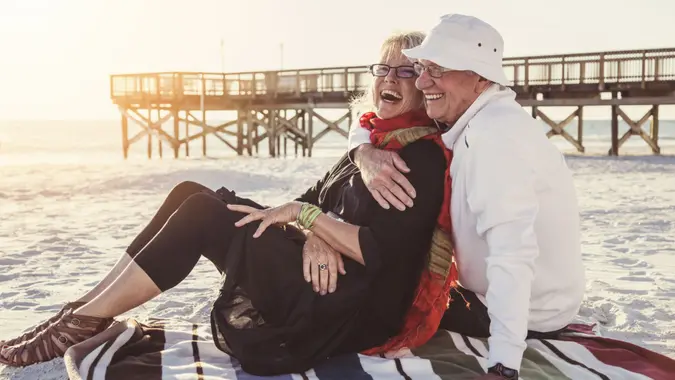 martinedoucet / Getty Images
Americans looking for greener (or at least cheaper) pastures in retirement began to relocate at a slightly higher pace last year. As usual, the most popular destinations were in the Sunbelt.
See: 7 Florida Cities That Could Be Headed for a Housing Crisis
Find: With a Recession Looming, Take These 3 Retirement Moves To Stay On Track
Learn: Do You Have Too Much Money in Your Checking Account?
About 234,000 retirees moved to a different state in 2022, according to a new study from Hire a Helper that analyzed U.S. Census Bureau data. That was well below pre-pandemic levels, but still represented a 4% increase from 2021.
Many were motivated to move by the soaring inflation that swept across the country last year. More than two-thirds of retirees (36%) said their living costs were higher than expected, while 56% said they expect to keep working after they retire.
More than 12% of American retirees who moved in 2022 said they did so to find cheaper housing, the study found. That ranked second only to "other family reasons," such as being closer to family. Retirement moves based on cost concerns are at their highest level since 2014.
"Nobody really worried about inflation over the last decade, until this [past] year," Jeremy Kisner of Surevest Private Wealth told the AARP. "Inflation really became noticeable, and I think it freaked people out."
Not coincidentally, there also has been a sharp decline in retirement moves based on new and better housing. The desire to upgrade to a better home in a different market accounted for 10% of all stated reasons for a retirement move in 2022, down from 18% in 2019, before the pandemic.
Florida the Most Popular Place for Retirees on the Move
In terms of popular retirement locales, Florida returned to the top of the list after spending the previous two years in second place.
"Florida's kind of got it all," Kisner said. "They've got the warm weather, low cost of living and no [state income] taxes. A lot of people dream of retiring to the beach, and Florida still has affordable beaches, whereas, say, Southern California [has] no affordable beaches."
One state that apparently doesn't have it all is Oregon. It ranked as the state retirees were most likely to leave in 2022, with 10% of retirees there saying they picked up and moved. Maryland ranked second on the same scale in 2022, with 7% of retirees there moving elsewhere.
The top metro area retirees moved to last year was Palm Bay-Melbourne-Titusville, Florida, which attracted 9.2% of all retirement moves. But sunny climes weren't the only popular destinations. Columbus, Ohio and Worcester, Massachusetts tied for second as the most popular destination cities for retirees, with both pulling in 5.8% of those who relocated.
Take Our Poll: Do You Think You Will Be Able To Retire at Age 65?
More: 7 Florida Cities Where Home Prices Are Skyrocketing
Here's a look at the top 10 states retirees moved to in 2022:
Florida: 11.8% of retirees who moved.
North Carolina: 9.6%.
Michigan: 6.6%.
Arizona: 5.9%.
Georgia: 5.5%.
Pennsylvania: 4.8%.
Washington: 4.6%.
Indiana: 3.7%.
Texas: 3.6%.
Virginia: 3.5%.
More From GOBankingRates