Should You Consider Coming Out of Retirement in Today's Jobseeker's Market?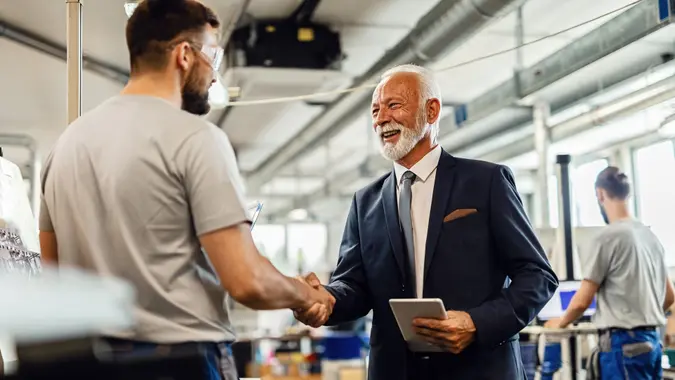 Drazen Zigic / Getty Images/iStockphoto
A combination of increased labor demand, new opportunities for flexible work and rising costs of living are driving retirees back to work, The Wall Street Journal reported. In February, the percentage of retired workers reentering the workforce reached about 3% of total retirees — the highest level since early March 2020, according to an Indeed analysis of federal labor data cited by the WSJ.
Check Out: 22 Side Gigs That Can Make You Richer Than a Full-Time Job
Read More: Jaw-Dropping Stats About the State of Retirement in America
If you've been toying with the idea of returning to work post-retirement, it's important to weigh the pros and cons. Here's why it may be a good idea to get in some more working years.
You're Having Trouble Covering Expenses
Due to circumstances outside of your control, you may find that you are having more trouble covering expenses than you anticipated.
"If due to inflation and a rocky market they are having trouble making ends meet, then there might not be a better time to go back to work than now," said Jay Zigmont, PhD, CFP, founder of Live, Learn, Plan, a financial planning firm based in Mississippi. "Higher salaries and perks — including health insurance — might be attractive to those who are having trouble covering their expenses."
Having employer-sponsored health coverage can be especially cost-saving if you retired early and are not yet eligible for Medicare.
You Want a New Challenge
Thanks to an increasingly flexible work environment, you no longer have to commit to working 9-to-5, seven days a week if you want to try something new.
"Many retirees are considering going back to work on their own terms," Zigmont said. "Each person defines what they want differently, but commonly they are looking for limited hours or a specific schedule, or just something fun to do. This is an opportunity to try out that career that they never got to do. They might have been an executive before they retired but now are working as a florist."
It Can Boost Your Social Security Benefit
Many employers are now offering higher salaries to attract potential employees. This extra income can not only benefit you now but also when you re-retire.
"One thing some retirees don't know about returning to work is that if their earnings replace one of their highest 35 years used for the Social Security calculation, their benefit will be recalculated and result in a higher benefit," said Devin Carroll, owner and lead advisor at Carroll Advisory Group.
Why You May Not Want To Reenter the Workforce
Although there are valid reasons to come out of retirement, it may not be the best decision for everyone.
"With the labor shortage taking a toll on many organizations, older workers are being recruited, especially when it comes to hourly work or skilled trades, since millennials aren't jumping to fill those roles," said Candice Pokk, a consultant at Segal, an employee benefits and HR consulting firm.
However, the pay for these types of roles may not feel "worth it."
Another reason you may not want to go back to work is the risk of COVID-19, especially for jobs that require in-person interaction.
Ultimately, however, the decision will depend on your individual circumstances and what makes the most sense for your lifestyle and finances.
More From GOBankingRates