How Ultimate Cheapskate Jeff Yeager Retired at 47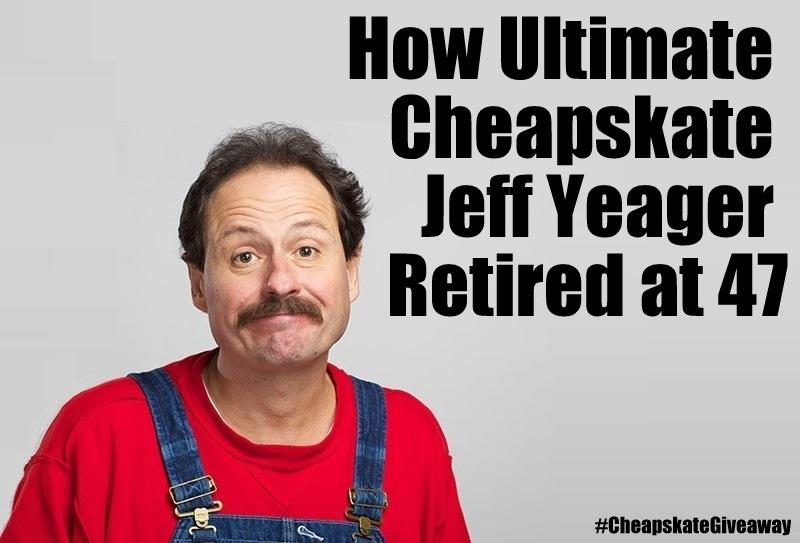 "You're crazy if you think you'll ever be able to retire! Just forget about it. Social Security is going to be dead, company pensions are already a thing of the past, and you'd be better off investing in lottery tickets than a 401(k)!"
That's the advice a guy I'd never met before injected into a conversation I was having with someone else at a party over the recent holidays. The thing was, he'd butted into the conversation part way through, having missed the part when I was talking about how I'd retired almost 10 years ago — at the ripe old age of 47 — after a fairly modest-paying career in the nonprofit sector.
Read: 5 Ways to Test Your Retirement Readiness
You Don't Have to Be Rich to Retire Young
Well, maybe "retired" isn't really the way to describe my situation. I like to think of myself as "selfishly employed," having at least enough financial freedom to do whatever the heck I want with my time without worrying about collecting a regular paycheck. Occasionally I do something for which someone pays me some money, but I don't do it because of that: I only do it if it's something I really want to do.
No, I'm not a trust fund baby. No, my wife isn't rich; she actually earned considerably less than me during her teaching career, and she has also retired young. And no, I'm not a brilliant investor. In fact, for years I thought the NASDAQ was some sort of Southern stock car racing circuit.
But what I am is pretty smart about is figuring out what's important to me in life, so I don't waste a lot of money and time on things that I ultimately regret. And while I might not be a very savvy investor, I am a very astute spender. I know the difference between "value" and "price," and I know how to find the best value whenever I pull out my wallet and fork over some of my hard-earned cashola.
A couple of years ago I brought all of my cheapskate wisdom to bear on the topic of retirement when I wrote the Amazon best-selling book "How to Retire the Cheapskate Way: The Ultimate Cheapskate's Guide to a Better, Earlier, Happier Retirement." In it, I make the case that how — and how much — you spend is at least as important as the size of your retirement income or nest egg, and even more important when it comes to planning for and enjoying your retirement dreams, whatever they may be.
In short, the return on non-investing — as in, not spending, but saving — is every bit as important as the much more written about and discussed ROI when it comes to retirement planning.
Related: 6 Retirement Planning Tips for Late Starters
Tips on Retiring the Cheapskate Way
Each month this year, I'll be sharing with GOBankingRates readers the key principles and secrets I've discovered for retiring the cheapskate way, from how to painlessly set aside money for retirement to how to "simple-size" your lifestyle before and during retirement in order to enjoy life more and spend less. I'll discuss ideas for starting your own "selfish employment" venture, explore the ins and outs of health care options for retirees, and share resources and advice on topics like the best places to retire on the cheap and how to score freebies and discounts even before you're of retirement age.
I hope you'll follow this monthly series on retiring the cheapskate way, and I hope you'll email me (UltCheapskate@aol.com) your questions, tips and stories about how to retire on less. In fact, every month I'll be selecting a winner from among those who email me, and I'll send that winner a free copy of "How to Retire the Cheapskate Way." Who said I was cheap?
Oh, yeah. That guy who I met at the holiday party, the one who said forget about ever retiring? He emailed me the other day to say he's since read my book (borrowed from the library — bravo for him!) and he's now changed his mind on the subject. He's now convinced that he, too, can retire better, earlier and happier, the cheapskate way. If that loud mouth can do it, so can you.