Want To Retire by 40? Here's How These People Did It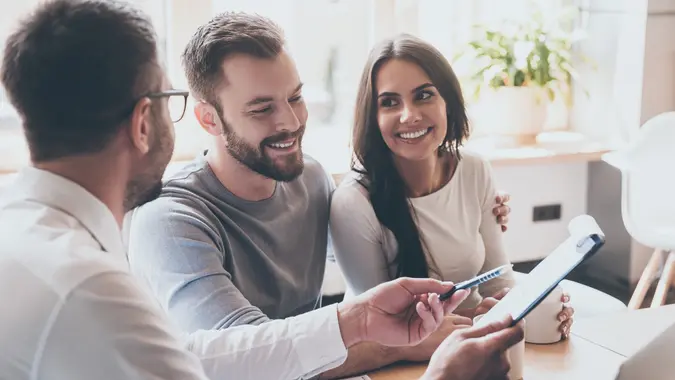 g-stockstudio / Shutterstock.com
Retiring by 40 might sound like an unattainable dream. However, there are an elite group of retirees who were able to make sacrifices early in their career in order to step away from the workforce in their 40s.
Are you interested in kicking your feet up and leaving the workforce early? If so, keep reading to meet two early retirees who can shed light on what they did to enjoy an employment-free future.
Meet John Frigo
Before the FIRE (Financial Independence, Retire Early) movement was a popular trend, John Frigo was already planning for early retirement.
"In my late 20s, I started an e-commerce business and ran that alongside a full-time job for a few years. Eventually, I left my job and ran the business full time for a number of years before I sold [it] and retired," said Frigo, e-commerce manager at Best Price Nutrition. "I'd consider my retirement Lean FIRE, as I had my retirement accounts fully funded and enough to live off of as long as I was frugal."
What Frigo is referring to — "Lean FIRE" — is just one way to categorize early retirement. Lean FIRE means you plan to have enough to retire early, but not enough to fund a luxurious lifestyle through retirement. But there are more ways to plan an early retirement, including Fat FIRE (the opposite of Lean FIRE), Slow FIRE, Barista FIRE and more.
Are You Retirement Ready?
While Frigo achieved this impressive goal, he warns people that as appealing as it is to retire by 40, it can also be lonely. He has since gone back to work due to boredom.
Here's Frigo's Advice for Retiring in Your 40s
There are some important money-saving moves you should be aware of if you're trying to retire early.
Save as Much as Possible
Frigo advises cutting back on spending and trying to live as frugally as possible in order save as much as you can.
"I saved over half my salary and invested, which for me wasn't that hard as I'm naturally pretty frugal and material things aren't really that attractive to me," Frigo said. "I'm not into clothes or cars and don't really have any expensive hobbies — my only real expenses outside of daily living expenses would be the occasional nice meal and travel."
Cut Out Expenses That You Don't Enjoy
Frigo also recommends avoiding comparing your spending to those around you and cutting back on the expenses that you don't care about.
"Figure out what things you spend money on that make you happy or bring you value, and don't be afraid to spend in those areas," he said. "FIRE isn't about taking all the fun out of life and spending no money. But [it is about] finding things in your life that you mindlessly spend money on that you don't even enjoy. If you don't care about cars, don't buy a BMW, buy a Hyundai. If you don't care about clothes, don't shop at Nieman Marcus, shop at Old Navy. Cut mercilessly in the areas that don't bring you value so you can save and invest that money."
Are You Retirement Ready?
Meet Jon Callahan
Jon Callahan has been retired since shortly after his 40th birthday and now solely focuses on his retirement side hustle, a pickleball website called Picklevine. Callahan was able to retire early by creating websites.
"Building websites that generate income is the means by which I was able to retire from full-time paid work at the age I did," he said. "I began building revenue-generating web properties at the right time — before the space got inundated with competition. So I was very fortunate in this regard and it has afforded me an unbelievably blessed life. I still run passion project websites as part of a small portfolio, but my days of 8 a.m. starts with a suit and tie are long behind me."
Here's Callahan's Advice for Retiring in Your 40s
Who better to learn from than someone who retired in their 40s themselves? Check out what Callahan advises for those interested in retiring early.
Reinvest Into What's Working Well
Callahan advises savers to consider reinvesting in order to grow their savings and contribute more to their retirement.
"I reinvested into what was working well — or perhaps this is better phrased as doubling down," Callahan said. "I first built a website that made a decent income and allowed me to leave my job. Over the next few years, I built many more websites and slowly ground to a position of retirement. I segregated my income into pots and set myself a goal that I needed before I could retire. This step alone was what enabled me to realize my dream."
Are You Retirement Ready?
So, if you're making more money off your side hustle than your full-time gig, consider quitting the full-time job and dedicating more time to your side hustle. If certain areas of your investment portfolio are performing much better than others, maybe it's time to readjust. You want to figure out what makes your income thrive best.
Stay on Course Through the Ups and Downs
Retiring early is no easy feat. One of the biggest challenges people often face is staying the course through tough times. Callahan reminds people that it's important to ride the ups and downs and stay on course in order to reach your goal.
"Keep grinding away and don't be afraid to take risks, test, trial and error, make mistakes and learn and grow," Callahan said. "This is what leads you down paths you may have never thought of, and essentially what allowed me to reach retirement at such a young age."
More From GOBankingRates