Want To Retire by 40? Jaspreet Singh Says You Need To Do These 7 Things Today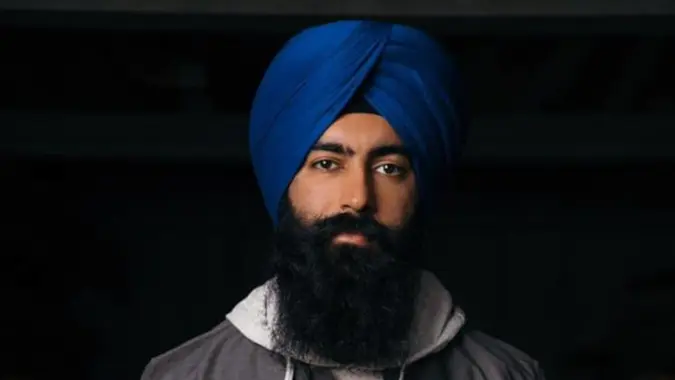 Jaspreet Singh / Jaspreet Singh
If you're currently in your 20s, or even 30s, it's possible to achieve financial freedom and retire by 40, according to money expert Jaspreet Singh.
The founder of the Minority Mindset YouTube channel said that achieving enough wealth to do so comes down to three things: "No.1 is you need to spend less money, No. 2 is you've got to work to earn more money and No. 3 is you've got to invest the difference," he said on YouTube. "That's how you become wealthy, and if you want to become wealthy sooner, you're going to need more money that you can invest, because you need money to make more money."
So how do you actually go about doing that? Singh said it comes down to doing these seven things.
1. Do Not Finance or Lease Your Car
Instead of buying or leasing a new car, Singh said to use the money you would have used for the down payment to buy a used car in full.
"By a car with cash [so that you] don't have to worry about payments," he said. "Take the money that you're no longer having to send to your car company, that you no longer have to pay for expensive insurance, that you no longer have to spend on premium gas, that you no longer have to spend on expensive maintenance, and invest that money instead. You're going to free up a lot of cash flow every single month that you can use just to build your wealth."
Are You Retirement Ready?
2. Live Smaller
Whether you are currently renting or paying a mortgage, Singh said to downsize so that you are only spending about 20% of your income on housing.
"That way you now have more money to put toward investments," he said. "When you have a bigger home, you're going to have more expensive utility bills, more expensive maintenance. When you have a smaller home, your costs get smaller and you have less money going to the bank or your landlord every single month and therefore, more money sitting in your pocket."
Singh acknowledges that downgrading your home and your car isn't "fun," "but if you really want to become wealthy sooner rather than later, you've got to go through what I call the 'decade of sacrifice,'" he said. "The most accessible place for you to do that is your car and your home because those are the biggest expenses for the average person. If you can reduce your biggest expenses, you can have big extra savings that you can use to build your wealth, and 10 years from now, you will have way more wealth, way more financial freedom, because you put in the sacrifice right now."
3. Buy a Multi-Unit Home
Instead of buying a single-family home to live in, consider buying a duplex, triplex or quadplex, Singh said. This is how you can start to build passive income to fund your early retirement.
"If you buy a four-unit building, you can live in one of the units yourself, and your neighbors can pay your mortgage for you," he said. "If you do it correctly, you may not have any mortgage costs."
Once you've lived in the home for a year — which is legally necessary if it's your primary residence — you can buy and move into another multi-unit property.
"Now you have the income from the first property paying for the second property, and now you're working to build a portfolio of properties as you're working to get closer to that retirement," Singh said. "Or, if you wanted to sell the property, if you have some equity built in there, this equity can also be sold, generally tax-free depending on how much the profits are. This is now how you can use the place you are living as a catalyst for your wealth."
Are You Retirement Ready?
4. Ditch the Netflix Subscription
"Ditch the Netflix subscription, not so you can save $15 a month, but so that you can save two to three hours of your time every single day," Singh said. "The reason why so many people struggle with making money is they feel like they never have time. You don't have the time if you're always watching TV."
Signh said to use this time more productively to help you build wealth.
"If you cancel the Netflix subscription, you've got this new block of time to do something," he said. "What I want you to do is start by learning — learn how to increase your income, learn how to invest. Start spending the time reading books, start spending the time watching educational YouTube videos, start spending the time listening to educational podcasts. Then, start spending the time doing something to earn more money."
5. Go Out and Earn More Money
The more money you have coming in, the more money you have to invest and build long-term wealth. That's why it's essential to maximize your income while you're working to achieve financial freedom.
"Start spending your weekends and your evenings and your holidays working to earn more money," Singh said. "This can be as a contractor, as a freelancer, as a new business, as a second job. The key here is when you're working to earn more money, you're not working to earn this money to drive a faster car, you're working [so that] you have more money buying you more assets."
Are You Retirement Ready?
6. Don't Get Flashy With Your Investments
The more money you have, the more opportunities you will encounter to invest in "flashy" investments.
"Maybe it's a meme stock, maybe it's a hot cryptocurrency, maybe it's a no-money-down real estate deal. This is where you have to stay consistent and remember that if it seems too good to be true, well, it probably is," Singh said. "If you really want to build sustainable wealth, you need your money going into places that are actually going to give you returns instead of gambling your money."
7. Forget Other People's Opinions
When you are in your period of sacrifice, other people may judge you for your downgraded lifestyle — but you can't let this deter you from staying focused on your goals, Singh said.
"Forget what other people think," he said. "People are haters. People will always have an opinion. When it comes to your financial journey, one of the most difficult parts of becoming financially successful, which most people don't talk about, is all the criticism that you're going to have to deal with. You're going to have to make sacrifices and that means people are going to look at you like you lost your mind."
To build up a defense against other people's opinions, it's important to build up support within your household.
"You've got to build your team — your team is your house," Singh said. "You've got to talk to your spouse, your kids and lay the foundation of what's going on, that you're going to be making some sacrifices but you're working for something bigger."
Are You Retirement Ready?
More From GOBankingRates