3 Ways To Lower Your Inflation Risk in Retirement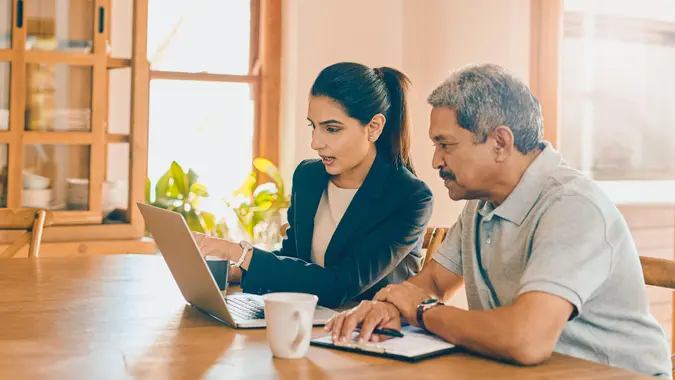 PeopleImages / Getty Images
Updates on inflation woes have flooded the news in recent months — and for good reason. As the cost of living continues to climb this year, many people are wondering if their savings and investments will be enough in retirement.
Find Out: 5 Best Foods To Buy in Bulk at Costco This Spring
Good To Know: 10 Dollar Store Items That Aren't Even Worth the Buck
Have you been wondering about the best ways to lower your inflation risk in retirement? If so, be sure to follow these three recommendations from financial experts.
1. Accommodate for Inflation in Your Retirement Portfolio and Budget
First, it's important to understand that what used to be the best investments aren't necessarily the best investments now, said Marc Scudillo, managing officer of EisnerAmper Wealth Management and Corporate Benefits.
He recalls how investors 20 years ago enjoyed government bond interest rates of 4%-5% and inflation rates as low as 1.5%. Nowadays, the story has flipped as bond interest rates hover around 2% and inflation reached 7.9% in February.
"Individuals who thought it would be prudent to keep money in CDs, bonds, and other conservative investments for safety from market risk are now facing the other risk often neglected by investors–inflation risk," Scudillo said.
Thanks to inflation, the cost of living is constantly going up. For example, in 2000, a gallon of milk cost around $2.78. In February, that same gallon cost an average of $3.88. The same goes for eggs, which cost about 91 cents per dozen in 2000 and $2.01 as of February.
"We all know that things get more expensive with time," said Scott Staton, president of Staton Financial Group. "You need to account for these changes when budgeting your income needs. You may need to decrease discretionary expenses or plan on increasing the withdrawal rate from your investments in order to keep up."
He also recommends having an emergency fund on hand: "This can help with unexpected expenses or increases in normal expenses and reduce the likelihood that you'll have to draw down assets for emergencies." 
POLL: Where Have You Cut Back Most Because of Inflation?
2. Diversify Your Investment Portfolio
One of the best strategies for lowering your inflation risk in retirement is diversifying your portfolio. Experts recommend not being too conservative to avoid underperforming investments and to steer clear of being too aggressive so you can maintain a safety net during market corrections.
"All investment strategies should be grounded in some shape or form of diversification," Scudillo said. "This enables people to have what we refer to as 'different pillars of support to the financial house' for pulling funds out at different points in time depending on market conditions."
These various "pillars" may include stocks and equity, bonds, cash, hedge strategies, businesses you own, insurance and other assets such as properties and commodities.
"All of these pillars can be used at different points to offset inflation as well as provide a resource to support lifestyle needs throughout varying market cycles," Scudillo said.
3. Focus on High-Yielding Investments
Peter Tanous, founder and chairman of Lynx Investment Advisory, advises his clients to choose assets with stronger returns to hedge inflation risk.
"I recommend seeking out higher-yielding investments in preferred stocks, master limited partnerships, and real estate investment trusts (REITs) to enhance returns," he said.
And although bonds have had low yields lately, Tanous urges investors not to avoid them completely.
"I also recommend buying some TIPS (the Treasury Inflation Protected Securities) that adjust for inflation by adding the inflation amount to your principal investment every six months," he said. "These bonds start out with negligible yields, but the addition of money to your original investment adds up and is a great way to mitigate inflation with a U.S. government-protected security."
Staton said it's wise to buy stocks in companies that benefit from rising inflation and interest rates. If you go this route, be sure you understand the fundamentals of the business you're investing in. Research if and how the company will remain profitable if inflation rises and whether it will need to borrow large sums of money to stay afloat.
Keep in mind that no investment strategy is perfect. What's most important is finding a plan that works with your level of risk tolerance as well as your lifestyle needs.
"Every investment has its own advantages and disadvantages," Staton said. "Work with a qualified advisor who can help with these decisions and help you adjust as you move through retirement."
More From GOBankingRates