7 Ways Retired Life Is Cheaper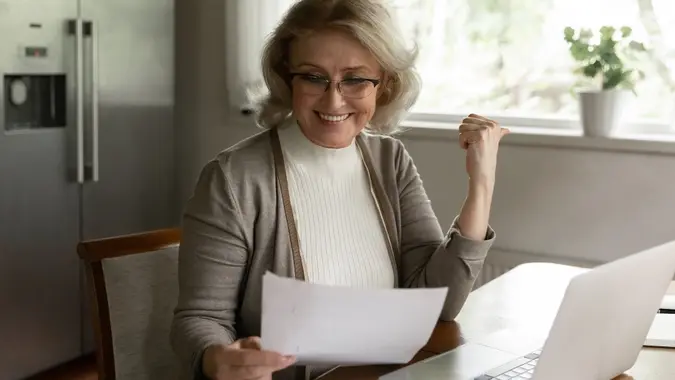 fizkes / iStock.com
There's a whole lot to look forward to in retirement. The most obvious benefit, of course, is that you don't have to work, which frees up endless hours to pursue your passions. 
But there's another big upside that's just as important to your lifestyle. In retirement, you can stretch the same amount of dollars much, much further. From food and transportation to housing and taxes, nearly all of your major expenses shrink when you reach retirement age and leave the workforce.
Here's what you and your bank account can look forward to as your free time grows and your bills shrink once you punch the clock for the last time. 
Retirees Get 10%-50% Off Just About Everything
The future belongs to the young — but seniors get all the best discounts. 
Sites like AARP and Senior Living list hundreds of businesses and service providers that offer discounts of 10%-50% to people who have reached retirement age. Retail stores, e-commerce sites, supermarkets, hotels, cruise lines, leisure companies, transportation providers, internet and mobile providers and health and wellness providers are just a few of the categories packed with businesses that slash the price of daily life for people in retirement.
Retirees Collect Social Security …
Social Security benefits retirees in two ways. First, you collect a check every month. While Social Security was never meant to serve as a retiree's sole income, the average monthly benefit as of February is $1,781.63, according to the SSA, which will go a long way to padding your lifestyle and providing security.
Are You Retirement Ready?
… And They Stop Paying Into It Through Payroll Taxes
The other benefit isn't about the payment you receive. It's about the payment you don't make.  
During your working years, 6.2% of every check goes to Social Security and 1.45% goes to Medicare for a total of 7.65% — unless you're self-employed. Then, your payroll taxes jump to 15.3% to account for the 7.65% that your employer would have paid if you were a W-2 wage earner.
If you continue working in retirement, those numbers don't change. But if you retire in the true sense of the word, payroll taxes are a thing of the past. 
According to Forbes, income from a retirement account is worth more than income from a job. That's because even if it's taxed at the state and federal levels, you're no longer on the hook for FICA taxes like those who are still in the workforce.
Retirees Don't Have To Save For Retirement
T. Rowe Price, Fidelity Investments, Charles Schwab and many other industry authorities suggest socking away 15% of every check for retirement. That's about as much as your FICA obligations. But once you reach the finish line, that large and challenging monthly expense joins payroll taxes in the history books of your financial life.
The High Cost of Housing Goes Down
From downsizing to paying off mortgages, there are many reasons that housing tends to cost less in retirement. But no matter the reason, the outcome is the same — the cost of what is most people's biggest expense drops once you retire. 
Are You Retirement Ready?
According to the Bureau of Labor Statistics (BLS), people 65 and older pay an average of $18,872 for housing compared to $22,624 for the population as a whole. Between the ages of 35 and 54, it's more than $26,000. Only the youngest adults under 25 pay less — and the same pattern holds true for renters.
The 65-and-up crowd pays just $2,759 to the landlord, compared to an average monthly rent of $4,684 for the general population. 
You Can Ditch That Second Car — And Your Commute
In 2022, Clever Real Estate released research on the best and worst cities for commuters in America. The results showed that the trip to and from work costs the average commuter $8,466 per year — nearly $1 out of every $5 they earn. 
When you retire, you get to keep that for yourself — and you get to keep the 239 frustrating wasted hours that the average commuter spends behind the wheel racking up that tab.
Also, many two-income households need a second car so both people can get to work. In retirement, most couples can get by on just one set of wheels and leave behind the second loan, second insurance policy and second round of oil changes, scheduled maintenance and repairs.
According to Kelley Blue Book, based on the five-year cost to own a car, downsizing from two cars to one could save you north of $35,000 over five years.
Retirees Are Less Likely To Eat Themselves Into Poverty
Finally, there's the cost of food — and while everyone has to eat, eating costs less when your earning years are in the rearview mirror of your only car. According to the BLS, the average American spends $8,289 a year on food — and that number jumps to roughly $10,000 between the ages of 35 and 54. But balancing out that average on the low side is the 65-plus demographic, which spends an average of just $6,490.
Are You Retirement Ready?
Maybe it's because the nest is empty and there are fewer mouths to feed or maybe it's because retirees spend less eating outside the home during or after work, but no matter the reason, the end result is the same — it's cheaper when you're retired.
More From GOBankingRates