5 Ways To Feel More Secure About Retiring In 2023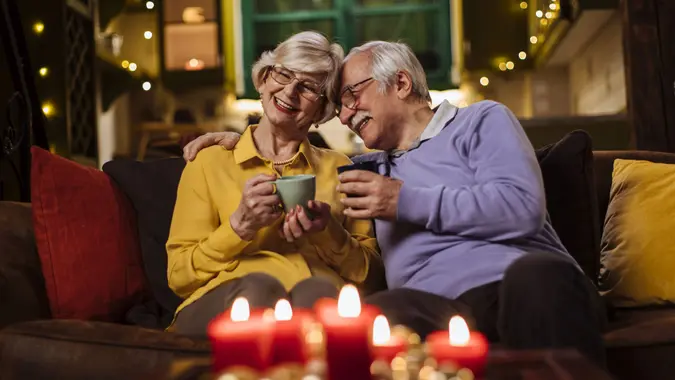 mihailomilovanovic / Getty Images
Any year you choose to retire is a great year. However, if you happen to be retiring during an economic downswing defined by negative investor sentiment, sky high inflation and stock market declines, there are certainly several things you need to consider as you withdraw from work.
See: 10 Jaw-Dropping Stats About the State of Retirement in America
Find: 5 Things You Must Do When Your Savings Reach $50,000
On the surface, 2023 might seem like one of the worst years to retire, but as Forbes noted, the S&P 500 is up about 50% over the past five years and, despite being down 17% year-to-date, it's up 10% from the end of 2020.  
Keep in mind that bear markets can feel like an eternity for investors, but they typically enjoy relatively short lifespans. Retiring in 2023 means you'll likely be starting off when this distressed market cycle comes to an end and (hopefully) when the economy starts to rebound.
These might seem like small positives, but your retirement plans really don't have to mirror the bleak bigger financial picture we are witnessing now. Here's a closer look at some things to seriously think about as you make 2023 the perfect year to retire.
Crunch the Numbers
Accurately estimating your retirement spending is an important part of retirement planning — and sitting down with a professional (or coming up with a strong personal financial management plan yourself) is essential.
Doing a thorough comparison of the total amount you have saved against estimates of your retirement expenses will ensure you have enough to cover all your bills. As you do this, make note of all your retirement account balances, including IRAs or 401(k)s, any usable health savings accounts (HSAs) and every potential income stream, including potential inheritances.
Let Go of Inflation Worries
This is easier said than done, of course. Americans have been living with record-high inflation for a good part of 2022 and there have only been scant glimpses of relief in sight.
Older people have particular reasons to be concerned about inflation. They often rely on fixed incomes, which are eroded by inflation. Being out of the labor market, they generally care less about unemployment.
However, retirees are also arguably less affected by a rising consumer price index (CPI), according to at least one expert. As Forbes Advisor contributor Bob Sullivan stated, generally speaking, without a big family to feed and a car to fuel and drive everyday, "retired Americans should worry more about local property tax rates or the rising cost of health care."
"It's really important not to let the emotional part of the inflation situation dictate real-world financial choices," Sullivan added. While inflation likely won't stay at the current 7%-8% levels, it's not a sure bet it will regress to 2% any time soon, either. If you plan your retirement budget properly, you won't spend too much time fretting about the ups and down of inflation.
Put Off Social Security Payments
Many older workers suffer health problems, need to care for a spouse or family member, or have been laid off and have to claim Social Security as early as possible. Sometimes it's the only option.
Financial advisors often recommend older savers stay on the job as long as possible so they can keep earning a paycheck and delay starting Social Security benefits. However, if you are retiring, you may need to tap some saved income to pay for necessary expenses and your desired standard of living.
Doing this without tying yourself to lower monthly Social Security payments, especially while inflation is high, will put you in a stronger financial frame.
Forbes recommended looking to your other sources of income first — like a 401(k) or an individual retirement account (IRA) — before taking Social Security payments.  
Look Into Working Part-Time
If you have decided to retire in 2023, perhaps the last thing you want to do is work. However, you would be surprised how many recent retirees miss work — and how many plan to work part-time for pay shortly after retiring from their full-time job.
According to the Employee Benefit Research Institute's (EBRI's) 2022 Retirement Confidence Survey, 70% of workers asked plan to work in retirement, compared with just 27% of retirees who report they have actually worked for pay in retirement.
Growing your finances to not exhaust your saving or other income in retirement is important, but so is keeping busy and staying healthy. Part-time work may fulfill physical, emotional and financial needs for some retirees.
In fact, EBRI's survey found that most people working during retirement did so because they wanted to stay active and involved (88%) and enjoyed working (78%). Fewer (though still a substantial number) did so to avoid reducing their savings (60%), because they needed money to make ends meet (39%), worried about a decrease in the value of their savings or investments (25%) or to keep health insurance or other benefits (18%).
Reap the Benefits While You Still Can
It should go without saying, but if you can take advantage of existing work benefits before you retire, get any medical issues or visits to practitioners out of the way now.
As Forbes noted, Fidelity estimates $315,000 will be spent on health expenses and additional coasts and premiums by the average American couple during their retirement years. If you are retiring before you can enroll in Medicare, you'll need to get health insurance (if your employer doesn't provide retiree health coverage).
Take Our Poll: Do You Think You Will Be Able To Retire at Age 65?
More: 8 Purchases Everyone Approaching Retirement Should Make
You owe it to yourself and are entitled to max out any possible benefits while you still can. So, schedule doctor appointments and procedures, fill up prescriptions, get dental work covered, book eye tests and order corrective lenses. Now is the time to take your chiropractic and massage therapy credits, as well.
More From GOBankingRates