5 Ways To Give Your Kids a Head Start on Saving for Retirement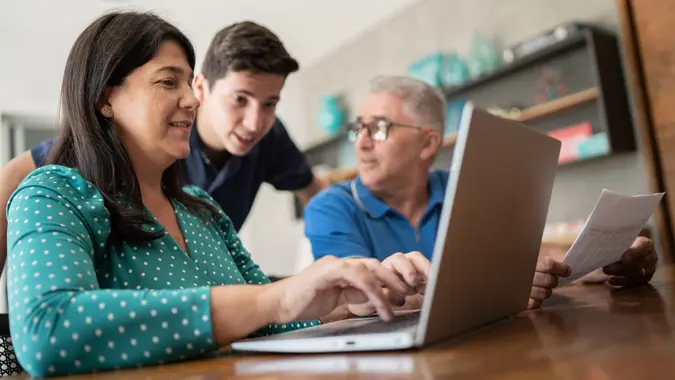 FG Trade / iStock.com
From the moment you become a parent you start wondering, and worrying, about your child's future. Your brain speeds a mile a minute thinking of how you will provide for your offspring, setting them up for success down the road. With all of the possibilities, it can be hard to focus and put a plan into action.
$2,000 Quarter? Check Your Pockets Before You Use This 2004 Coin
With a Recession Looming: Make These 3 Retirement Moves To Stay On Track
While most parents focus on getting their kids into adulthood, many don't think about how to set them up for the long term. They may have gotten them into the best preschools and even paid for some of their college, but they've left them without the faintest idea of how to create a foundation for a secure financial future. Helping your children understand the importance of investing can ensure their stability throughout their lifetime. 
If you would like to give your child a little leverage for later in life, here are five ways you can give them a head start on saving for retirement.
Set a Good Example
First, it is next to impossible to set your child up for retirement if you have not done the same for yourself. Taking steps to put yourself in a sound financial position is a win-win for both you and your kids. It not only sets a good example for your children to model in the future, but it also may give you the freedom to put some money aside for them.
While there is nothing in the parent playbook that says you must pay for your child's retirement, it is a good idea to at least help them understand the importance of saving and planning ahead. Even if you never give them a dime past the age of 18, you will have shown them how to prepare for the long haul.
Start the Money Conversation Early
In addition to investing in your own retirement, you can also start talking about money and the importance of saving early. Having open conversations with your kids about finances will help to demystify it. It won't all be so foreign as they get older.
Start by encouraging them to save money toward a larger purchase, which can help instill financial principles that will benefit them throughout their life.
Take Our Poll: Are You Concerned the US Debt Ceiling Issue Will Endanger Social Security?
Invest in a 529 College Savings Account
Another way to give your kids a head start on saving for retirement is by investing in a 529 college savings account. Student loan debt is crushing for most young adults. It can eat up huge portions of their salary as they start their careers and can take decades to pay off. 
Discretionary income for many college graduates is almost non-existent, which makes it difficult to invest in anything, let alone their retirement. By starting a 529 college savings plan, you can help them avoid this pitfall and get started on the right path. 
Set Up a Trust Account
Instead of just cutting your kids a check, you can always set up a trust account that stipulates how and when they receive money. A trust can help ensure that your child doesn't spend their money all at once, particularly if they are set to receive a large inheritance. 
Contrary to popular belief, trust accounts are not just for the ultra-wealthy. Trusts are a great way for parents of all income levels to establish financial security for their children. There are several benefits of having a trust for your kids including minimizing taxes, avoiding probate and asset protection.
Start a Roth IRA
Finally, you can really give your child a solid foundation by establishing a Roth individual retirement account or Roth IRA. If your child is a minor, you can open a custodial Roth IRA on their behalf. As long as your child has earned income, you can open and contribute to their Roth.
Roth IRAs are critical tools for retirement since they compound over time and can grow substantially. It is important, however, to discuss your plans with a financial professional. As with any investment, there are pros and cons to a Roth IRA and it is particularly vital to understand any tax implications. Having a firm understanding of everything that a Roth offers and preparing for any obstacles, is essential for success.
More From GOBankingRates