Will the Average Age of Retirement for Senior Citizens Increase Due to Inflation?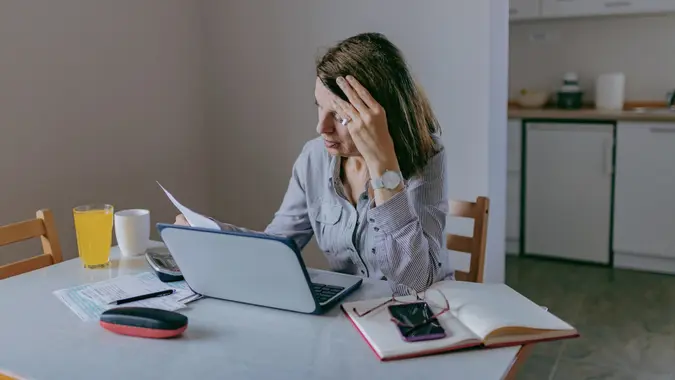 PredragImages / Getty Images/iStockphoto
Like the pandemic that fueled them, rising prices are not fading away as quickly as the optimists had hoped — inflation, it seems, is here to stay. Nobody likes paying more for less, but dollars that can't buy as much are especially worrisome for retirees and those who are getting close.
Read: 14 Key Signs You Will Run Out of Money in Retirement
Find Out: Here's Exactly How Much Savings You Need To Retire In Your State
Relax. It's Not the 1970s
When the conversation turns to rising prices, it's impossible to avoid references to the hyperinflation that defined the economy of the 1970s. But despite all the hyperbole, there's simply no evidence of that. 
"While concerns about inflation are on the rise in the wake of the pandemic-induced rising costs of such items as used cars, food, and plane tickets, the bond market's five-year forecast suggests that the rate of inflation should be roughly in line with the averages of the last 60 years and nowhere near the highs of the '70s and '80s," said financial analyst Jason Vissers of Merchant Maverick. 
Options: States Where Your Retirement Will Cost Less Than $45,000 a Year
When every dollar counts, it's hard to be patient, but today's rising prices can mostly be traced to economic clutter from the pandemic that will soon be sorted out.
"In general, economists believe that the higher-than-normal prices of goods and services we're seeing now will be temporary," said Laura Adams, MBA, a personal finance expert with Finder. "The idea is that when the economy fully reopens, and manufacturing and shipping delays get resolved, we should see the inflation rate drop to pre-pandemic levels."
Check Out: 4 Ways To Protect Retirement Savings From Inflation
Learn: 5 Times Inflation Is Actually Good for Your Finances
So, Will People Put Off Retirement? It Depends
Most of the experts GOBankingRates interviewed don't believe that enough people will delay retirement to move the national average — but there are so many variables that it must be examined on a case-by-case basis. The housing market is so hot, for example, that people who were planning to build a retirement home might have to wait, and soon-to-be retirees who were planning to sell their homes and downsize might have to postpone until more affordable rentals open up. 
The most reliable predictor is your timeline. 
"People who will retire in less than one year to two years should worry about pandemic-driven inflation," said Jordan Bishop, founder and CEO of personal finance site Yore Oyster. "People who will retire in three to five years or more shouldn't worry that much since the world will probably have gone back to normal by then, along with inflation and other things that have gone awry since 2020."
Inflation's Ups and Downs: How It Impacts Your Wallet
Explained: Understanding the Differences Between Inflation, Deflation & Stagflation
The Real Danger Might Emerge After the Virus Passes
The short-term inflation that's causing sticker shock at the grocery store and the used car lot grabs all the headlines, but creeping price increases that are just now on the horizon might present the bigger danger.
"I worry more about non-pandemic-related inflation in retirement such as rising healthcare costs rather than short-term pandemic-related inflation," said Amit Sinha, head of multi-asset design at Voya Investment Management. "Typically, areas of the economy that face less competition tend to have greater sustained inflation. For retirees, this is likely to be healthcare. The only way to prepare in my opinion would be to make sure you have sufficient savings for sustained increases in these types of expenses. Using health saving accounts (HSAs) may be a way to achieve this."
See: How Long $500K Will Last in Retirement in Each State
The Economy and Your Money: All You Need To Know
Wait as Long as You Can To Claim Social Security
One of the best ways to play it safe is to hold off on claiming Social Security benefits until you absolutely have to. 
"A piece of advice that I can give is to delay Social Security for as long as possible," said Andrei Vasilescu, co-founder and CEO of discount finder DontPayFull. "Every year that you delay claiming, your monthly Social Security check increases, meaning by the time you claim those benefits, they'll be a lot higher. The increases stop at age 70, so the closer you can get to 70 without claiming, the better."
Read: Next Year's Social Security Checks Could Get Biggest COLA Bump in 13 Years
Discover: You Should Check Your Social Security Balance Regularly — Here's Why
Go For Gold
Dr. Mayank Gupta, the founder and CEO of Roots Spice, is a trained economist whose pedigree includes doctoral research at the University of Padua in Italy, Ph.D. work at the University of Verona, also in Italy, and work as a visiting researcher at the Cass Business School City University in London. 
Gupta is not pessimistic, but he is realistic. 
"Retirees right now don't have many good alternatives," he said. "With record-low interest rates, fixed income/treasuries aren't offering anything right now and equity markets are too risky and frothy. A better way will be to hold a bigger portion — say 20%-30% — of your fixed-income assets in gold/bullion that will cushion your portfolio against any runaway inflation and will provide liquidity as well. At the same time, if the inflation scare appears transitory you can liquidate your holdings and go back to the fixed income asset class."

Comparing Investments: Real Estate vs. Crypto vs. Gold
Check Out: 10 Key Ingredients to Your Strongest Investment Portfolio Yet
Inflation-Proof Your Portfolio
Depending on your situation, you might consider talking to a financial pro about investments that provide specific protection against inflation. 
"If you're on a fixed income from investments, Social Security, or a company pension, you may benefit from owning some inflation-protected investments," Adams said. "For instance, TIPS, or Treasury Inflation-Protected Securities, are backed by the federal government and pay interest adjusted for inflation as measured by the CPI. There are also inflation-linked certificates of deposit or CDs, that pay an interest rate based on the inflation rate. They're insured by the Federal Deposit Insurance Corporation (FDIC), just like your bank checking and savings accounts."
More From GOBankingRates
Last updated: Aug. 12, 2021