With Massive Inflation, How Much Do You Need Saved If You Want To Retire Now?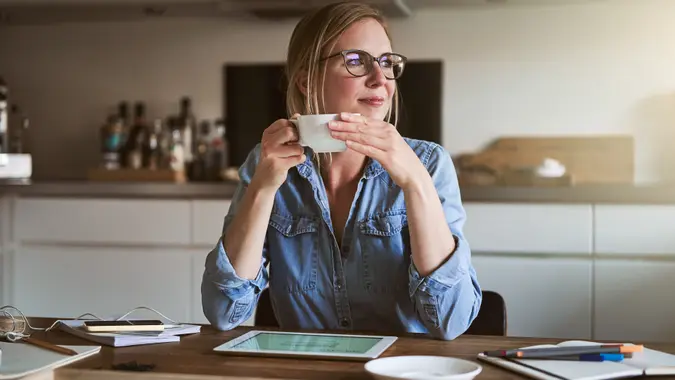 FlamingoImages / Getty Images/iStockphoto
Let's say you would like to retire right now. How much would you need to have in savings?
In a GOBankingRates poll surveying 997 Americans about retirement savings, only 15% of respondents said they had between $50,000 and $100,000 saved for retirement. Nearly 38% of respondents said they thought they would need less than $500,000 to retire. 
Ultimately, this is a small sum of savings when considering today's retirees live longer and Social Security is not meant to act as the sole fund for those in retirement. Here's how to better calculate how much you need in savings.
How Much You Need To Retire: 3 Determining Factors
Ramat Oyetunji is a certified personal finance counselor (CPFC) and owner of The FI Woman, a business providing financial coaching and education since 2015. 
Oyetunji, a former financial advisor at Edward Jones, said the amount of money someone needs to retire will depend on the following three factors:
How much the person plans to spend each year in retirement. Oyetunji said this is because purchasing power will change each year with inflation.
How long the person expects to live.
The rate of return the person expects investments to generate in retirement.
Retirement at Almost Every Age: An Example
Here is an example where the following assumptions are true: A person has a life expectancy of 85 years, annual gross pay of $50,000 and an average annual return of 5% on investments; and the average annual inflation rate is 5%. 
Are You Retirement Ready?
Using this example, Oyetunji listed the amount of money needed to retire now at each of the following ages:
Age 35: $2.5 million
Age 45: $2 million
Age 55: $1.5 million
Age 65: $1 million
Any change in the above assumptions will change these numbers. Oyetunji said the figures also do not take into account Social Security income or other forms of income such as pensions.
Getting On Track for a Financially Secure Retirement 
If you do not have $1 million or more in savings right now, you can still start preparing for your retirement. Fidelity outlines how much you should have put aside at every decade of your life, assuming you are aiming to retire at age 67. Here's how much of your salary you should have saved at each age: 
Age 30: 1x salary
Age 35: 2x salary
Age 40: 3x salary
Age 45: 4x salary
Age 50: 6x salary
Age 55: 7x salary
Age 60: 8x salary
Age 67: 10x salary
Remember, there are financial benefits to be found in delaying retirement. This includes additional years to remain in the workforce and contribute to your retirement fund, plus the ability to claim full Social Security payouts.
Another school of thought for saving toward retirement is to focus on what you can control. 
A Vanguard representative told GOBankingRates that an employee who is on track for a financially secure retirement is advised to save 12% to 15% of salary, including employer contributions. If this seems overwhelming at first, save enough to meet your employer's matching contribution through an employer-sponsored retirement plan. Then, increase saving by 1% to 2% each year until you reach the target savings rate. 
Take care to save as much as possible and begin retirement planning early to ensure you will be able to retire at the age you want.
Are You Retirement Ready?
More From GOBankingRates