Women Are Nearly Twice as Likely as Men To Have No Retirement Plan, Survey Finds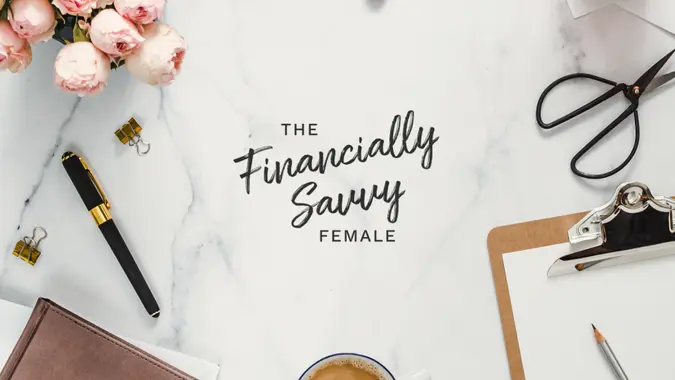 Fascinadora / iStock.com
When it comes to being financially prepared for the future, women are lagging significantly behind men. A new GOBankingRates survey found that nearly one-third of adult women (29%) have not started planning for retirement yet. Meanwhile, only 17% of men say they lack a retirement plan. In today's "Financially Savvy Female" column, we're chatting with Shelly-Ann Eweka, CFP, ChFC, senior director of advice strategy at TIAA, about why women are more likely to lack a retirement plan and what they can do to catch up.
Find Out: 10 Reasons You Should Claim Social Security Early
Read More: 16 Budgeting Tips Every Single Woman Needs To Know
The Financial Services Industry Doesn't Cater Enough To Women
One factor in women's lack of retirement planning is the fact that financial services companies don't do enough to educate and cater to this audience.
"Women are generally savers, and the financial services community needs to provide additional guidance and support for women who save to make sure that they're investing, make sure they understand what their options are," Eweka said. "It needs to be a customized, tailored approach when it comes to women because one size doesn't really fit all."
Women are especially lacking information about the importance of investing when it comes to saving for retirement, Eweka said. This aligns with the results of the GOBankingRates survey, which found that more than half of women (51%) feel that they need more education about investing.
"When we think about empowering women to be able to learn and implement investing their money appropriately for their retirement, we need to help them understand what their options are, whether it's through their employer or setting [retirement savings accounts] up on their own," Eweka said.
POLL: How Much Do You Expect Your Tax Refund To Be This Year?
Women Have Less Disposable Income Than Men
Beyond the financial literacy issue, there is also an actual financial one — women simply don't have as much money as men to set aside for retirement.
"It makes sense that women have less retirement savings than men because traditionally, women have been paid less than men," Eweka said. "It's 82 cents on the dollar for all women — Black women earn 63 cents on a dollar and Latina women earn 53 cents. Those stats are staggering."
In addition to being paid less, women are also more likely to lose income due to caregiving responsibilities.
"Since the [start of the] pandemic in 2020, nearly 2 million women left the workforce," Eweka said. "A lot of that is because they had to take care of children or elderly relatives. A lot of their lost earnings and savings are never recovered when they have to go through these types of situations."
Many women are struggling just to make ends meet. A separate survey conducted by TIAA found that 29% of women struggle to pay their monthly bills, versus 19% of men.
"You don't have a retirement account if you're struggling to pay your monthly bills," Eweka said. "It's a direct correlation. If you can't keep up with monthly bills, saving for retirement is a luxury."
How Women Can Get Started Planning for Retirement
Eweka recommends meeting with a financial planner or advisor as a first step of planning for retirement — and this may be more accessible than many women think.
"If you do have a retirement plan at work, you can go to the company that manages your retirement plan and more often than not, those companies provide complementary services," Eweka said. "They've employed financial advisors and financial planners to assist you, the client, with setting you up, helping you understand what your goals are and taking you through the process so that you know what it is you're working towards. [They'll also] make sure you're saving enough towards that goal and that [your funds are] invested correctly."
If you don't have access to a financial advisor through your employee retirement plan, Eweka recommends seeking out any of the free retirement planning tools that are available online.
Once you have your accounts set up, the easiest way to save for retirement is to automate your contributions.
"Set up automatic contributions to your retirement account, whether that's a 401(k), 403(b) or IRA," Eweka said. "Set those payments up first and then set up your lifestyle around what's remaining and available after that."
Even if you're unable to contribute much right now, start small, Eweka said.
"Put aside what you can," she said. "At a minimum, if you get a match, put that. If you can afford more than the match, target 10% to 15% of your income. If you can do more, if you can max out, do so. Because of compounding interest, investing just a little amount can really help you to have a good amount of income in retirement."
GOBankingRates wants to empower women to take control of their finances. According to the latest stats, women hold $72 billion in private wealth — but fewer women than men consider themselves to be in "good" or "excellent" financial shape. Women are less likely to be investing and are more likely to have debt, and women are still being paid less than men overall. Our "Financially Savvy Female" column will explore the reasons behind these inequities and provide solutions to change them. We believe financial equality begins with financial literacy, so we're providing tools and tips for women, by women to take control of their money and help them live a richer life.
More From GOBankingRates
Methodology: GOBankingRates surveyed 1,012 Americans aged 18 and older from across the country on between March 8 and March 9, 2022, asking sixteen different questions: (1) Do you consider yourself financially literate?; (2) Where did you learn most of your financial literacy?; (3) Which financial topic do you think you should have learned more about in high school? (Select all that apply); (4) Which financial topic do you still feel you need more education on in 2022? (Select all that apply); (5) When you were growing up, did your parents talk to you about how to manage your money?; (6) Do you think high schools are lacking in financial education?; (7) How has a lack of financial education cost you the most?; (8) At what age did you become comfortable with basic money skills (i.e., writing a check, balancing your accounts, budgeting)?; (9) At what age did you start saving and planning for retirement?; (10) How do you feel about how you used your 2021 American Rescue Plan stimulus check?; (11) Which financial topic did you feel the need to learn more about due to the COVID-19 pandemic? (Select all that apply); (12) What do you not understand about the Child Tax Credit? (Select all that apply); (13) Which part of the homebuying process is most confusing to you?; (14) Which part of the car buying process is most confusing to you?; (15) Are you prepared for the student loan debt moratorium to end in May?; and (16) How are you changing your driving habits with the rising gas prices? GOBankingRates used PureSpectrum's survey platform to conduct the poll.