The Best Ways To Use Social Security Money If It's Discretionary Income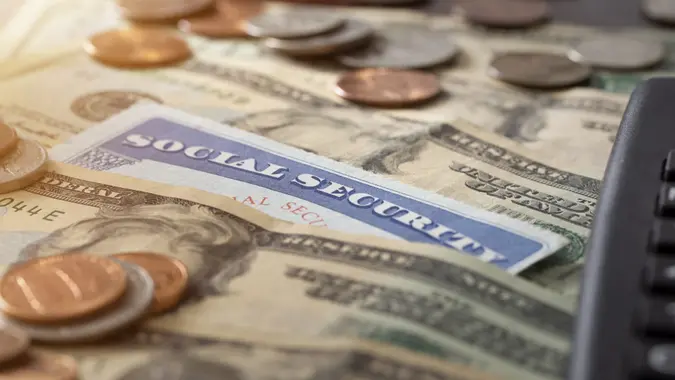 mphillips007 / Getty Images/iStockphoto
Millions of retirees are living out their days on shoestring budgets that barely cover the basics. But others have the luxury of something left over once the bills, rent, food and other musts are all paid for. That's called discretionary income, and if your Social Security check provides even a little bit of it, use it wisely. However, the concept of wise spending varies from person to person.
Social Security Schedule: When the First COLA Checks Will Arrive in January 2022
Social Security 2022: How the COLA Will Increase Benefits for the Average Senior Couple
"There is no 'right way' to spend your money once you cover your responsibilities," said attorney Minesh J. Patel, founder of The Patel Firm. "Just the right way for you."
That's true, but there are some general guidelines that virtually all retirees would be wise to follow.
Be Aware: All the States That Don't Tax Social Security
Plan For Discretionary Spending Before You Claim Your Benefits
The time to start thinking about how you'll spend your income in retirement is before — not after — you file your claim.
"First and foremost, knowing how and when to claim Social Security benefits is a great start," said Chuck Czajka, certified Social Security claiming strategist (CSSCS) and founder of Macro Money Concepts in Stuart, Florida. "I see so many seniors leave money on the table because they claim it at the wrong time. If Social Security is not needed to pay the bills, it might make sense to delay taking benefits until age 70. This will give you approximately 132% more money than at full retirement age. It might make sense for you to spend down your taxable accounts like IRAs or 401(k)s to reduce required minimum distribution at age 72. It always makes sense to work with a financial professional who has special training with Social Security claiming strategies."

Grow Your Money Through Wise Investments
Just because you're in retirement doesn't mean your investing days are over. In fact, what better time to grow your money passively than when you can no longer rely on employment income?
"Use your discretionary income to make an investment in the stock market," said Clayton Hasbrook, an attorney with the firm Hasbrook and Hasbrook in Oklahoma City. "You can use platforms such as Betterment to help diversify your portfolio."
Read More: Jaw-Dropping Stats About the State of Retirement in America
No matter how many different baskets you spread your eggs into, however, the stock market comes with the very real risk of market downturns or even crashes, which can erase big chunks of your discretionary income in just a few trading sessions. If you're not willing to take the bigger risks that come with stock market investing, chase smaller gains.
"If you want to maximize your post-income earnings from your Social Security, you can toss any extra cash you don't want or need into a bond," Patel said. "The yields are low, but they'll boost your income with virtually zero financial risk."
There's also another comparatively safe, steady and predictable income-producing investment that has long been a darling of retirees everywhere.
"You can use your discretionary income to invest in an annuity, which would convert your investment into a monthly check," Hasbrook said. "Annuities are a good investment as they provide better returns than fixed income expenses."
Important To Know: The Biggest Problems Facing Social Security
Read: When Social Security Runs Out: What the Program Will Look Like in 2035
Whatever You Do, Don't Blow It — Budget It
Just like in pre-retirement life, it's easy to view discretionary income as somehow being less valuable than the cash you absolutely must have to cover your necessities. At 25, 75 and every age in between, this is a losing mentality.
"Even though it is 'left over' money, you should still create a smart budget for it so that you don't end up blowing through it quickly," said Jake Hill, CEO of DebtHammer. "I would recommend simply creating a monthly limit to how much of this money you want to spend, without feeling like you have to spend that much each month. You can also use this money to invest in things like improving your home."
Patel agrees
"Create spending categories that are weighted to your liking," he said. "If you love to travel, you may want to toss 50% of your extra income into a travel savings account. If you love dining out, you can puff up your dining and entertainment spending category."
Take a Look: The Average Social Security Check the Year You Were Born
Spend It on a Moving Truck
If you have a little left over after you cover your necessities, then you have the luxury of options — and if you live in an expensive ZIP code, that little bit you have now could feel like a whole lot more somewhere else.
"Another smart way to spend your Social Security money is to move to an area with a lower cost of living," said Olivia Tan, personal finance coach and co-founder of CocoFax. "Your Social Security benefits will stretch further when your cost of living is lower. If you live in an expensive location, consider moving to a place where you can live on only a Social Security check. Cities like Tucson, Ariz., and Reno, Nev. have warm weather and plenty to do for retirees, plus their cost of living is low."
More From GOBankingRates