ICYMI: The Biggest Social Security Stories of the Summer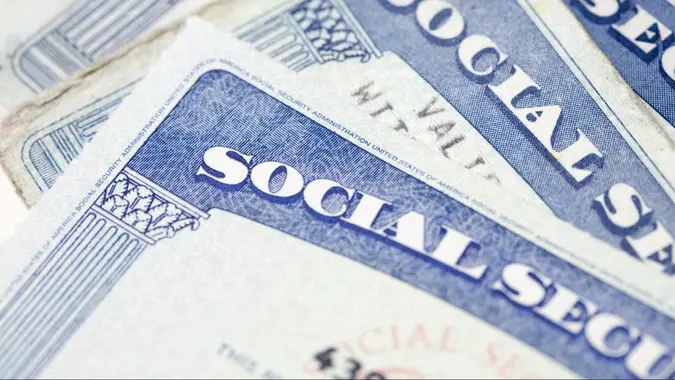 Kameleon007 / Getty Images
It's been an eventful few months for Social Security as the Biden administration works to rehabilitate the program that has long been overextended and underfunded. As the summer comes to a close, GOBankingRates is taking a look back at the top six stories surrounding Social Security this past season, with the insight of experts well-versed on the topic. 
Find Out: What Is the Average Social Security Benefit at Age 62?
Important: 7 Surprisingly Easy Ways To Reach Your Retirement Goals
Will these changes affect your wallet? Let's explore. 
Back-to-Back COLA Increases 
By far the biggest story of the summer (if not the year) is the COLA increases. 
"When the cost-of-living increase year over year is in the 1% to 2% range, the importance of a built-in COLA adjustment does not seem like a big deal," said David Freitag, a financial planning consultant and Social Security expert with MassMutual. "However, when you have a 5.9% increase (2022) followed by an increase that approaches 8% or more (2023), the value of the COLA adjustment is very visible. For a majority of retirees, their Social Security income is the only one that is automatically adjusting for cost-of-living increases."
Take Our Poll: Do You Think Student Loan Debt Should Be Forgiven?
Earning Work Credits Has Become More Challenging 
"Since you might not even be familiar with the concept of work credit, it is likely that you were unaware that the value of Social Security work credits increased in 2022," said Levon L. Galstyan, a CPA with Oak View Law Group. "That's fine — you probably don't need to worry about work credits if you're well into your career and have worked full-time for ten or more years; However, part-time workers should keep track of their three labor credits because they can only earn up to four each year and must accumulate 40 in their lifetime to be eligible for Social Security benefits in retirement." 
A single credit's worth is now $1,510. 
The 'Blue Bar' Social Security Statement 
"This new form has important information for every worker in the country and increases the value of the myAccount on SSA.gov," Freitag said. "Plus it provides helpful hot links to various parts of SSA.gov and Medicare.gov."
The Continuation of 'Slam the Scam' With AARP
"The Social Security Administration has been very aggressive in its fight to help workers understand that 'out-of-the-blue' telephone calls about their benefits are a scam and could subject them to financial hardship," Freitag said. "This program has helped reduce the number of these calls and has saved workers a great deal of time and money."
A Higher Threshold Before Work Affects Benefits
"There is some good news for those who desire to earn Social Security benefits and work at least part-time," Galstyan said. "Next year, you will be permitted to make a slight increase in your income before it has an impact on your benefits.
Bear in mind that only individuals who haven't yet reached full retirement age (FRA) are impacted by this law. 
"Anyone who has already attained FRA is qualified to engage in employment and earn a limitless sum of money," Galstyan said. "But if a person doesn't reach FRA during the year in 2022, $1 will be deducted from every $2 they make beyond $19,560. Alternatively, if they will reach FRA but haven't already, $1 is deducted for each $3 over $51,960.
"These standards will be raised, although the precise amount has not yet been disclosed," Galstyan continued. "But in the majority of years, they increase as wages rise. You may only make up to $18,960 or $50,520 in 2021, for instance, without your benefits being impacted. Due to the high rates of current wage growth, the rise in 2019 may be comparable to or even more than the one that happened between 2021 and 2022."
New Safety Protocols To Safeguard People From the Summer Heat 
"Several beneficiaries and applicants have had to wait a long time outside in the summer heat when Social Security reopened its offices this year," Galstyan said. "In order to assist individuals in avoiding the summer heat, Social Security is now taking steps to cut down on in-person wait times, especially in its busiest offices."
Social Security gives access to restrooms, drinking fountains, and sometimes even fans and outdoor canopies. 
"Additionally, in order to increase access to its air-conditioned offices, the agency is reconfiguring its waiting areas," Galstyan said. "The usage of mobile check-ins for appointments, which let customers wait in their cars or other nearby locations, is also being expanded."
Serious Challenges Remain 
Despite the recent changes that have been made to and around Social Security, formidable obstacles lie ahead. 
"Social Security is notoriously underfunded, and is continuing to be so as more and more people exit the workforce than are currently within it," said Jake Hill, CEO of DebtHammer. "This is an ongoing problem that must be met with sustainable solutions, so that the younger population has a safety net provided by them should they need to access it. 
"Along with underfunding, the low interest rates in recent years have also caused Social Security benefits to remain stagnant for many Americans," Hill continued. "High interest rates are in the Social Security insurance program's benefit, but it comes with other downsides, as well." 
More From GOBankingRates