Social Security: 20% Cuts to Your Payments May Come Sooner Than Expected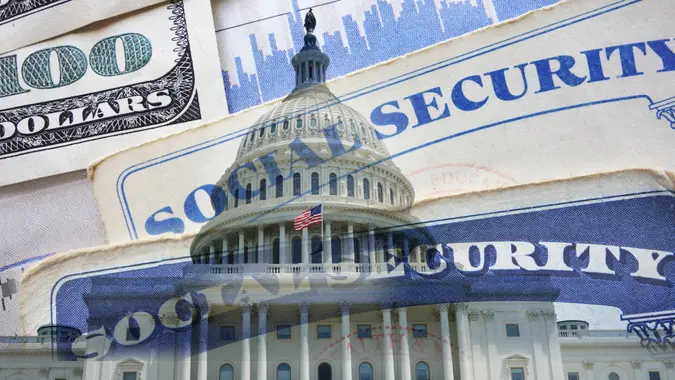 zimmytws / Getty Images/iStockphoto
In more alarming news about the state of Social Security, some experts are warning that up to 20% in payment cuts could be coming as early as 2032, per CNN, unless Congress intervenes with measures to preserve funding for the program.
Upwards of 66 million people currently receive benefits, with the average coming in around $1,691, according to January 2023 data from the Social Security Administration (SSA). Cuts of 20% would see payments shrink to $1,352, which is going backwards from the progress made to increase benefits through cost of living adjustments (COLAs), the latest of which came earlier this year and bumped payment amounts by 8.7%. More than half of retirees say even that higher adjustment isn't enough to get by on, as GOBankingRates reported.
Social Security has been the subject of debate in recent weeks as the U.S. hit its debt ceiling limit. Despite accusations of politicians being poised to target the program for budget cuts, both President Joe Biden and House Republicans have vowed not to touch Social Security as they battle over national spending.
Both Biden and Senator Joe Manchin have proposed raising taxes — and the cap on which the wealthiest Americans pay into the Social Security system — in order to ensure Social Security's longevity.
Are You Retirement Ready?
Social Security could become insolvent as early as 2033 to 2035, according to the Committee for a Responsible Budget (CFRB), citing Congressional Budget Office (CBO) data. There are a few reasons for this, as reported by CNN: People are living longer, meaning they need benefits for a longer period of time, and are working fewer years, which affects the money flow coming in. The scenario is creating a "ballooning number of beneficiaries," per CNN. Insolvency would mean a significant reduction in benefits: "CBO estimates that benefits would be automatically cut by 23 percent across the board upon insolvency," the CFRB indicated.
The last time Congress performed a major overhaul of Social Security was in 1983 (48 years after its official launch in 1935). In 1983, Congress raised the full retirement age from 65 to 67 and increased payroll taxes taken from American workers.
I'm a Financial Planning Expert: Here Are 5 Things You Should Never Spend Money on If You Want To Be Rich
Those two measures are also being eyed as possible remedies in 2023, with some lawmakers pushing for a full retirement age of 70 and suggesting an increase in taxes. President Biden is set to deliver his budget proposal this week — and it's all but guaranteed the funding of both Social Security and Medicare will be on the agenda.
Are You Retirement Ready?
More From GOBankingRates